/
/
/
×
Adventure Ride Reports, where have you been what have you done
Touring NW NSW with Mudrat & Co
Topic Author

Adv Forum Moderator
" Found Yellow Rock, Bald Rock & The Tunnel. Now what ???"
3 years 11 months ago
#171318
by EAGLE`02
This is my view on a 6 Day ride basically from Newy to Bendemeer, Tenterfield, Dorrigo, Wauchope and back to Newy ride organized by Mudrat and a couple of others that assisted with the route. I was appointed as the Ride Report owner midway through Day 3, so some details may be a tad hazy but I`ll give it a shot

NW4 - THE REPORT
After all the hype, planning, packing & excitement it was finally time to meet up with Muddy, Seahorse & Champo at Maccas Cessnock. I rode up solo from home in sunny Lake Macquarie (well not really as the sun wasn`t up when I left) over Mt Sugarloaf and hit the thick fog at Richmond Vale.
I was feeling great & free as a bird as I rolled into Maccas carpark and realized I was half an hour early, but it was only 5 mins before Seahorse rolled and another 5mins before Muddy fronted up ready for a hot brew.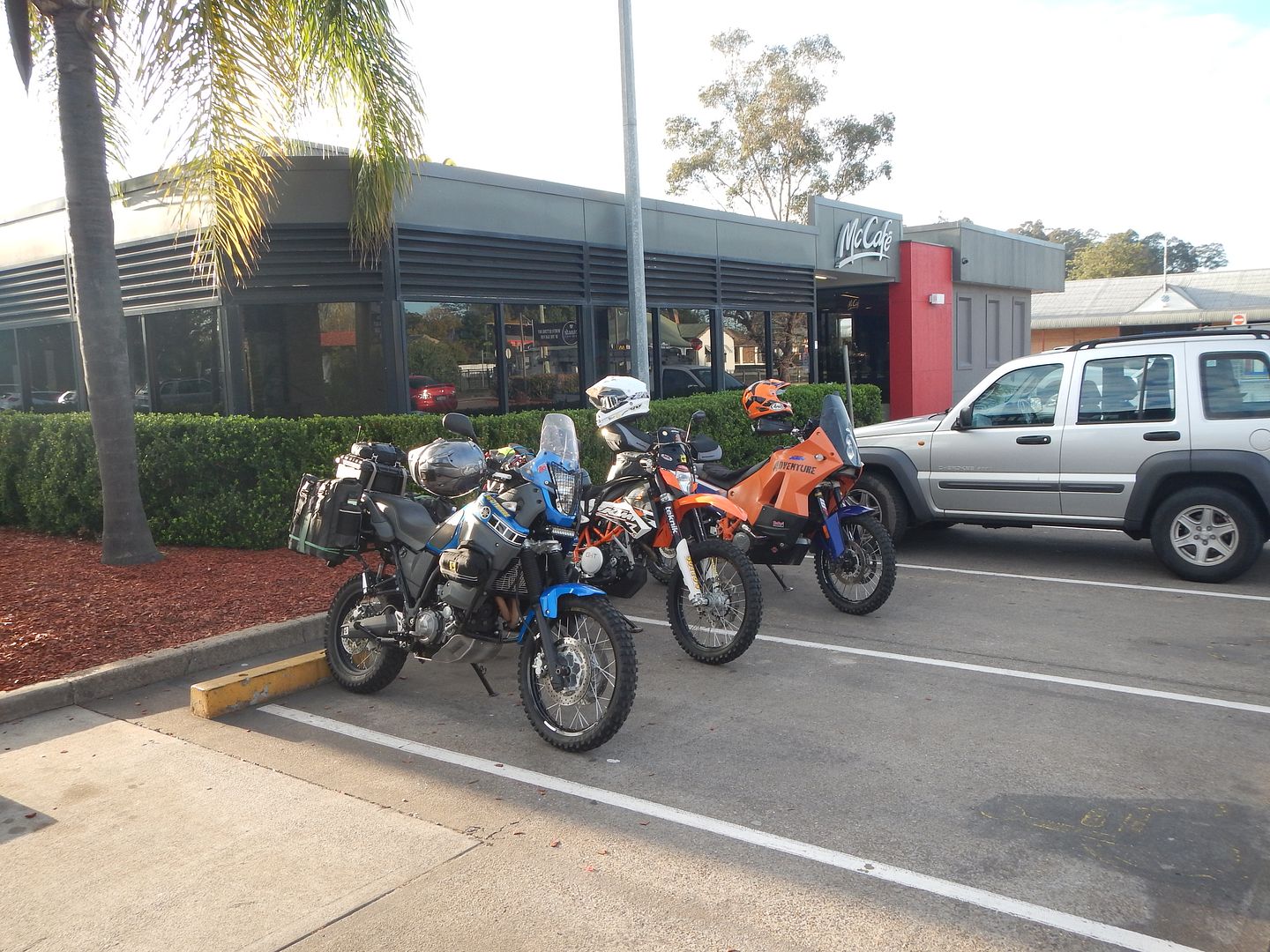 After the coffee was downed and some small chat, Champo rolled in just as we were about to ride out. All systems go !!!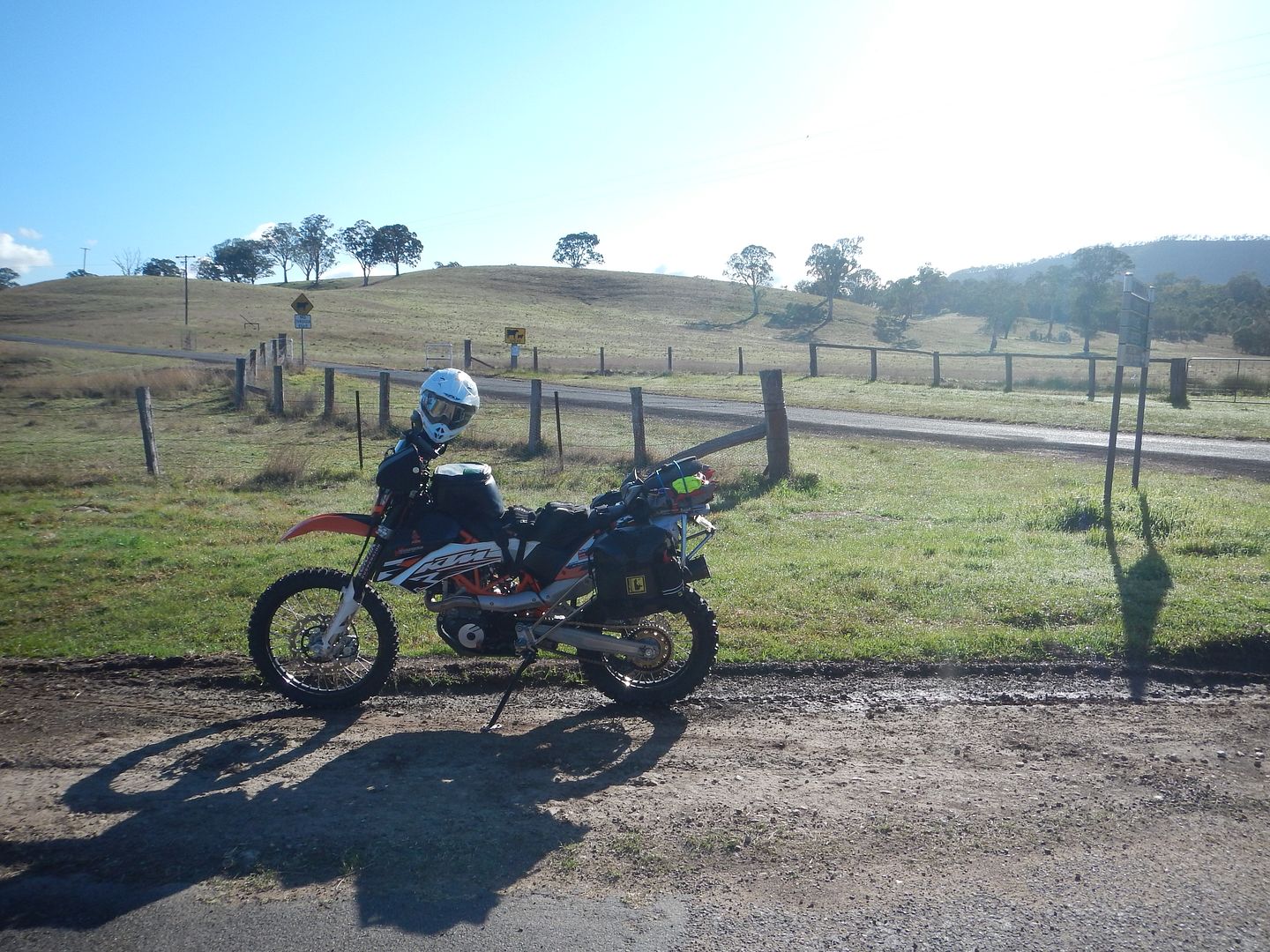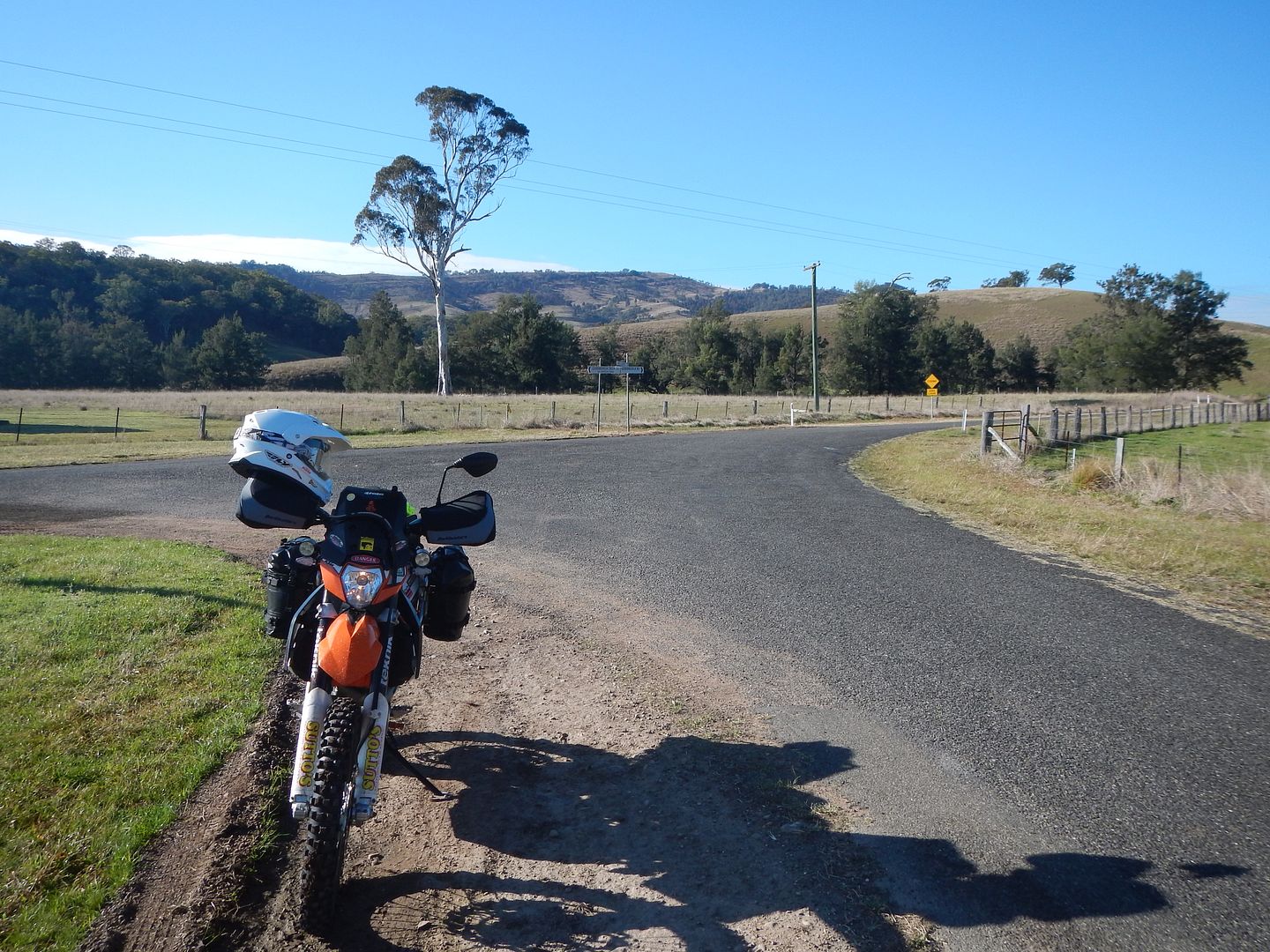 The weather was glorious as we rumbled up thru the back of Mt Pleasant, Rothbury & Sedgefield to Bridgman Rd towards the first rest stop at the famous Zombie Tree Hill.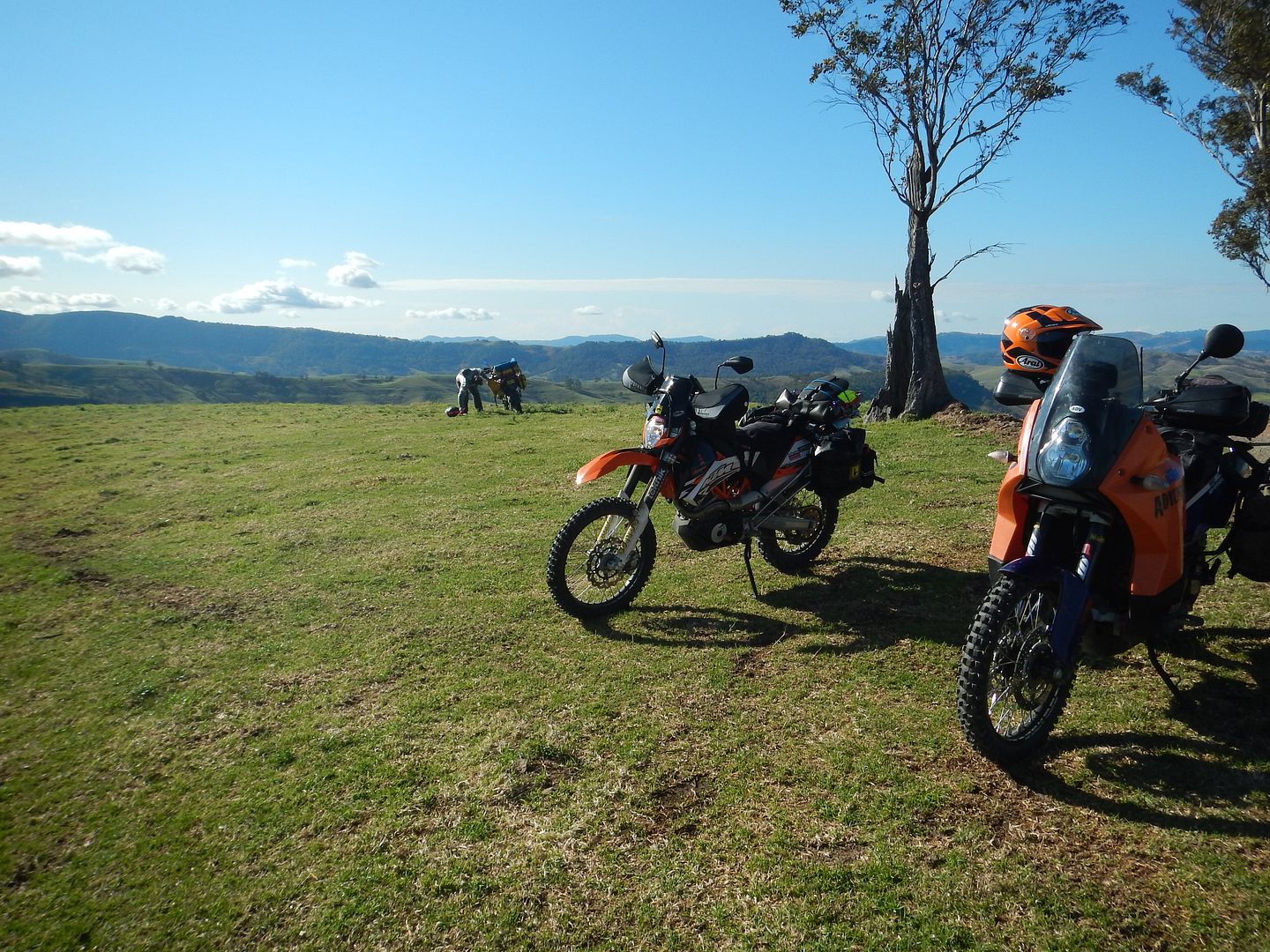 Up Rouchell Rd and past Glenbawn Dam the sun was beaming but conditions were fantastic for riding.
Then it was onwards up Gundy / Waverly Rd before hooting along Timor Rd to hit the Hwy at Blandford and our first fuel & café stop at Murrurrundi for lunch.
From Murrurrundi it was up over the range before hitting the dirt again on Swinging Ridges Rd which I had always looked at but never ventured along. It was a great run up over Merriwa Rd to Warrah Ridge and the back way to the quiet township of Quirindi. We didn`t stop in town , just rolled on through but got some waves and longing stares from some of the locals who I reckon would have rather been riding with us than hanging around in town.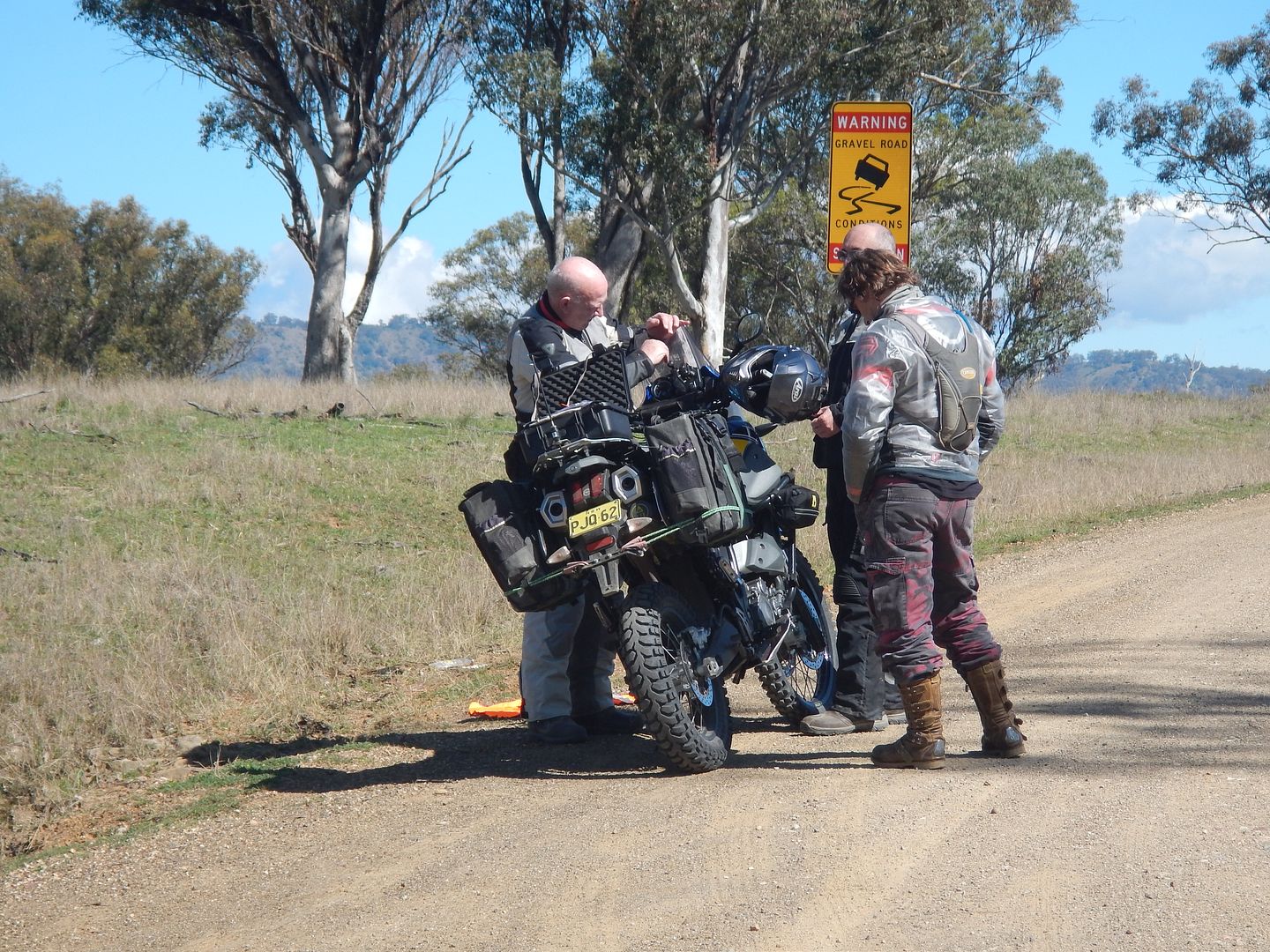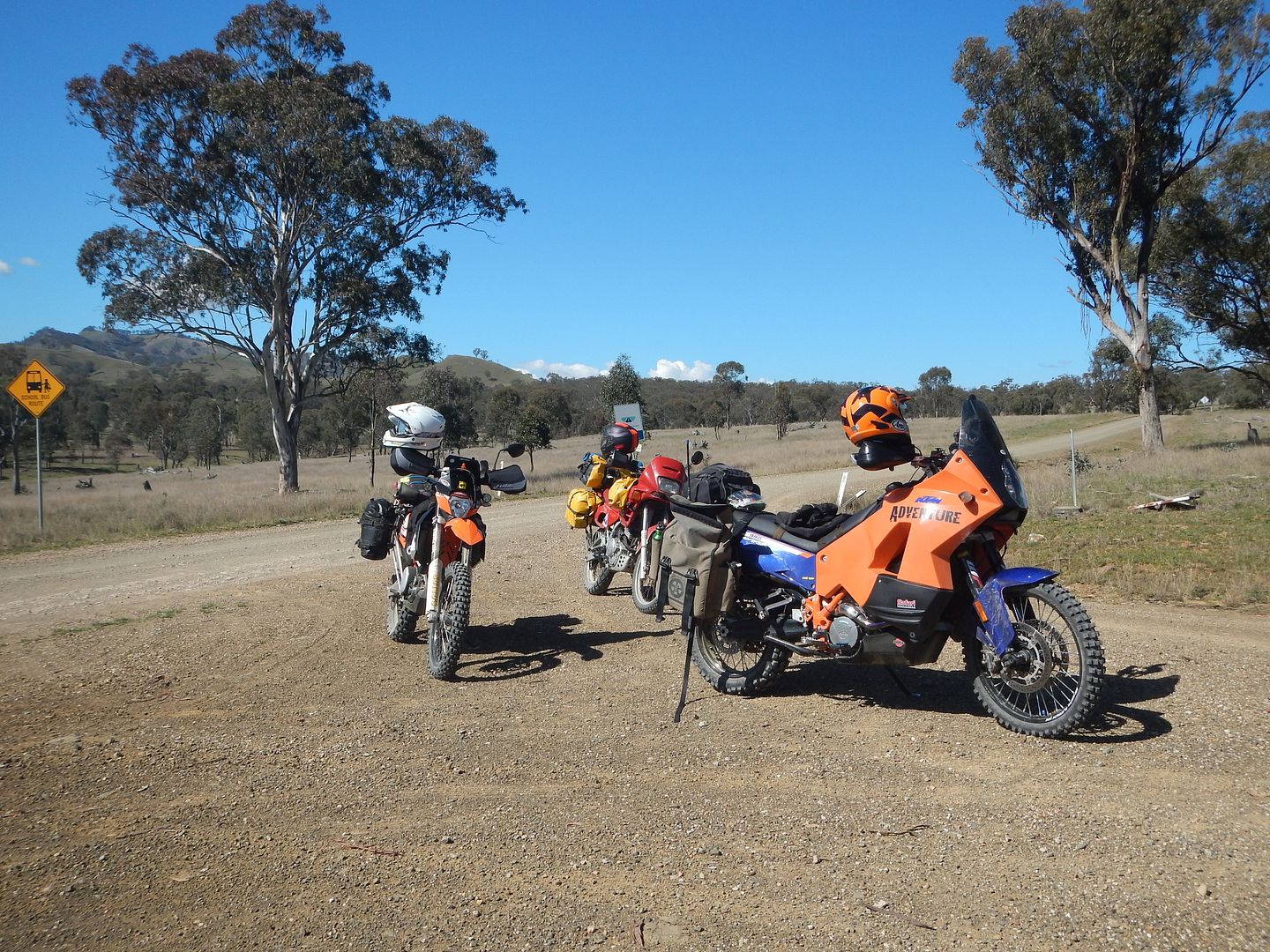 Then we hit some fast open section on I think Werris Creek Stock Road which was a hoot to be able to open the throttle and feel the wind whizzing past. This brought us very quickly up to Breeza and some diferent terrain then previously taken in with wide open expanses of ploughed fields and very fast open road.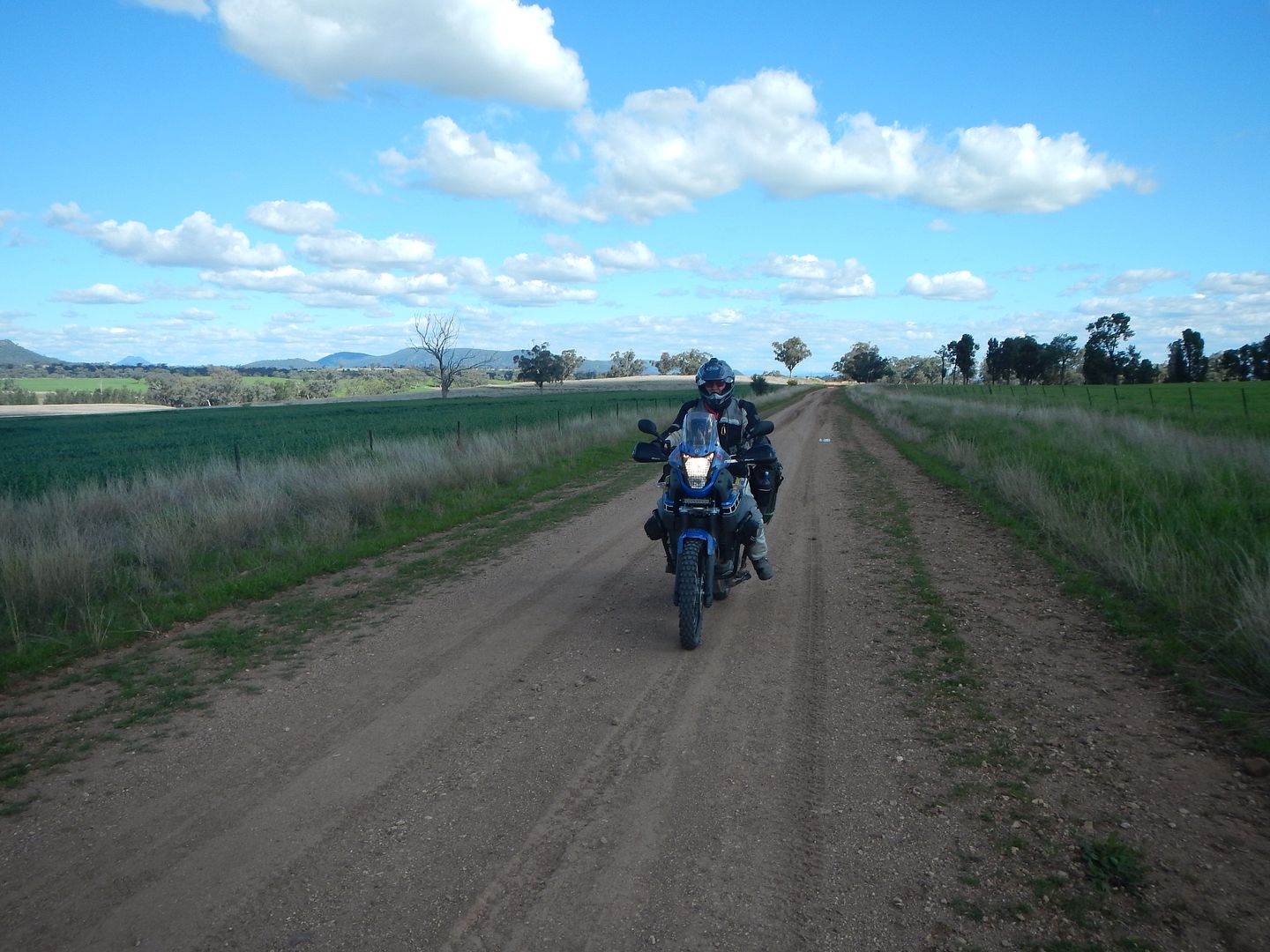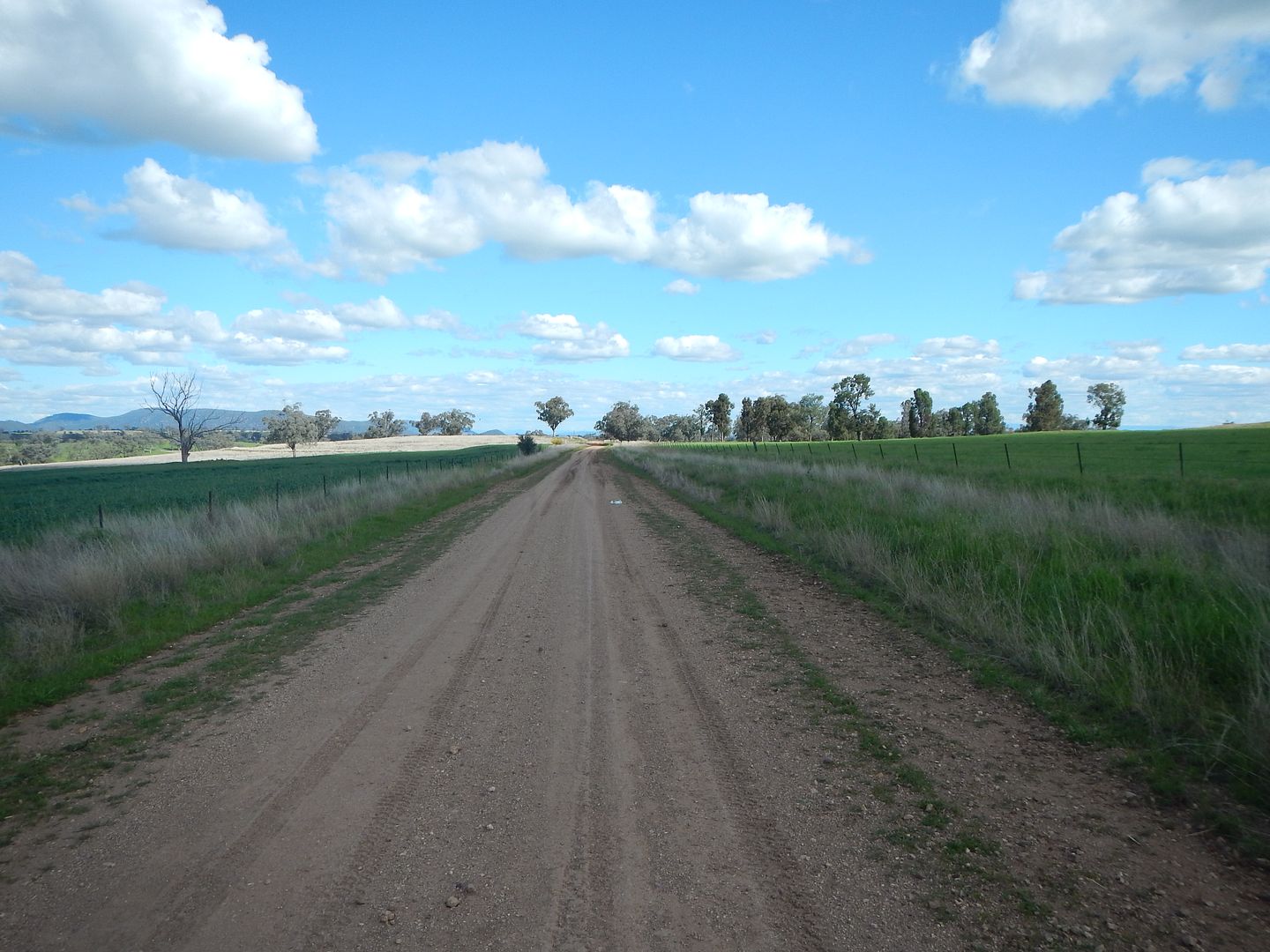 We crossed the Oxley Hwy at Somerton before heading for Attunga, Garthowen and Halls Creek where we met up with Frankie and Dommie Stew. Frankie had met up with Stewy earlier in the day but Stewy had already been on the road since Saturday when he headed to Nundle and Walcha for overnight stays in the local pubs and a tad of #27 stalking (watch out Casey)
Frankie & Stewy were now part of the crew and we rolled up and over Bungendore Spur, which was a steep, winding road with el primo views that reminded me of the Bridal Track in places (minus the rock).
A brief pause on top if the mountain to take in the vista looking East to Bendemeer. The only thing to do was to run from the fading light and follow the guys across Fish Creek, along the banks of the Macdonald River to our first night stop, Bendemeer Pub. We refueled at the Caravan Park then headed to the Pub where a quick beer was downed to wash away the dust before settling the bikes away into the lockup garages and unpacking the gear to setup the rooms before a well deserved dinner and some laughs.
No dramas experienced for the day except for Steve`s GPS shaking loose on the standard Tenere bar mount, but that was sorted with some silicone tape for grip around the bar before reattaching the mount. And I almost had an excursion off the edge of I think Greens Creek causeway of death after rolling the throttle on about 2 seconds early on the exit making for a very sideways exit, much to Seahorse`s delight for the Helcam footage.
Day 1 and 526klms safely in the bank. :dance:

---
OLD BULL #101
Original Ride-

`84 XR250R

GONE
Previous Ride-

`04 KLX250R

GONE
Current Ride- 2010 KTM 690R Enduro


"Still hangin` in there"
Please Log in or Create an account to join the conversation.
Topic Author

Adv Forum Moderator
" Found Yellow Rock, Bald Rock & The Tunnel. Now what ???"
3 years 11 months ago
#171319
by EAGLE`02
DAY 2
We woke to a foggy morning in Bendemeer, but not as cold as we expected, which was nice. Breakfast was to be at the Pioneer Cottage Café, 100m down the road, so we decided to get the bikes out of the lockup, pack the gear, whack the warm riding gear on then walk to the Café.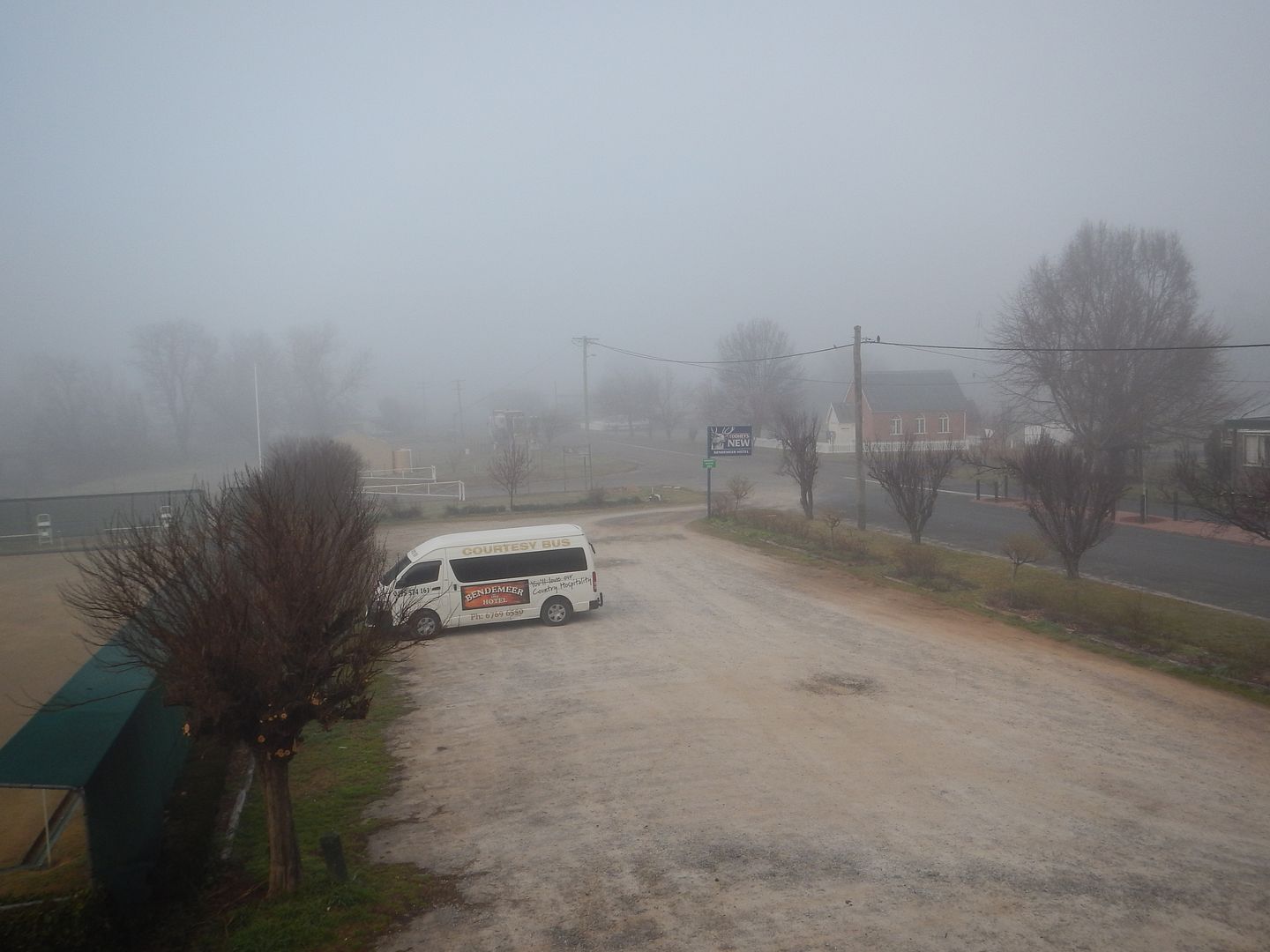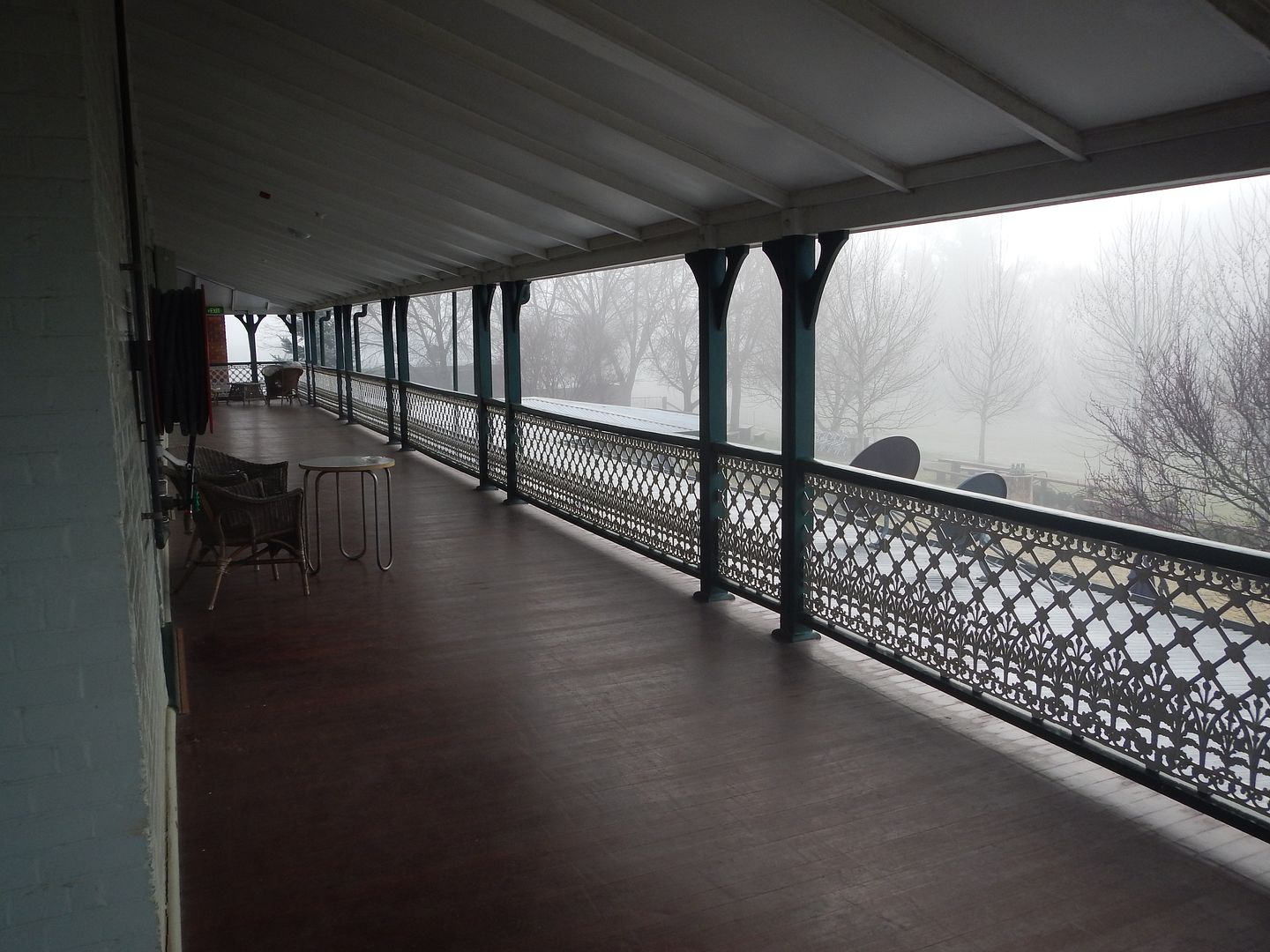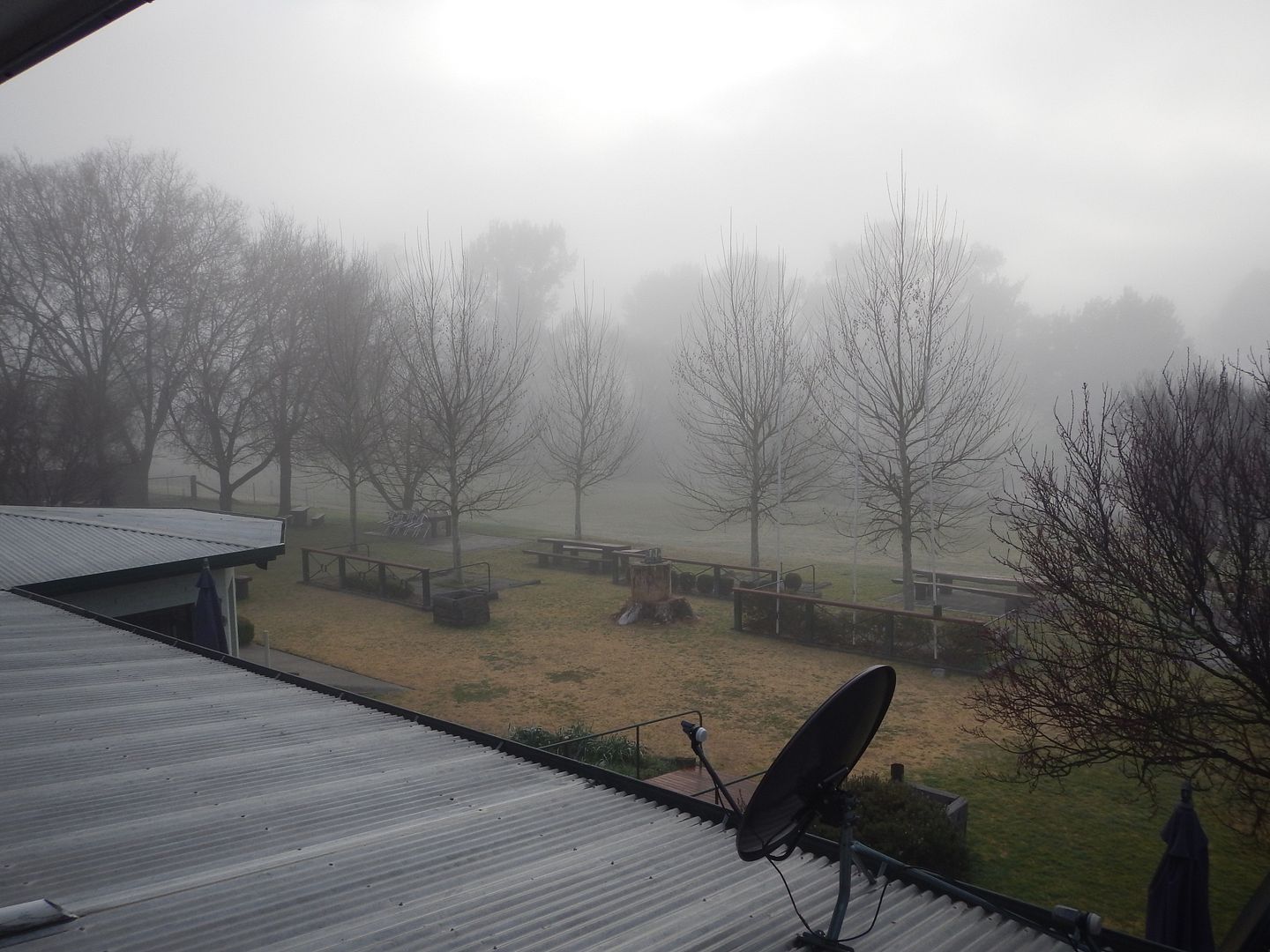 It was a fantastic start to the day, and proved to be a hit with great food served with a friendly smile and good coffee to boot.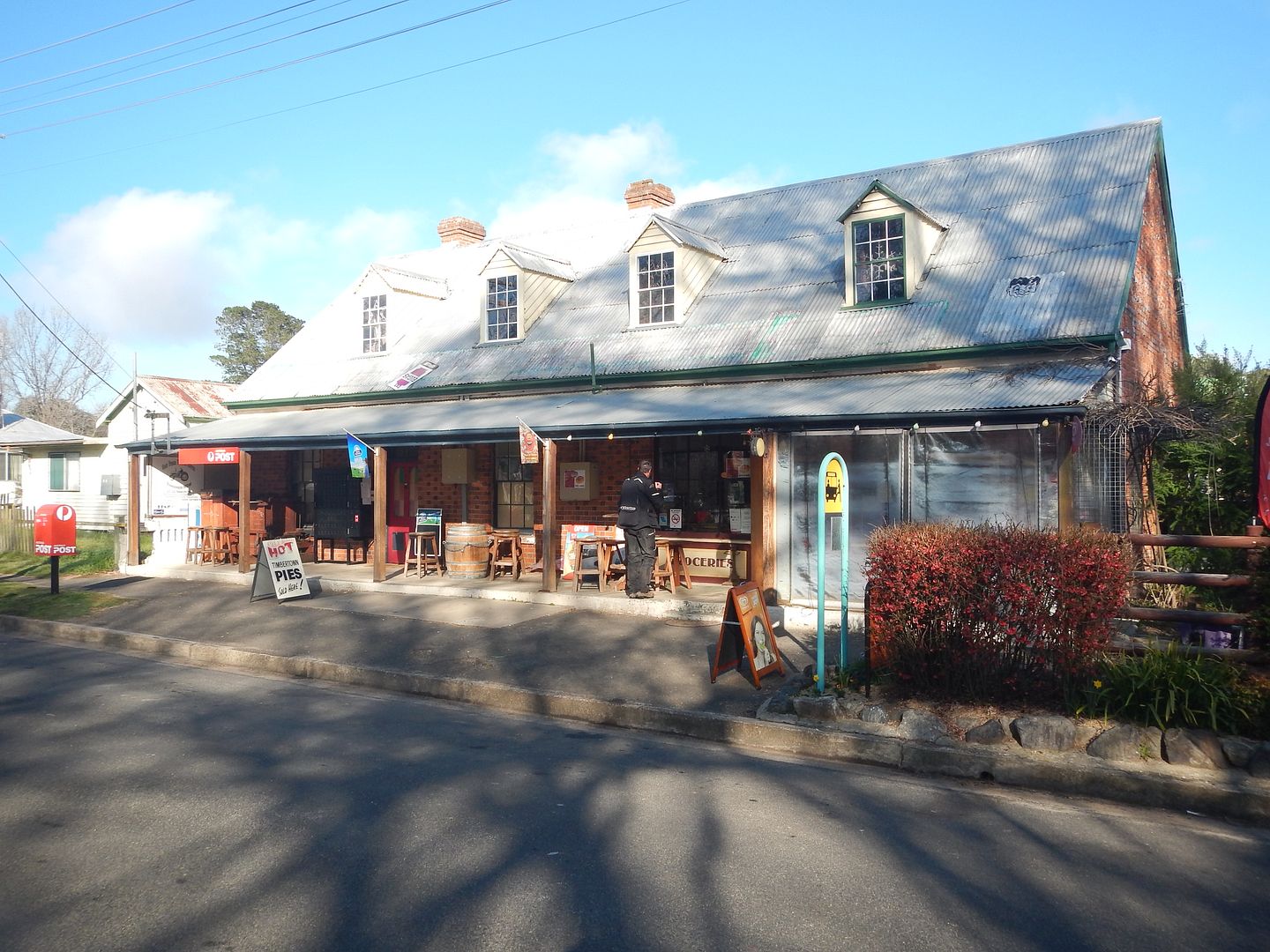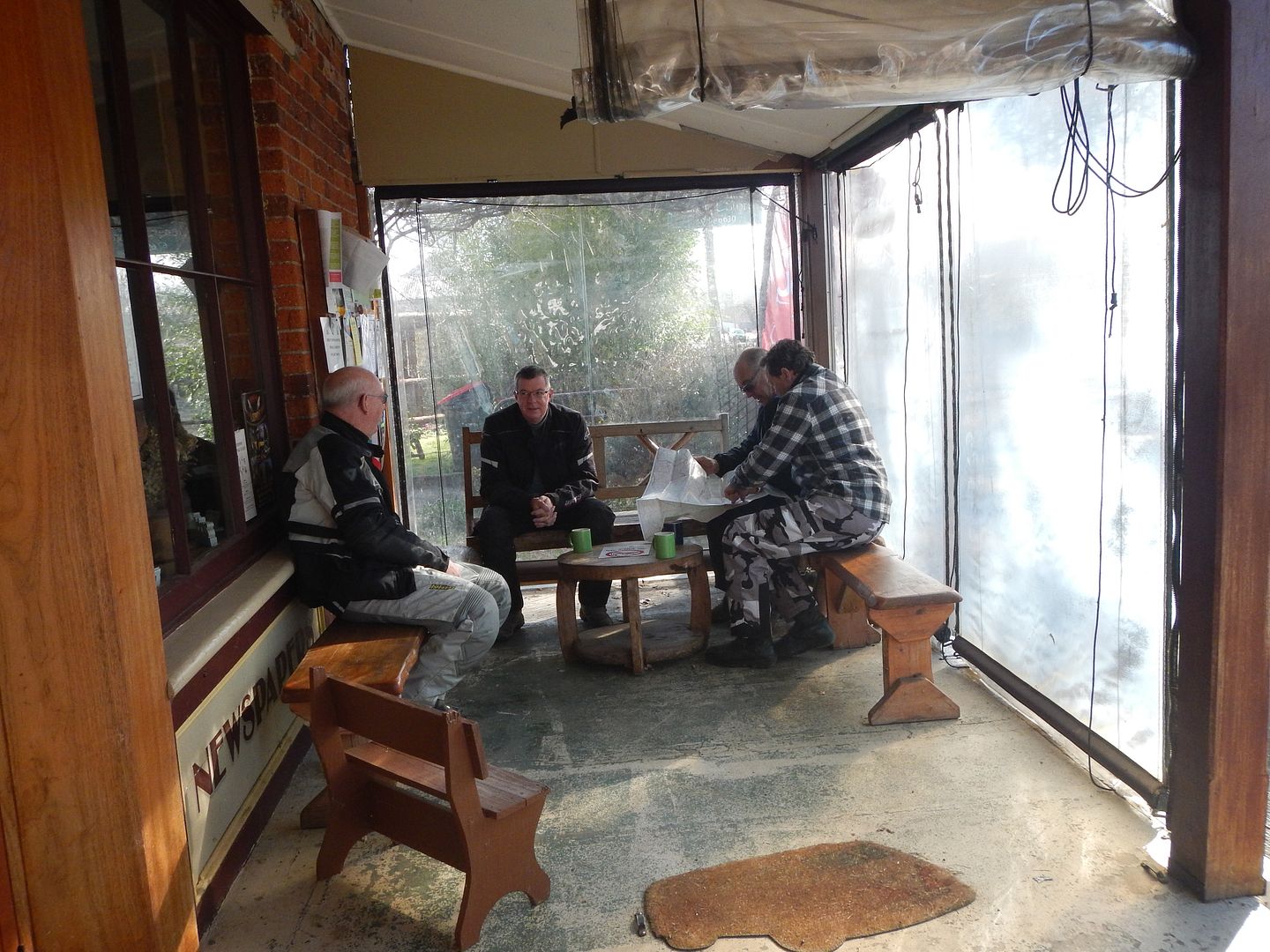 So back on the bikes with 6 merry men in the saddle and off towards Tenterfield.
We wound our way along the banks of the Macdonald again heading North to Kingstown and Woods Reef / Warrabah Rd. Hung a right at Bonnay / Linton Rd near Thirloene , skirting around the edges of Ironbark Nature Reserve before continuing on to Barraba Rd.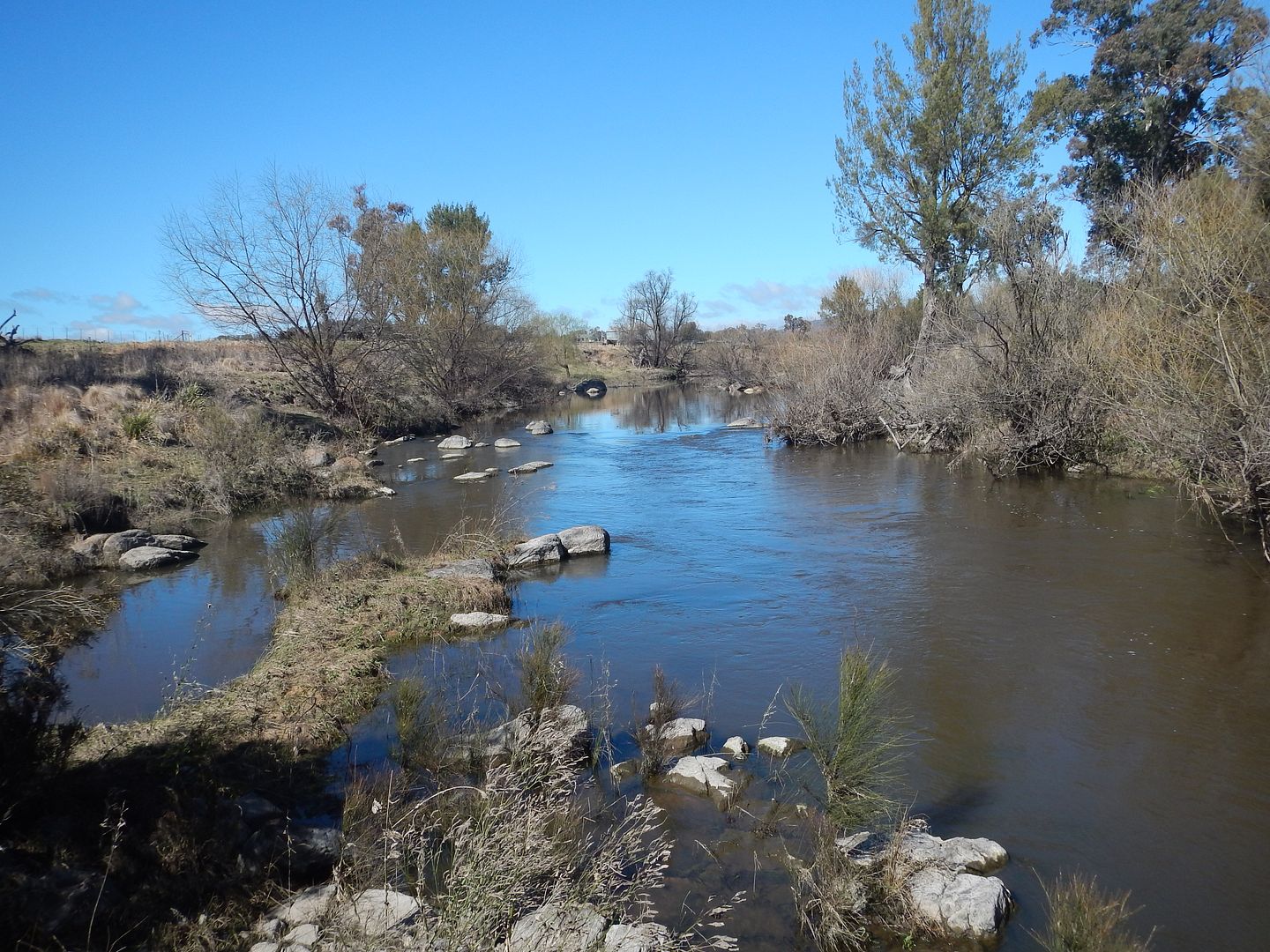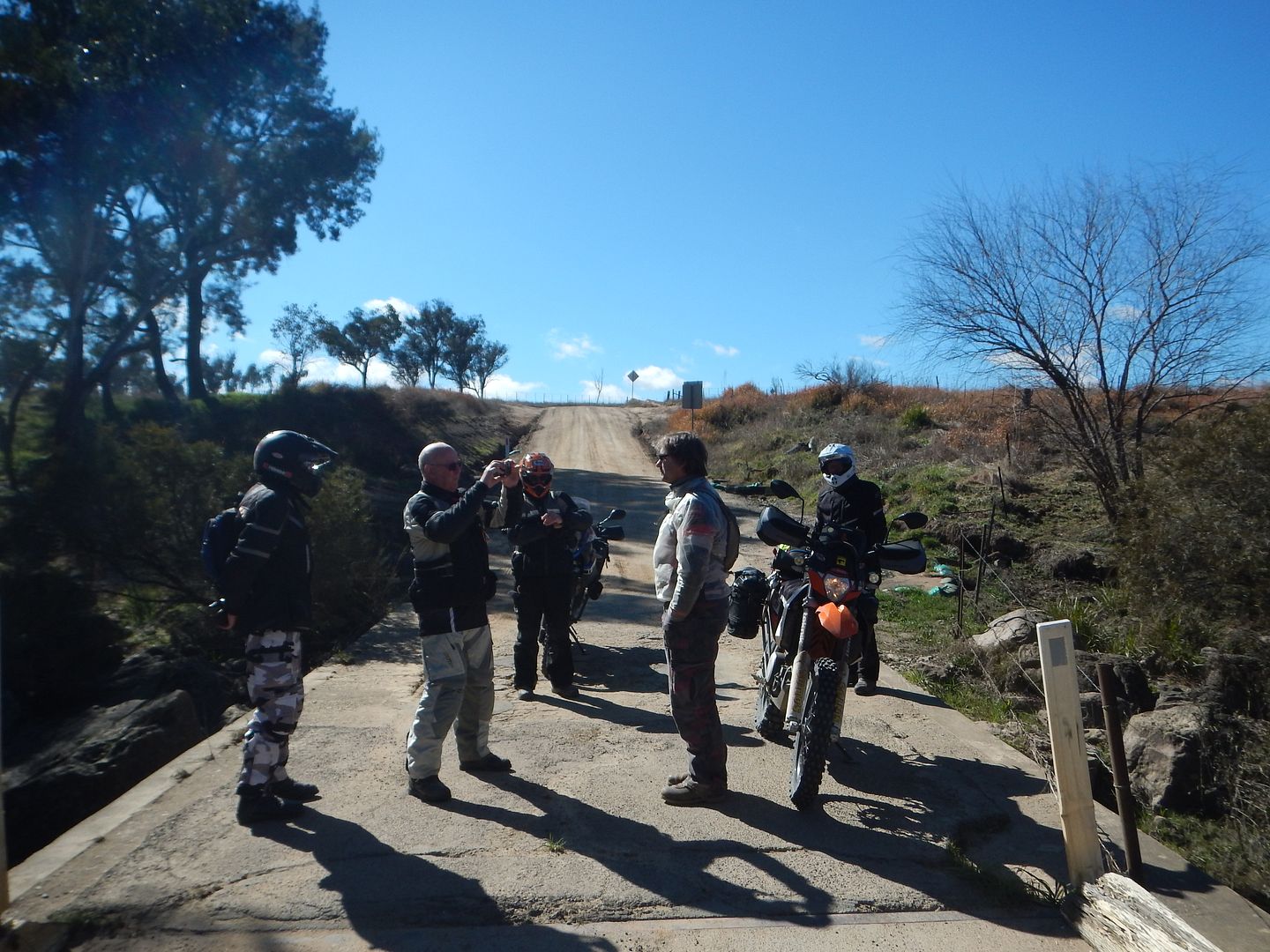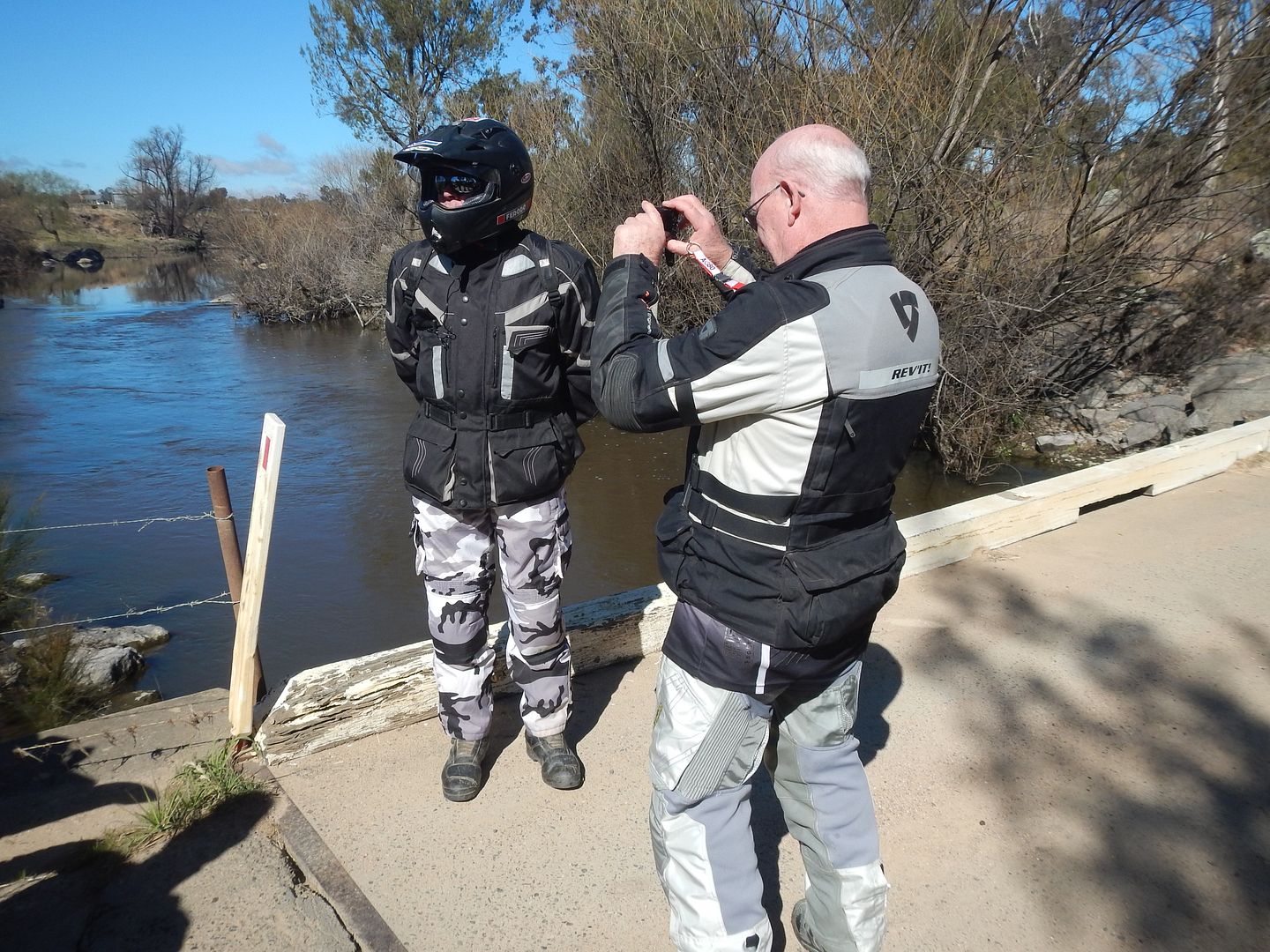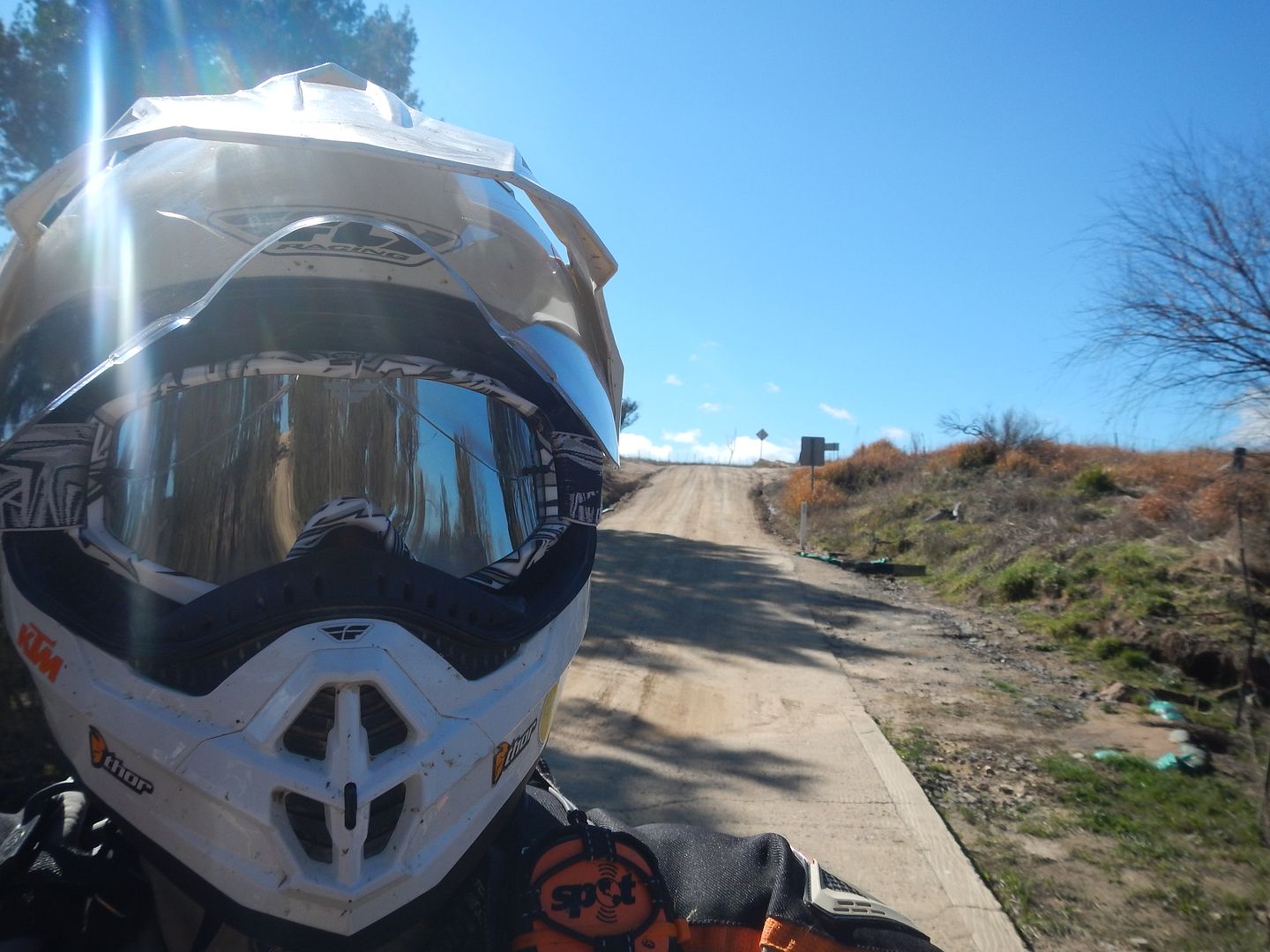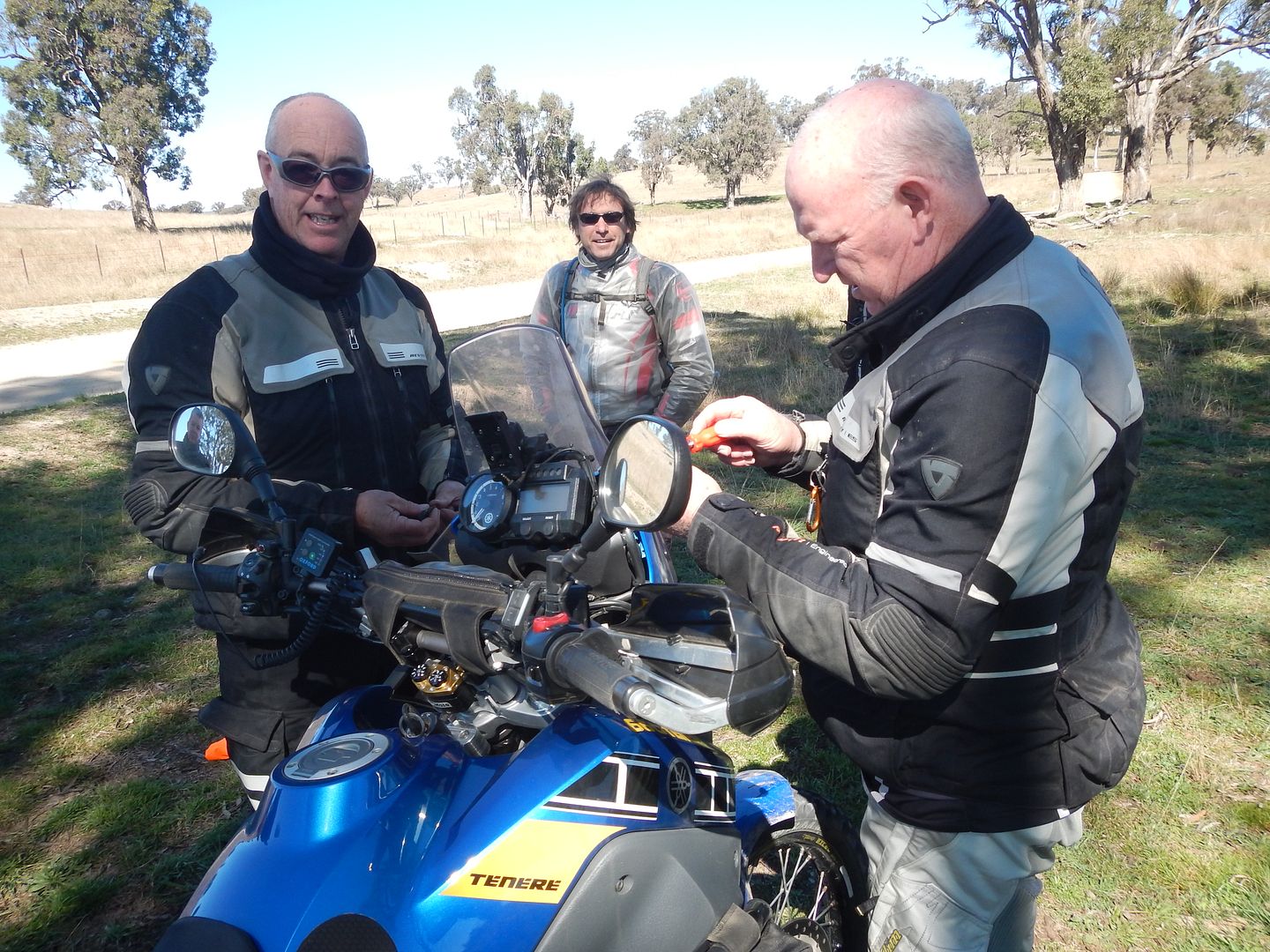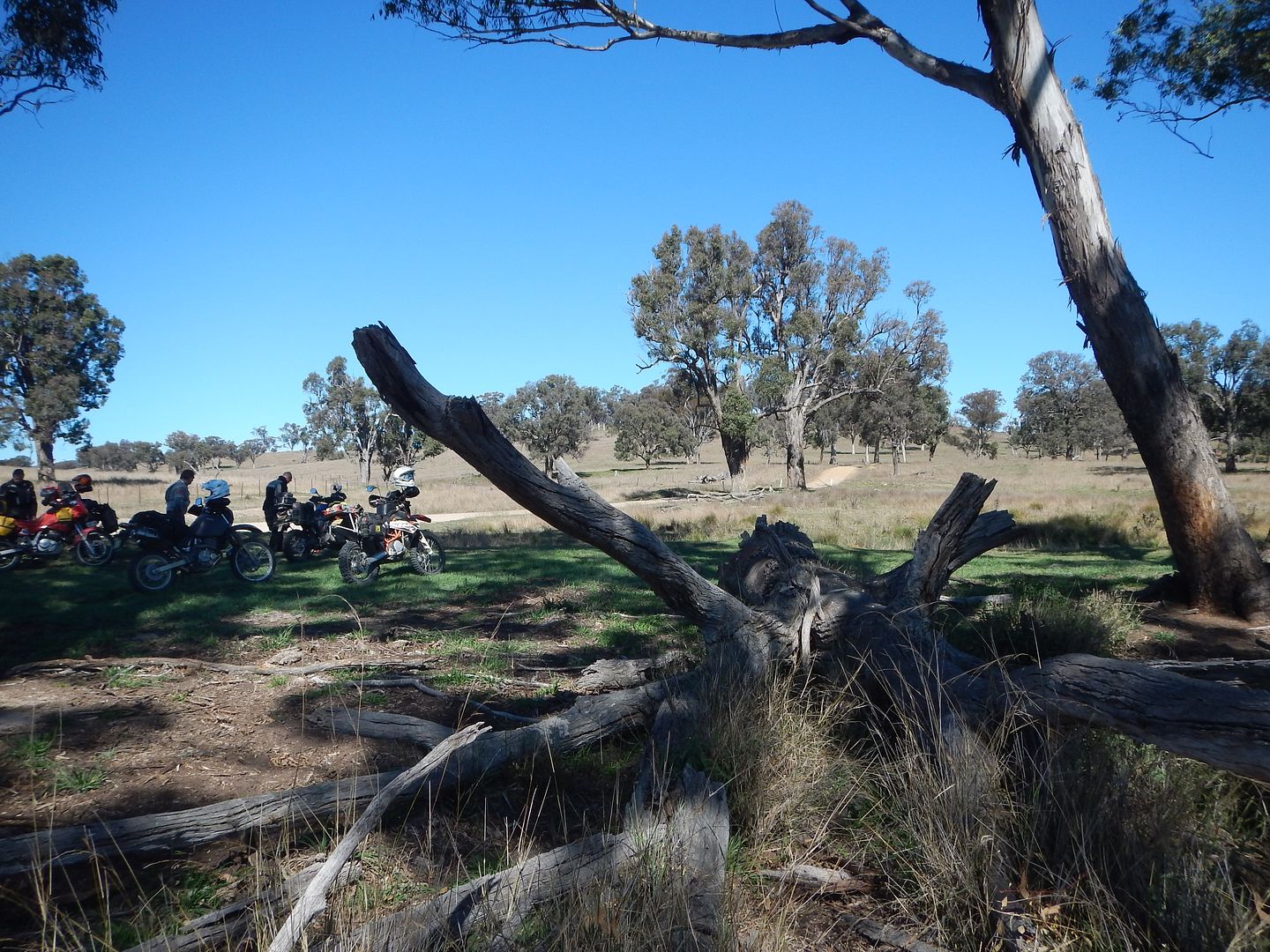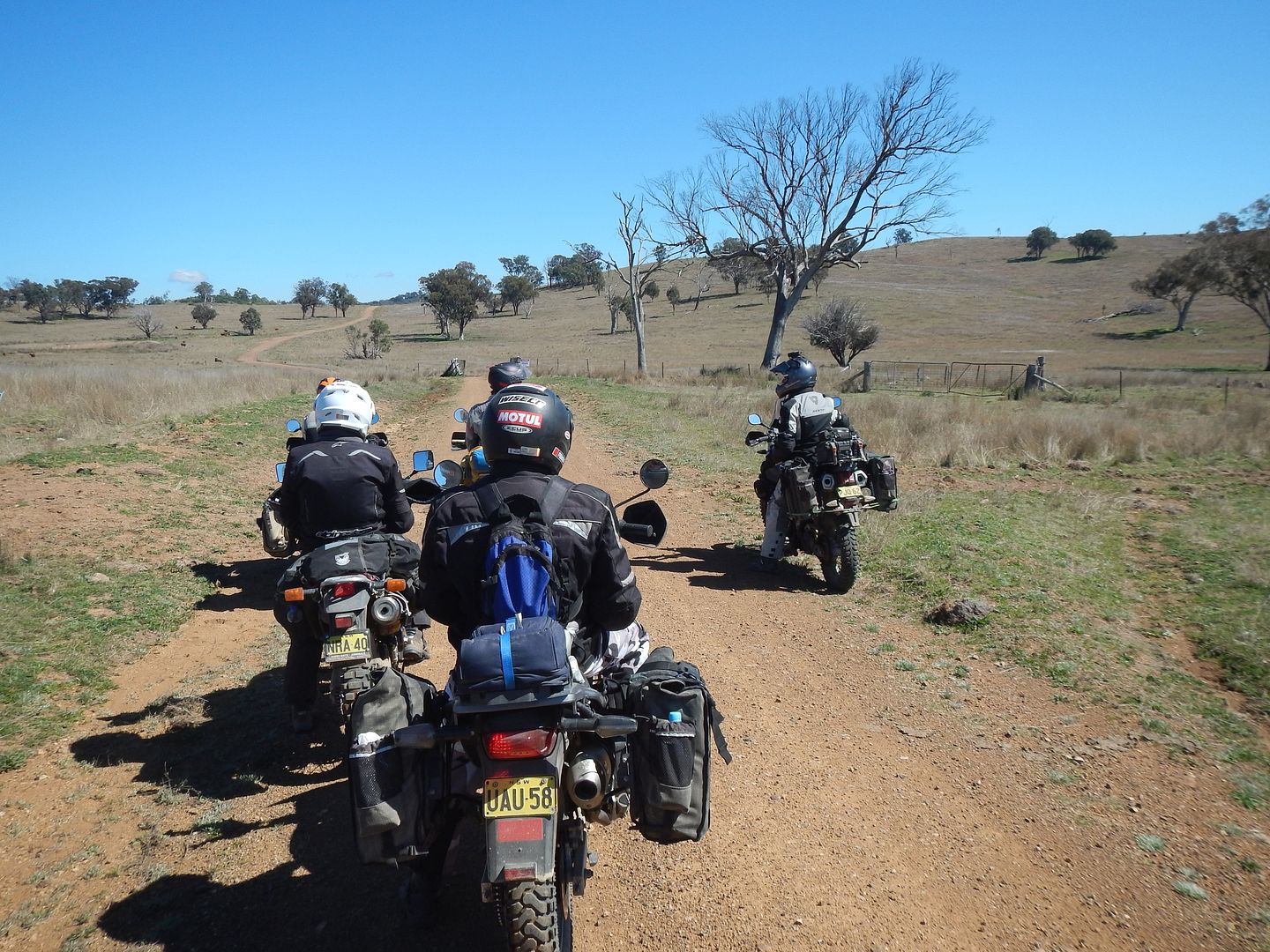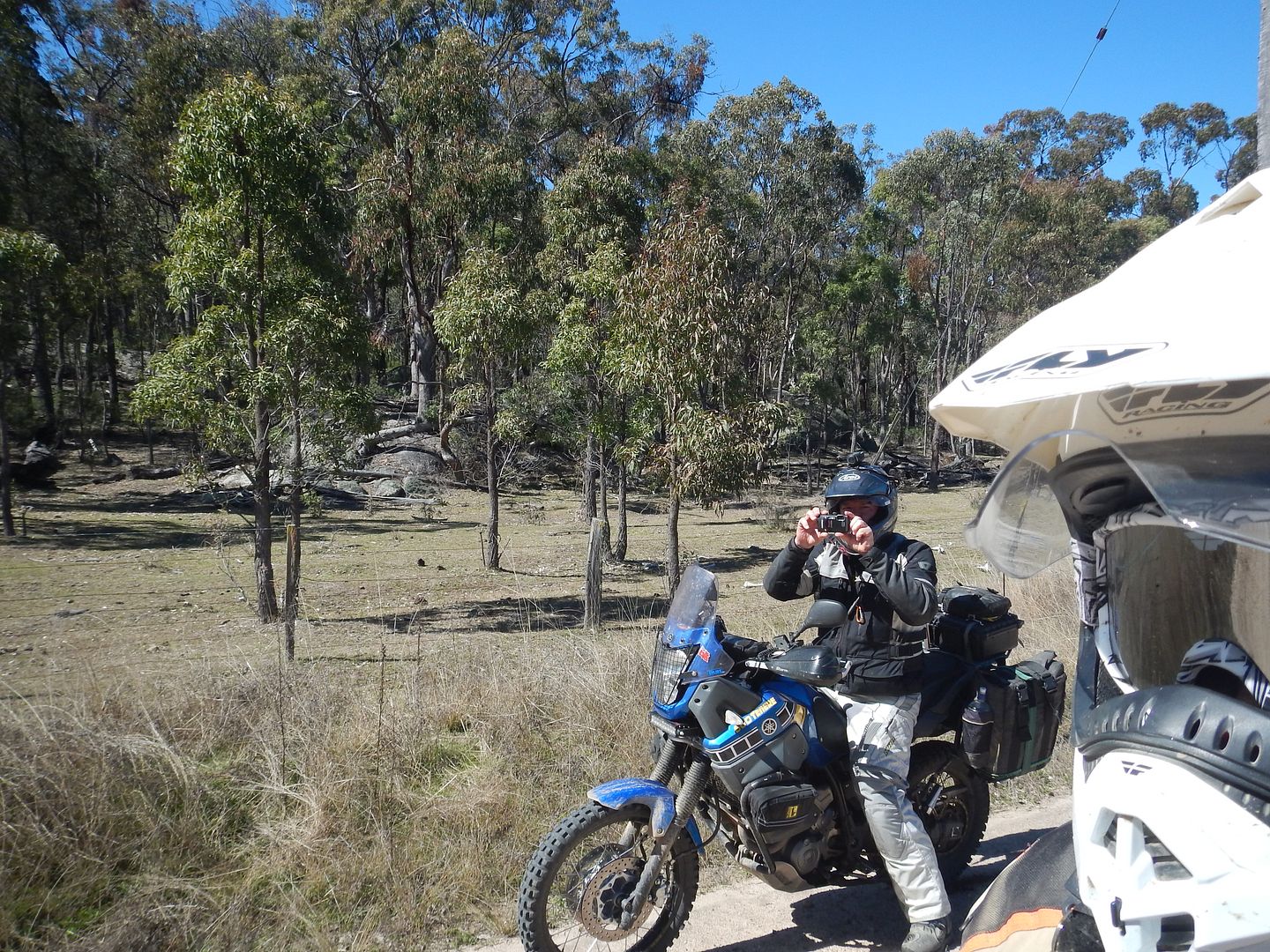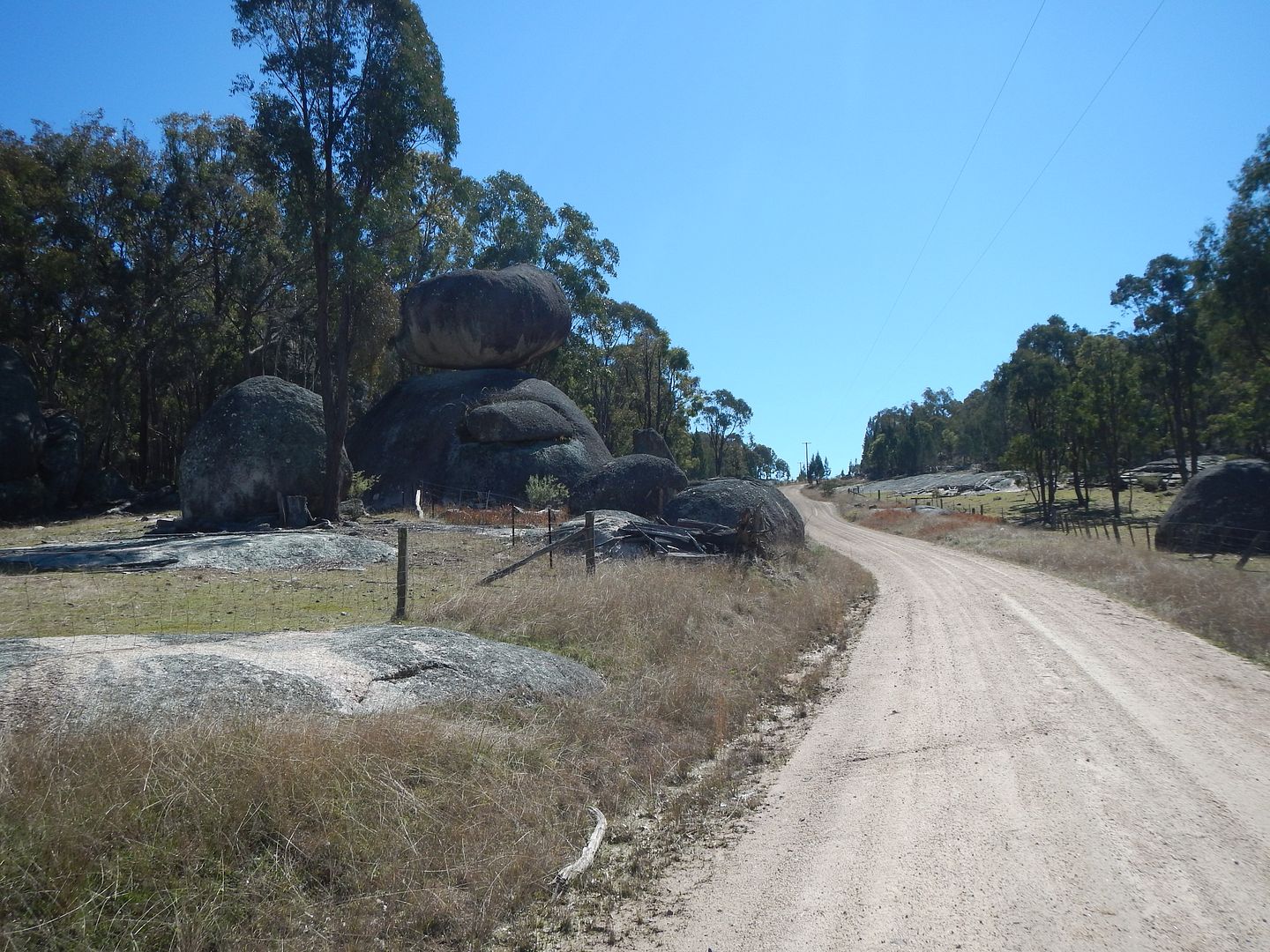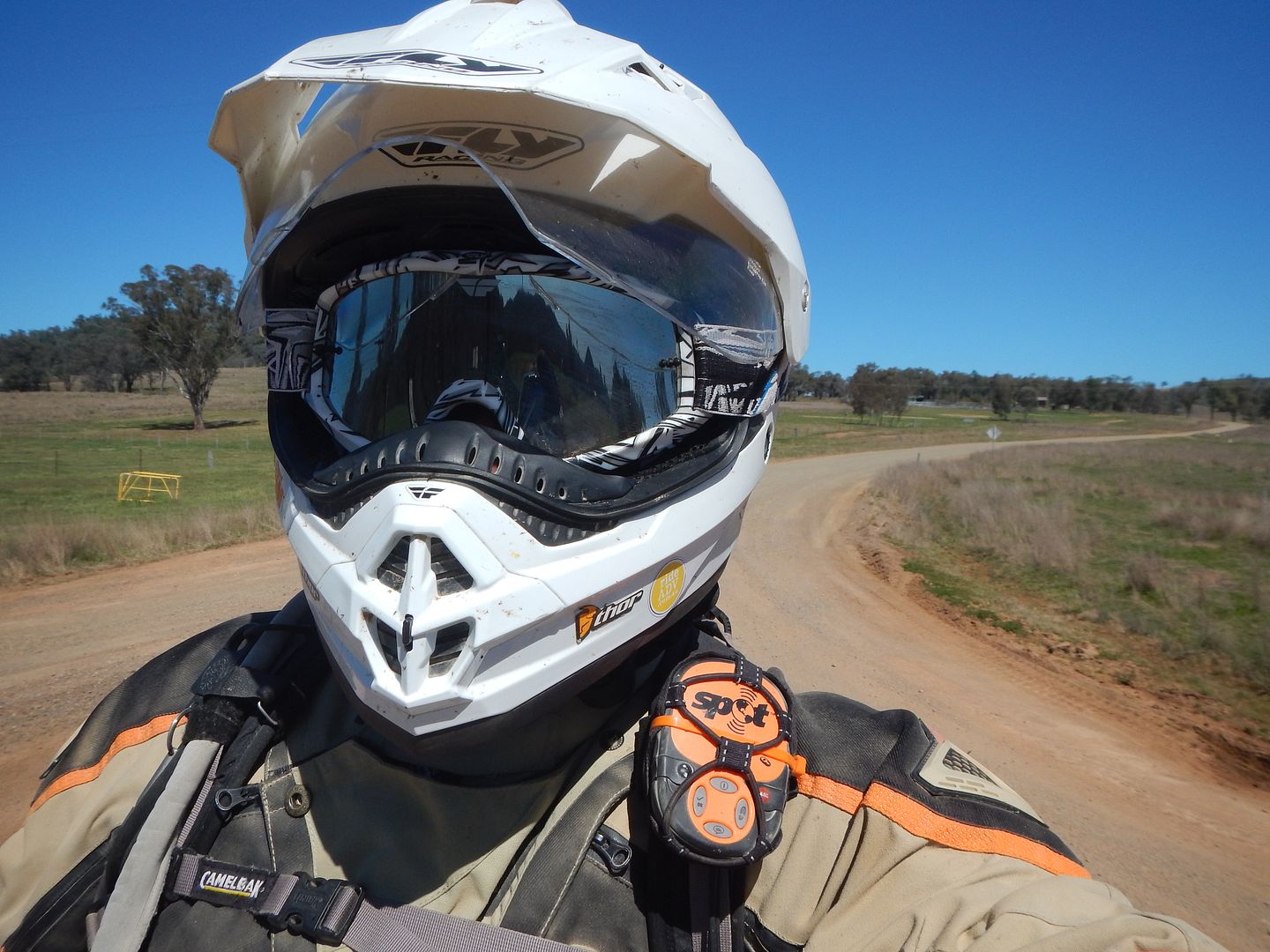 Next was Gulf Creek and Towarra Rd which follows Gundamulda Creek and brought us up to Copeton Dam Rd. A quick slab run to the Dam Visitor Centre where it is usually $12 entry, but Frankie struck a deal with the staff to let us in past the gates to fuel up & grab a hearty Burger lunch at the Café.

The Café / Visitors Centre is only 3 yrs old and looked brand new & squeaky clean. Being Tesday, there was no one there but us and the staff, so service was fairly quick. I can imagine it would be jam packed on a weekend though,,,
After lunch it was back in the saddle for a blast across the top of Copeton Dam wall and onwards towards the destination, still a long way to go.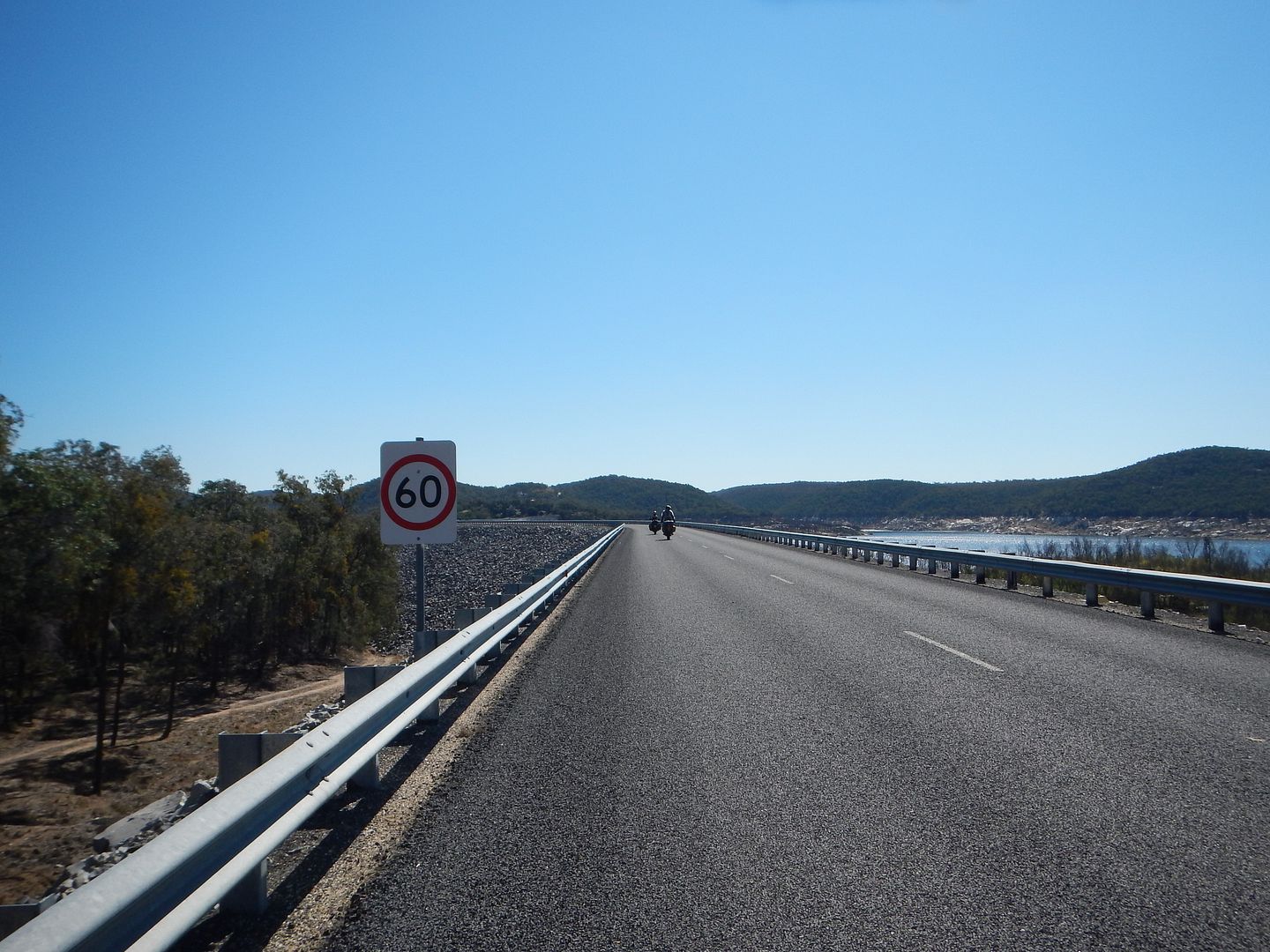 Next was the run to Inverell, a beautiful town but we only had time to blast on through straight past Mr Strangs famous dealership and head North out of town on to Deepwater Rd.

Straight on through Strathbogie and East to Emmaville , heading North again along Tent Hill Rd, skirting Torrington State Forests to Torrington itself.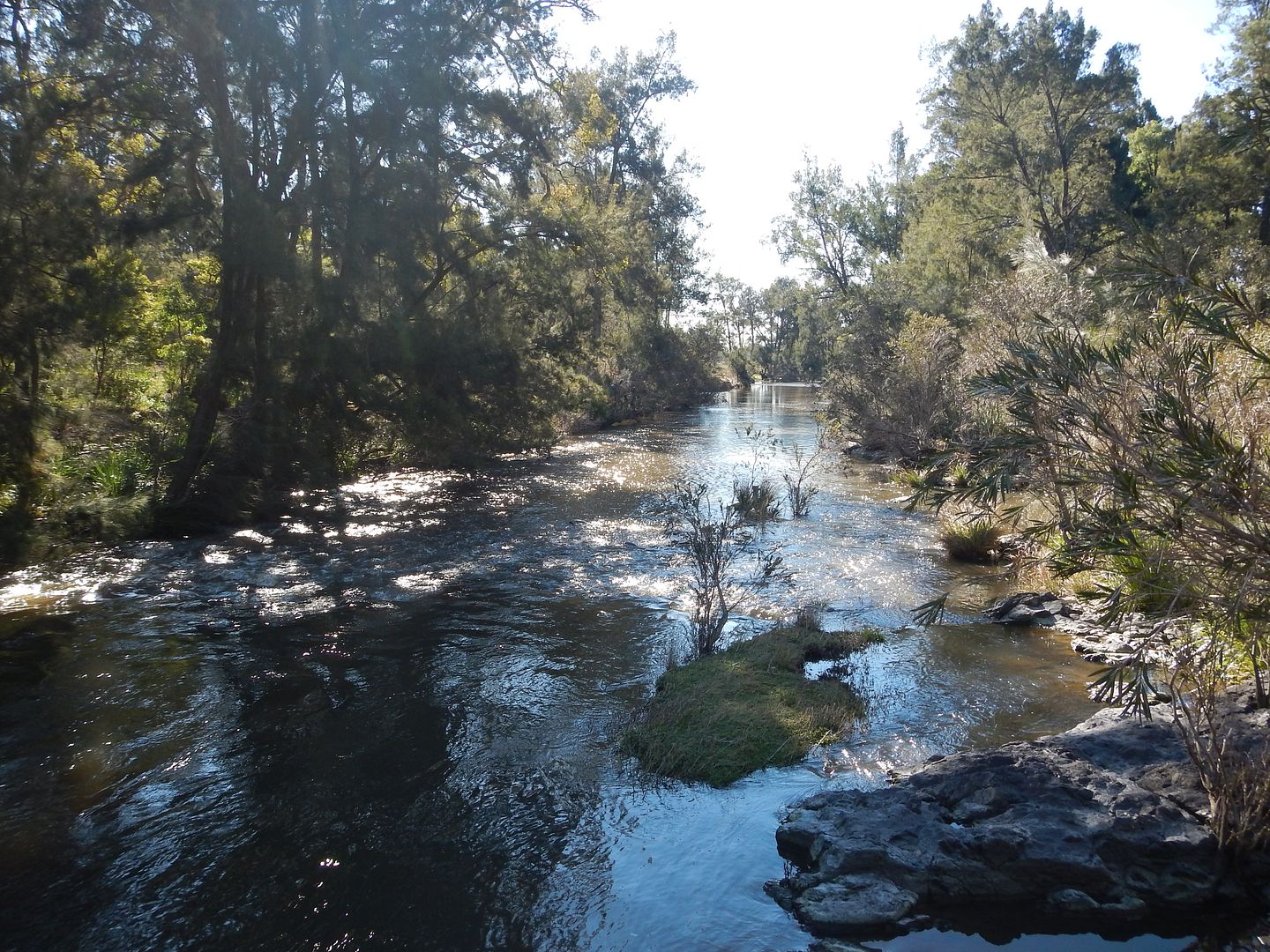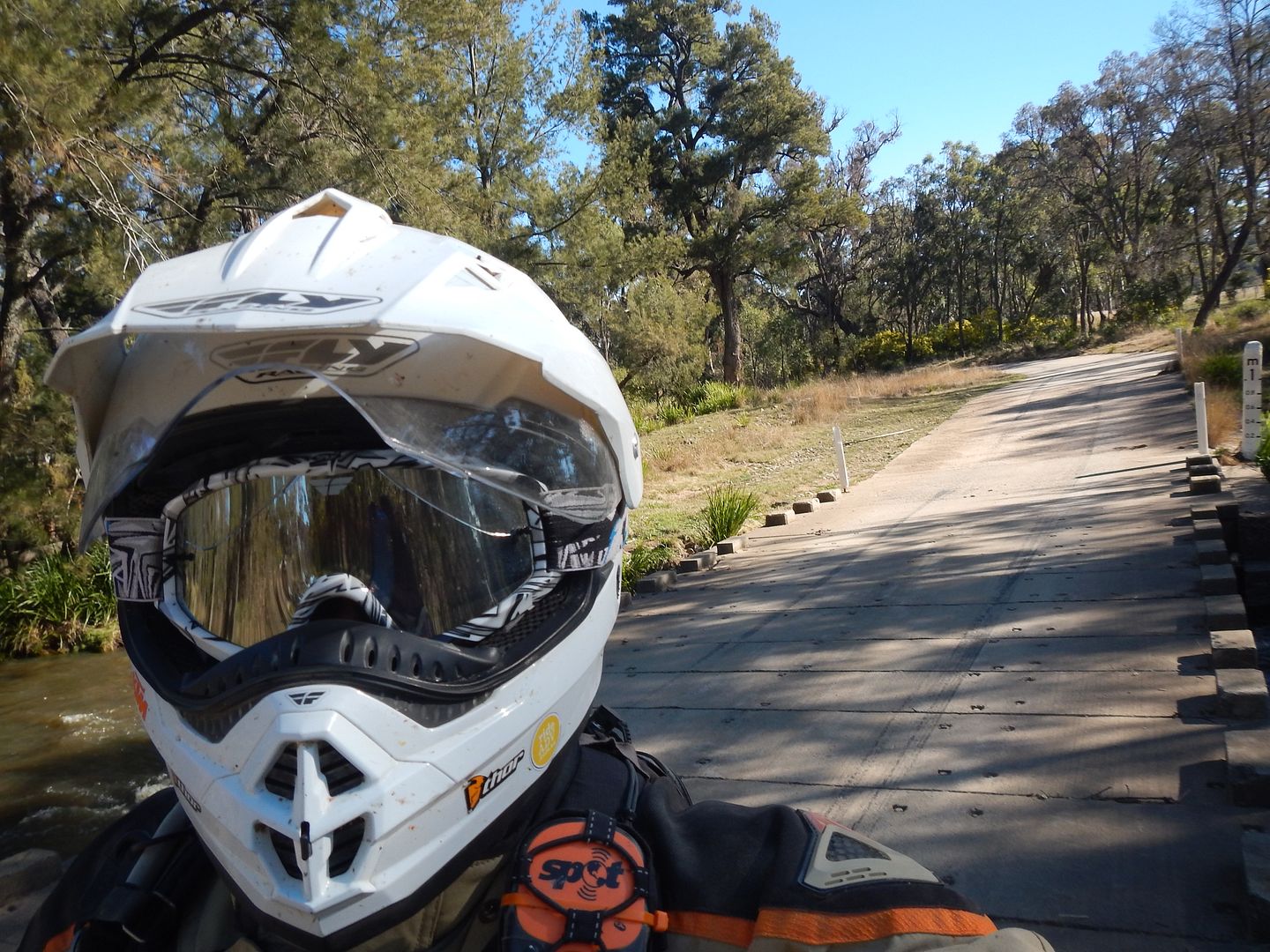 Then was a good run through Silent Grove to Mole River before hanging a right at Woodside and onto Gunyah Rd. We came across a solo rider on a KLR all loaded up and heading into the hills to camp the night . It was a actually the "Canoe Guy" and he was retracing the Sydney to Brisbane route from RideAdv, but in reverse. Very keen he was as it was getting cold real quick.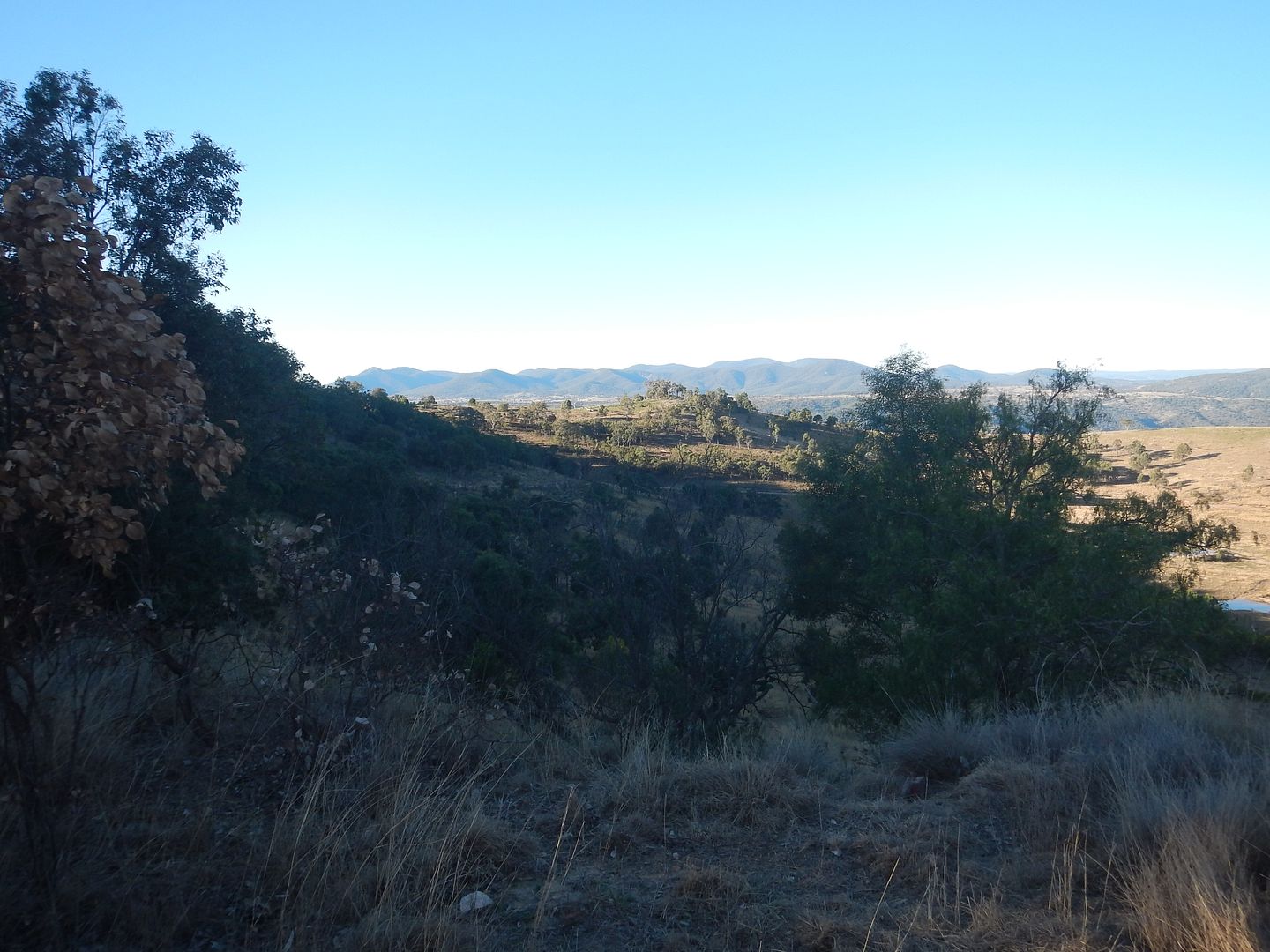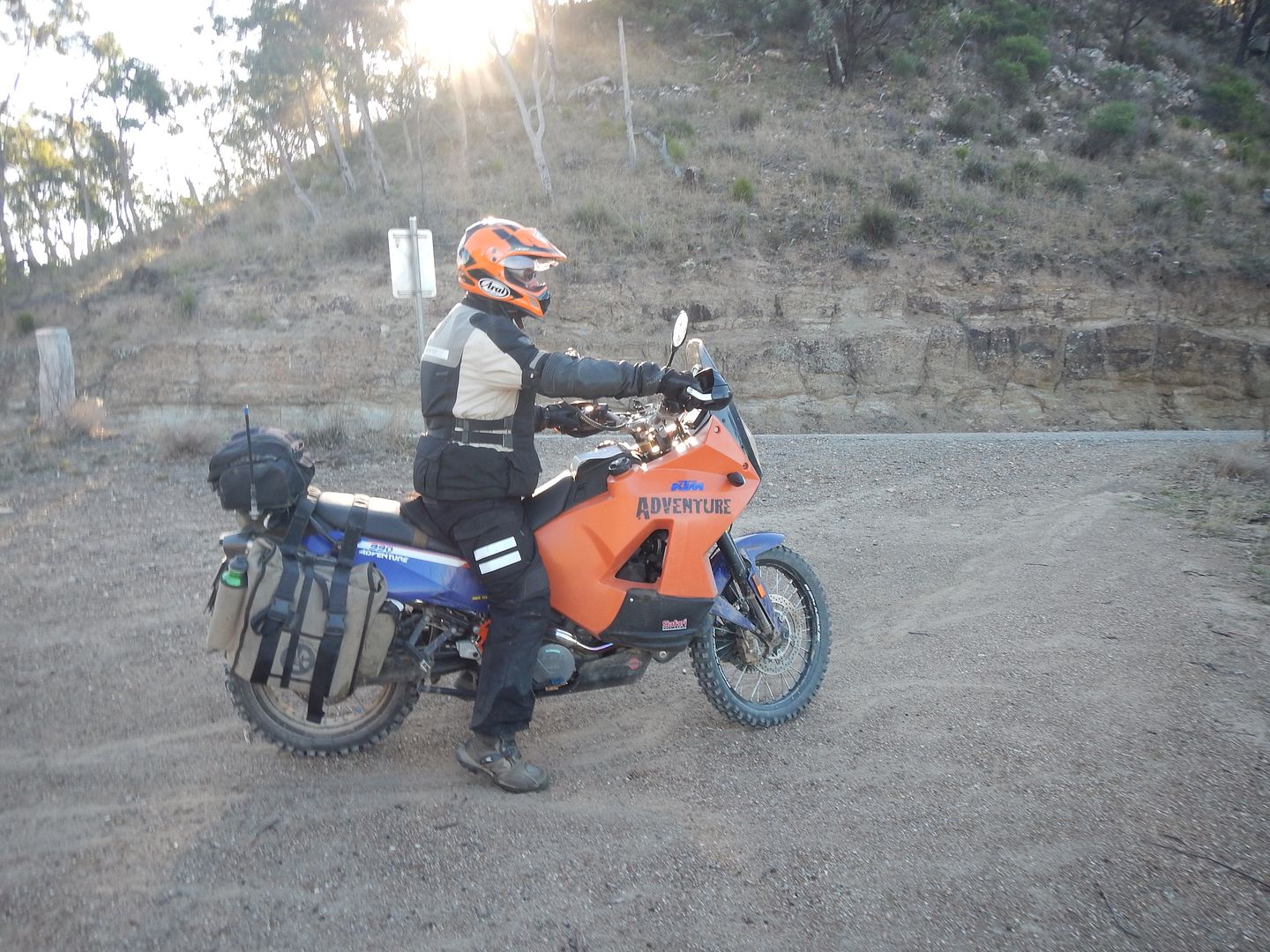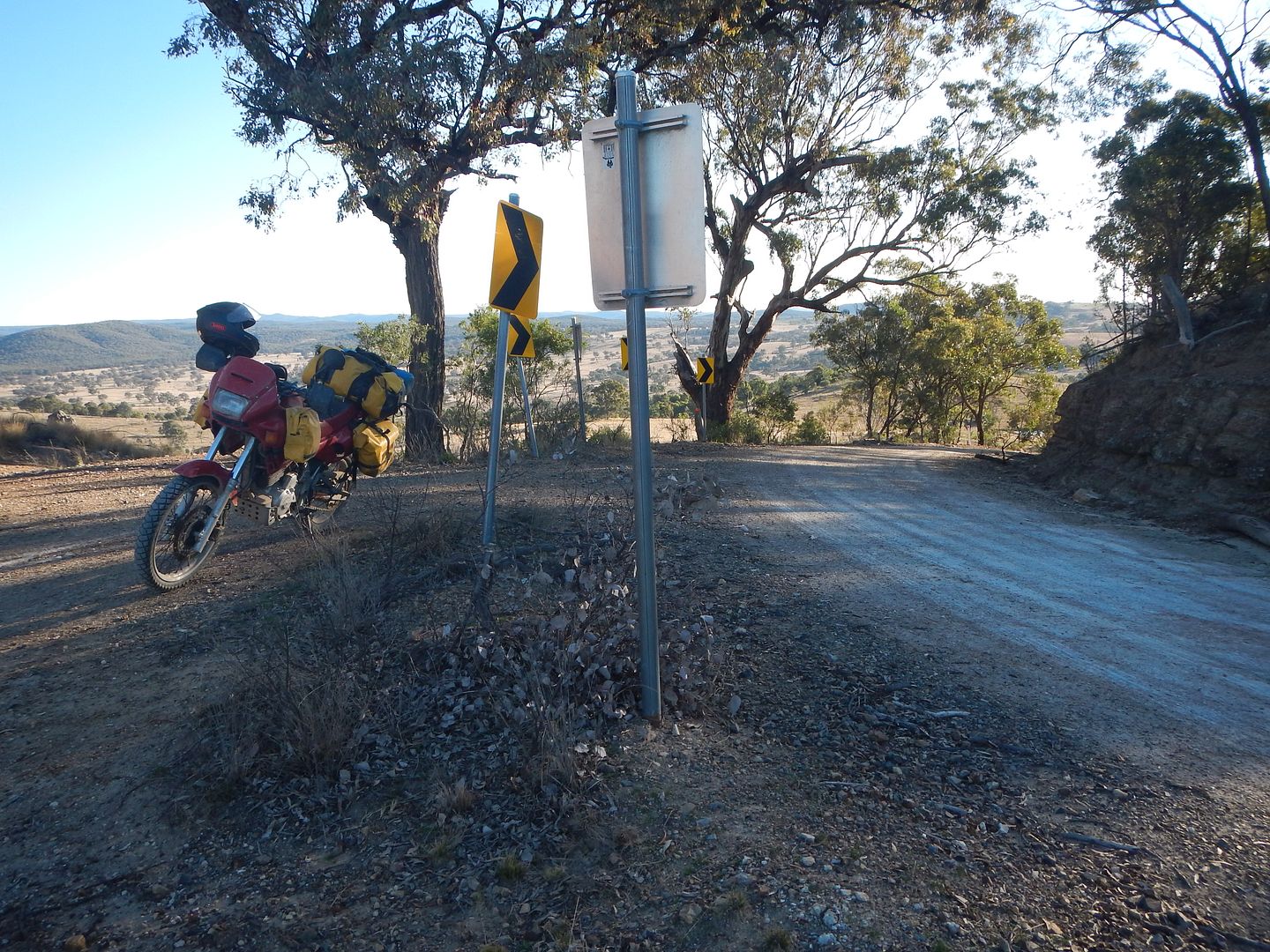 It was also getting late into the afternoon once again and the Skippys were starting to show some interest in the headlights, so it was a mad dash up over the mountains of Gunyah / Kildare Rds before skipping the run up to the lookout and descending down into our destination town for the night Tenterfield.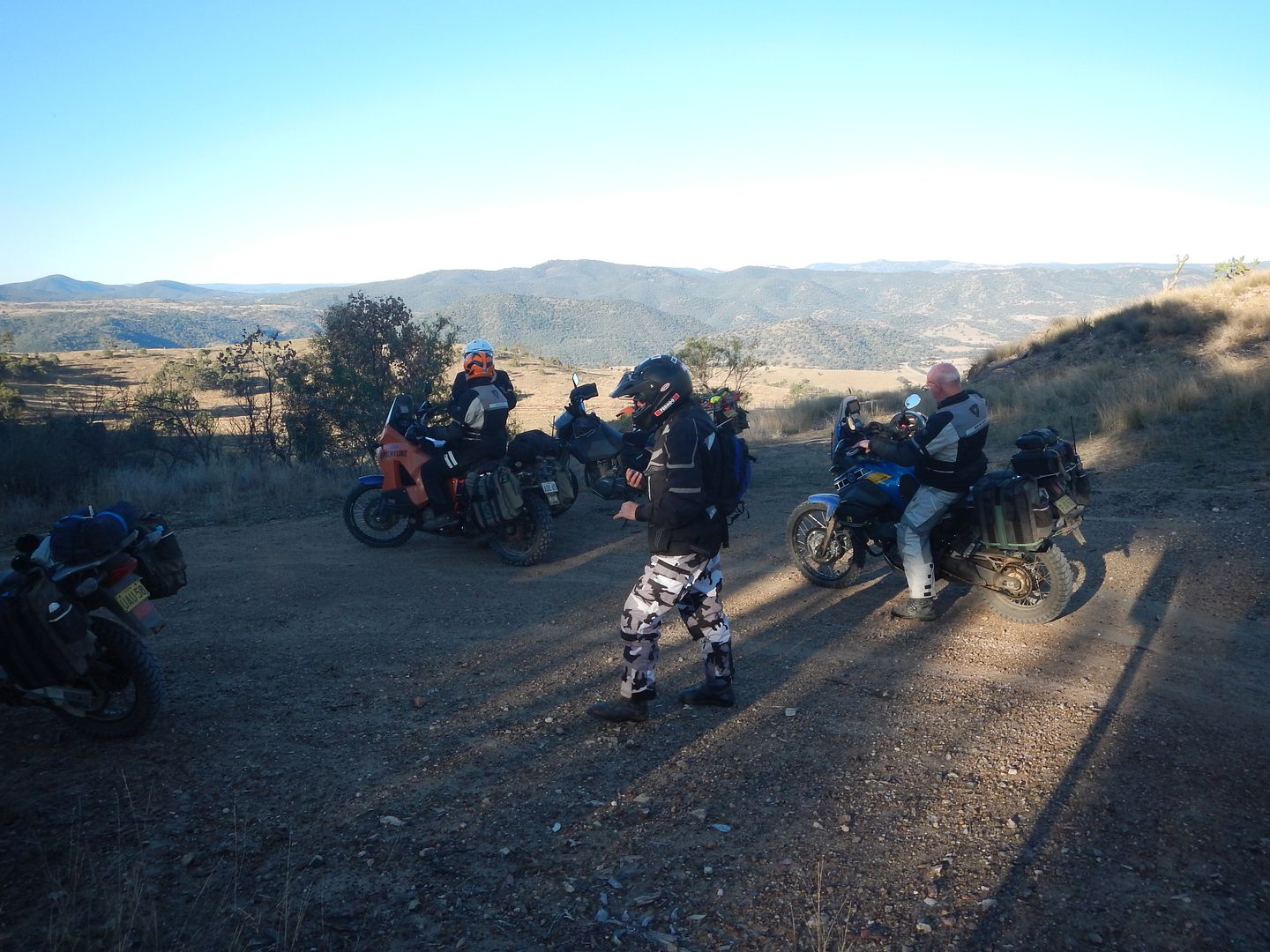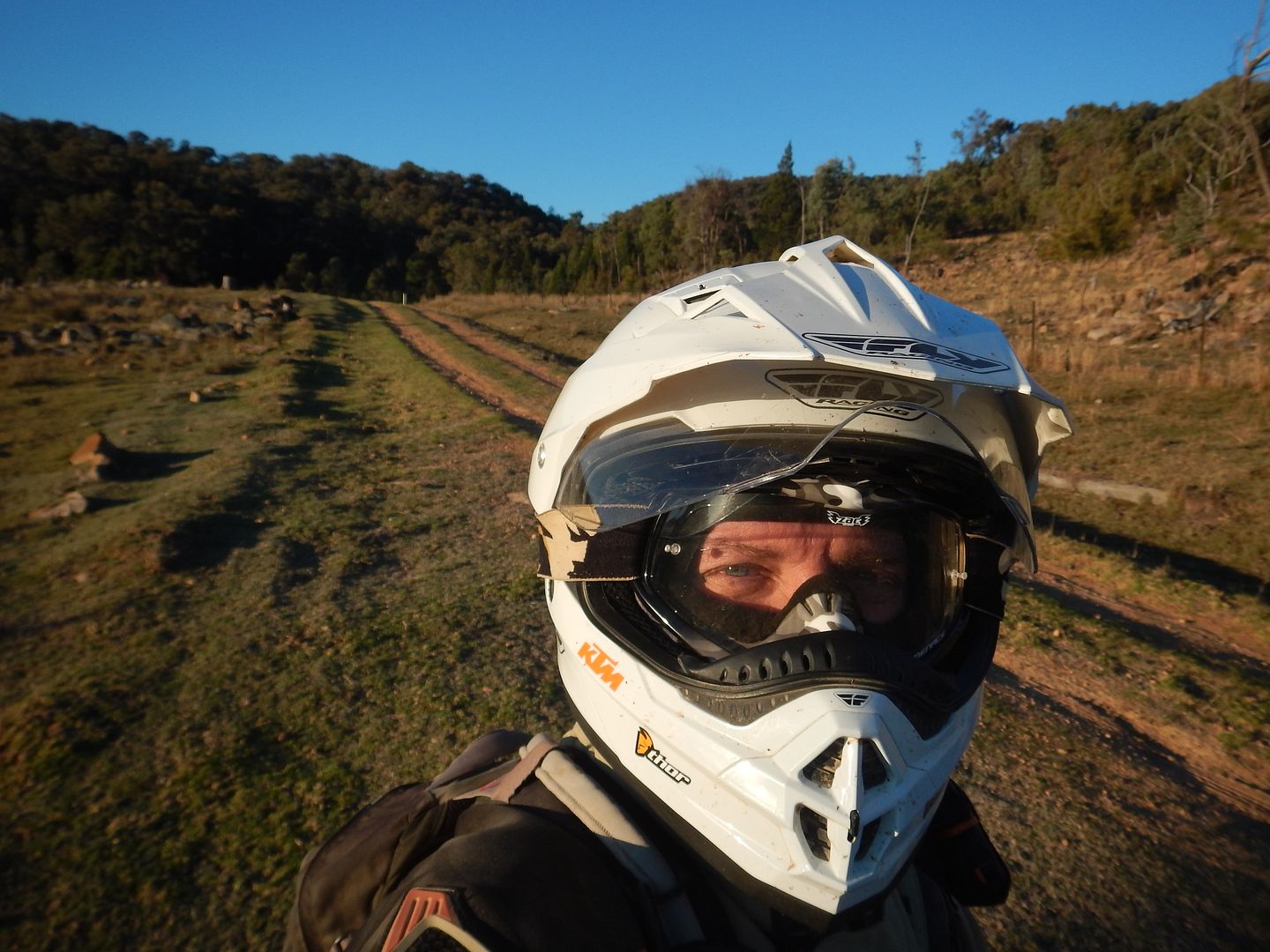 Muddy had planned for us to meet up with Marc aka "1CB" , Uncle Dave and a couple of others that were also touring the area but in the opposite direction. So we hit the Bowling Club fast, booked in, had our showers before hitting the bar for a cold one and wait for the time to meet the guys for Thai. Stewy was staying at the Royal Hotel on his own so that was cause enough for some banter back & forth.
We met the crew in the Main Street and rolled into the Thai Restaurant, which was very quiet with only one table occupied. The waitress was pretty shocked to be greeted with 10 hungry ADV Riders looking for a feed, and she had to check with Old mate in the kitchen to see if he would cook for us. Well no surprises that he was stoked to see us and promptly served up 10 dishes of varying flavours alongside a few bowls of Fried & Boiled Rice for the masses to consume.
It was a great meetup, but time was sadly short and we soon had to say our goodbyes before retiring to the Royal for a Rum & Coke with Stewy. Stewy had to depart the next morning & head for Macksville to visit some relatives, but a plan was hatched to meet for breaky first at the local Café for a hot serving of food and of course a coffee.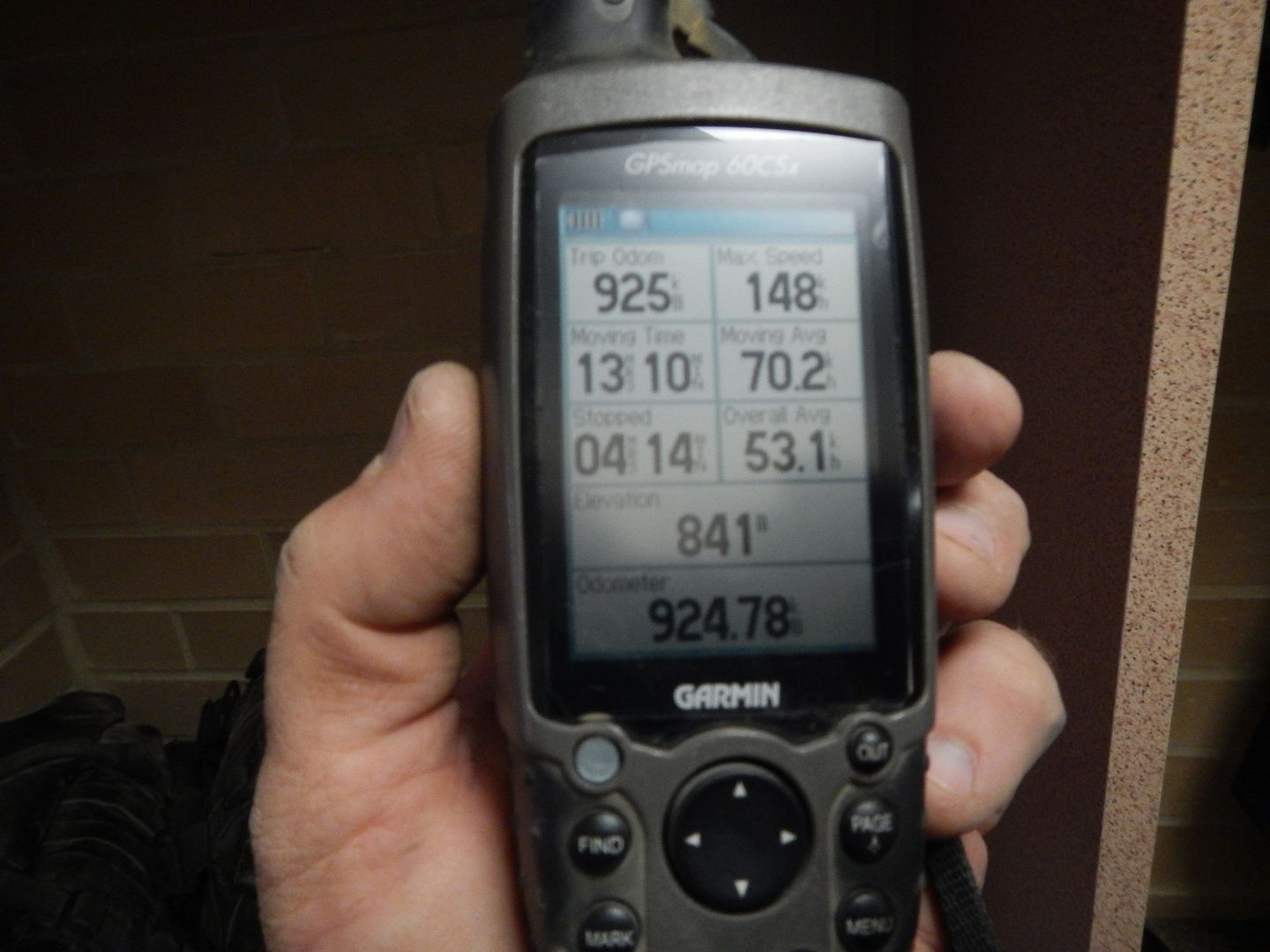 Day 2 and a further 400 klms in the bank. Total of 925 klms so far.
---
OLD BULL #101
Original Ride-

`84 XR250R

GONE
Previous Ride-

`04 KLX250R

GONE
Current Ride- 2010 KTM 690R Enduro


"Still hangin` in there"
Please Log in or Create an account to join the conversation.
3 years 11 months ago
#171320
by TB
Great stuff Eags keep them coming please


TB
---
In the end, it's not going to matter how many breaths you took, but how many moments took your breath away
Please Log in or Create an account to join the conversation.
Topic Author

Adv Forum Moderator
" Found Yellow Rock, Bald Rock & The Tunnel. Now what ???"
3 years 11 months ago
#171321
by EAGLE`02
OK

NW4 – DAY 3
Day 3 was the planned cruisy day to leave the gear off the bikes and tour around the local Tenterfield area, some National Parks and waterfalls.
We had a great breakfast and coffee at the local Café before heading into the hills towards Bald Rock National Park.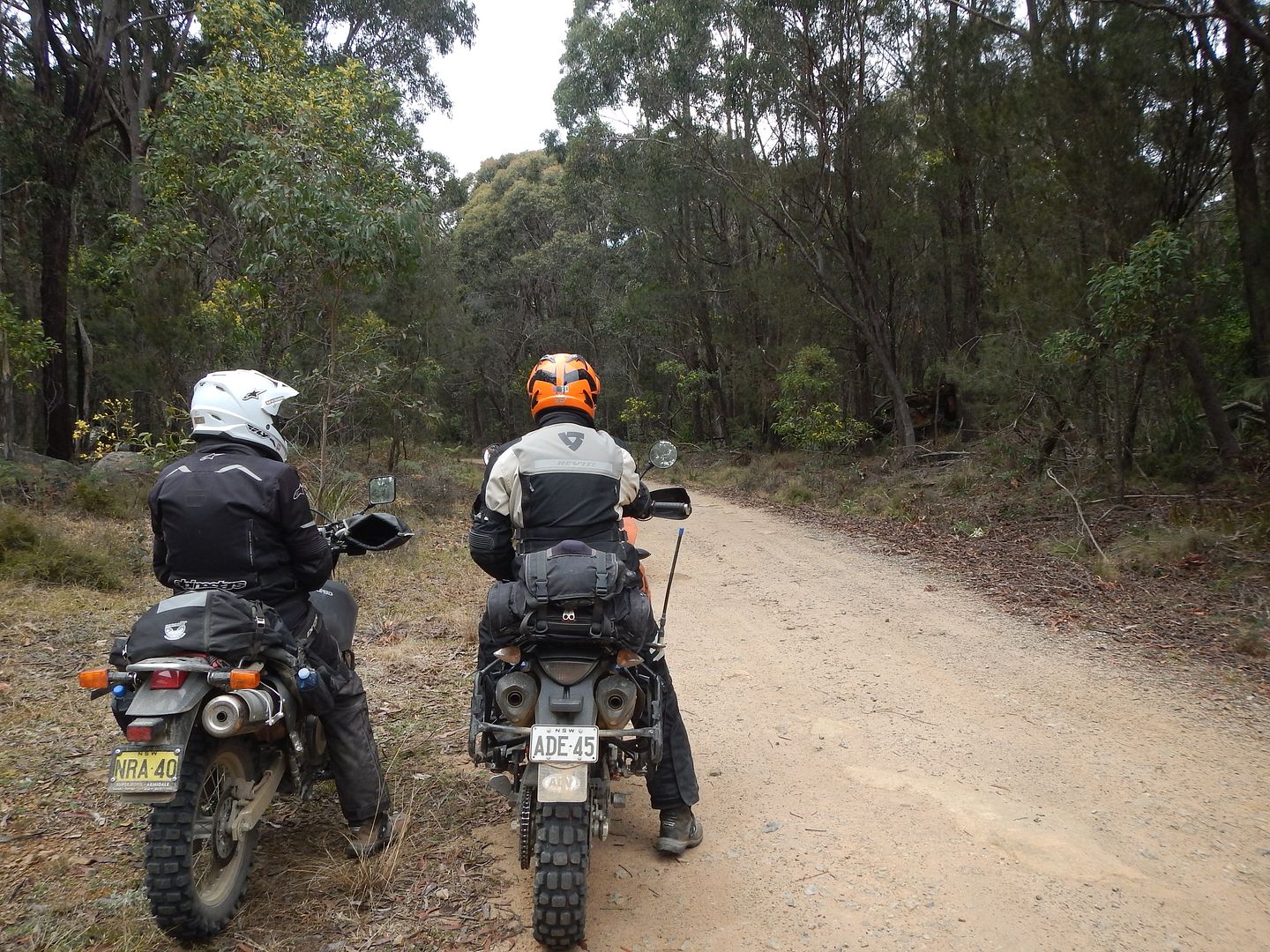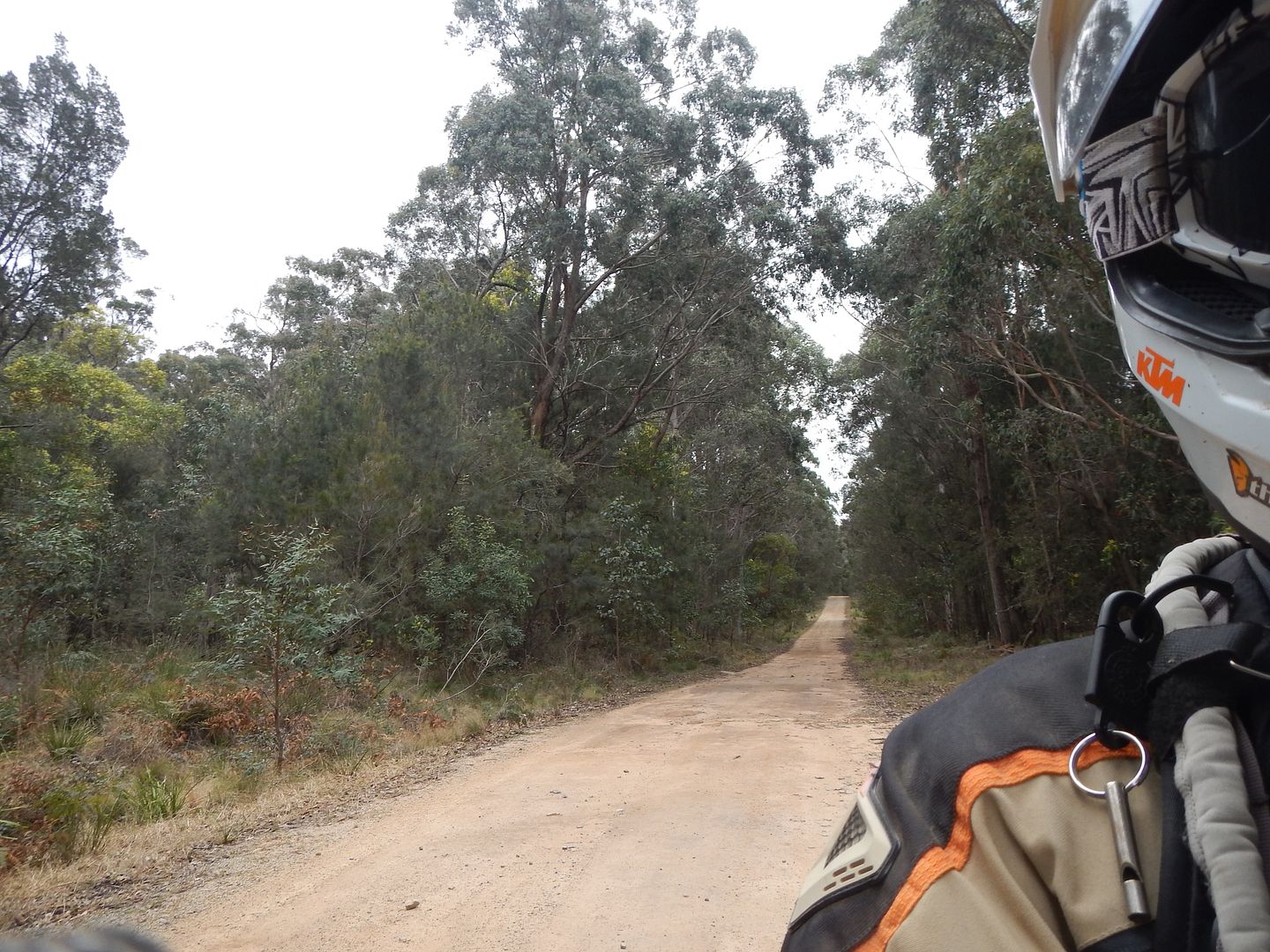 Firstly was a ripper run through the farmlands and forest areas along Scrub Rd and the area that is actually known as Forestland. That brought us to Billirimba Rd and a cracker lookout which had an awesome steep descent down the other side to keep us on our toes.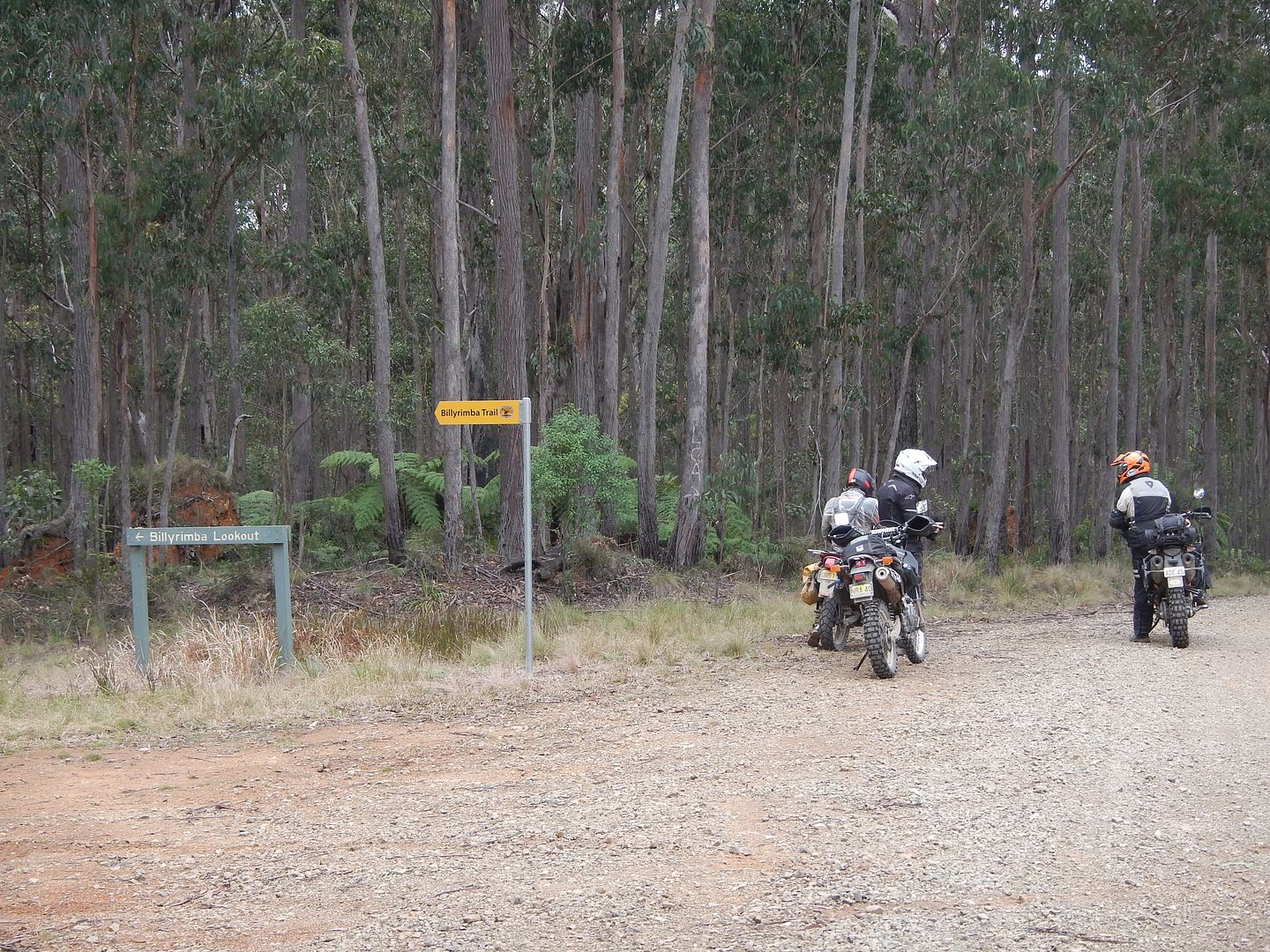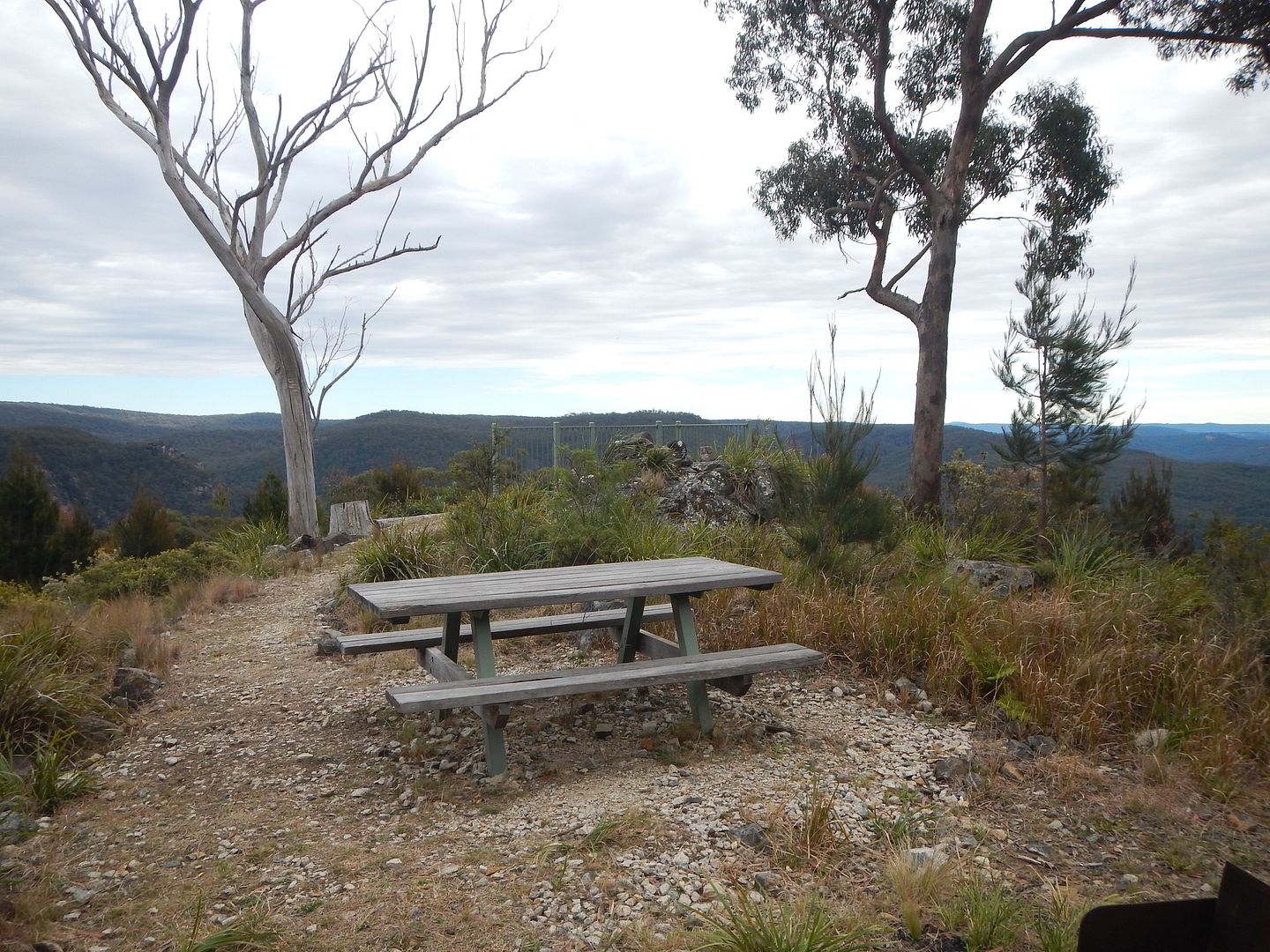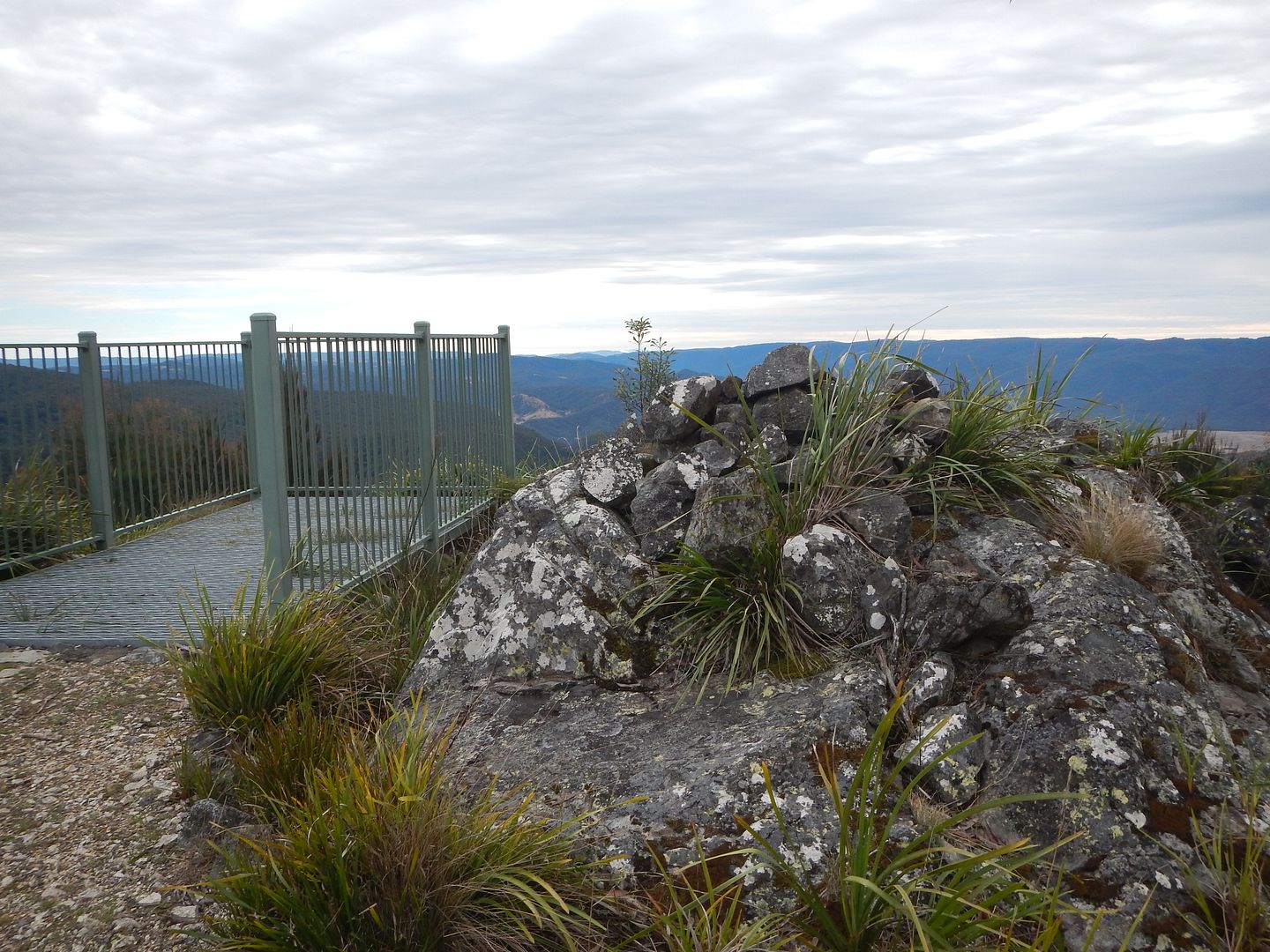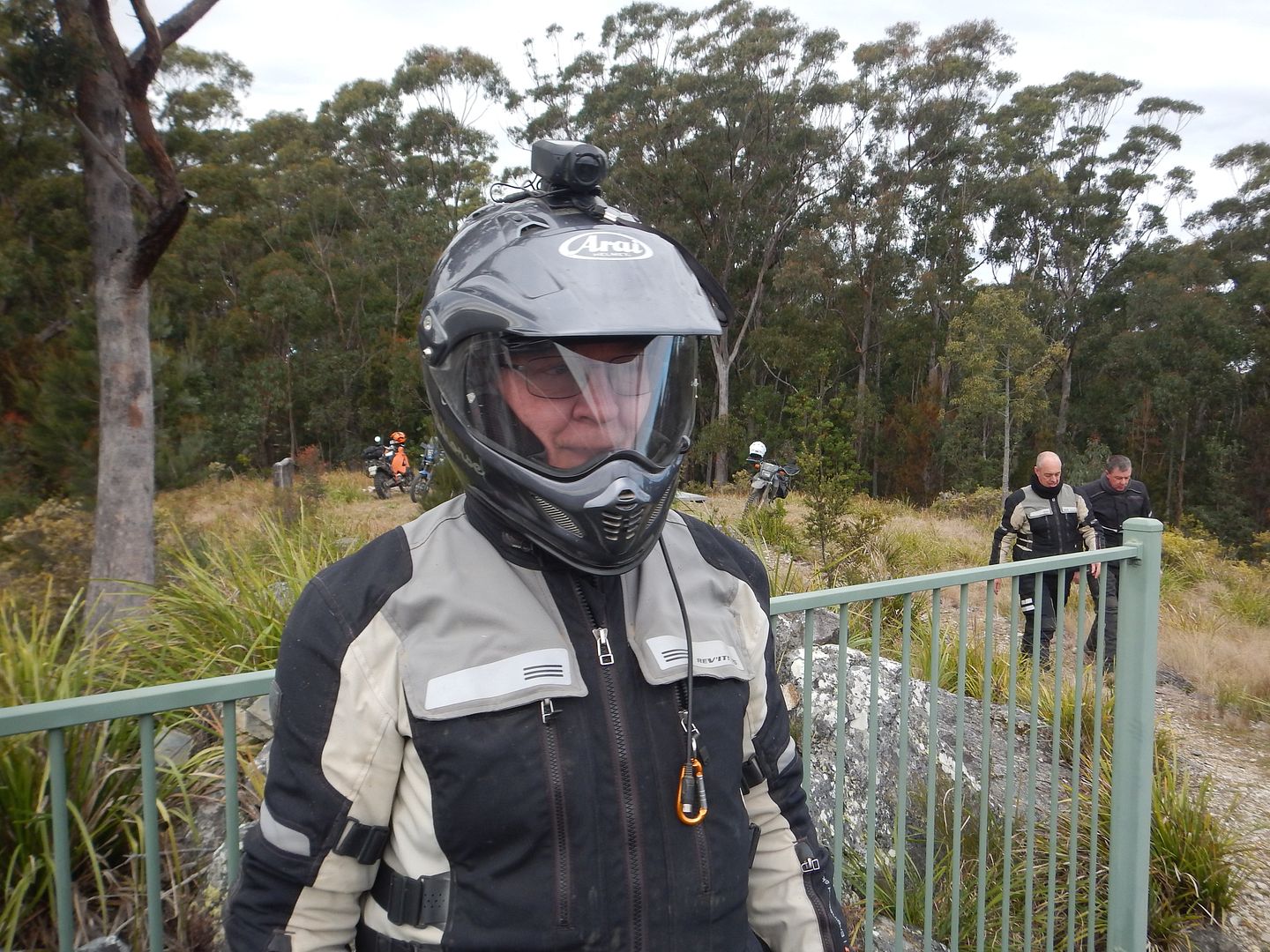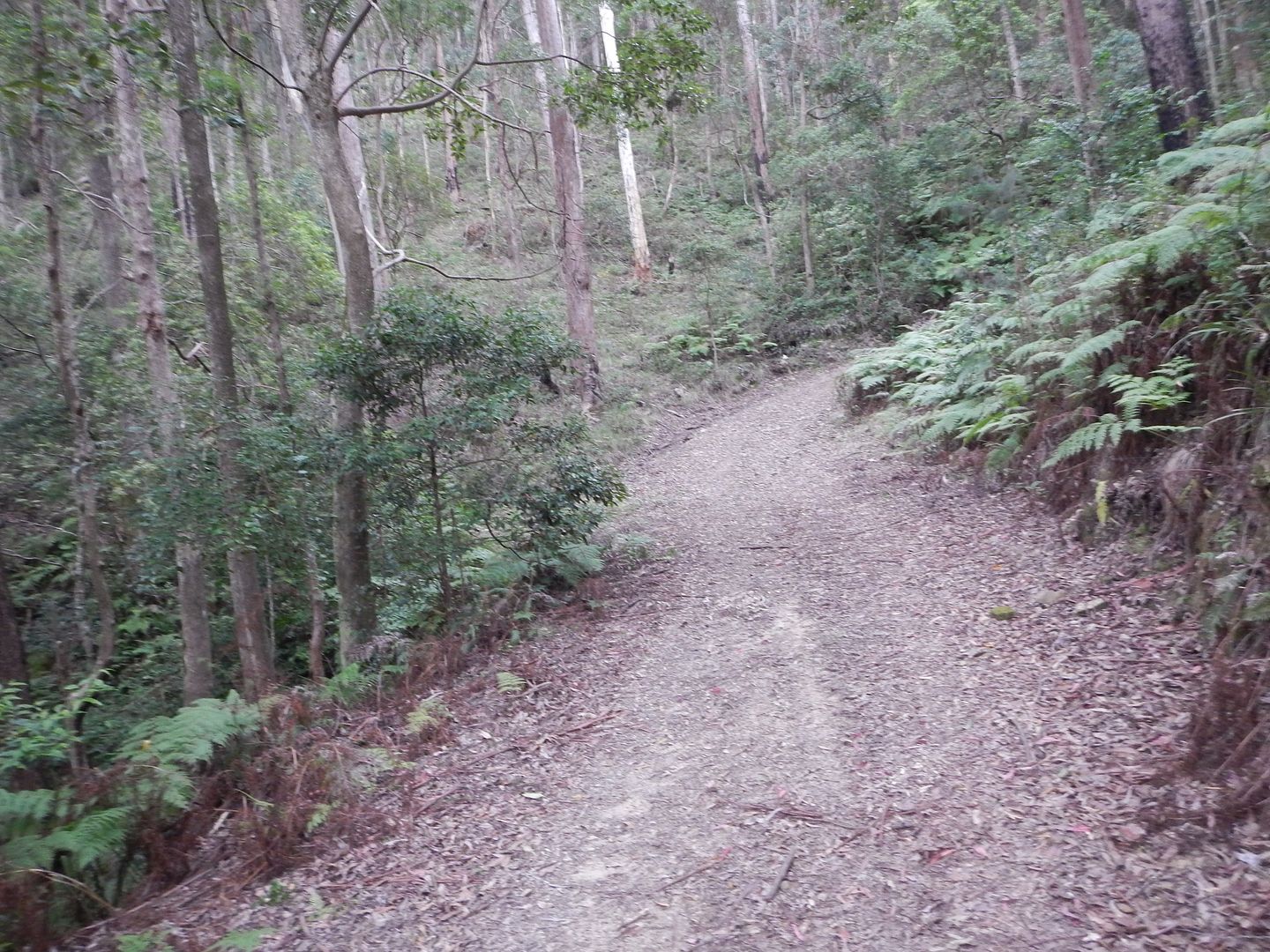 Then was a highlight to be heading along the famous Rocky River Rd, what a blast this place is.


Riding what seemed like a thousand bends and twists in the road, dozens of causeways and endless scenery. Compulsory stops were made at the rocks and the Rocky River Hut for a rest and some pics before heading onto Long Gully Rd.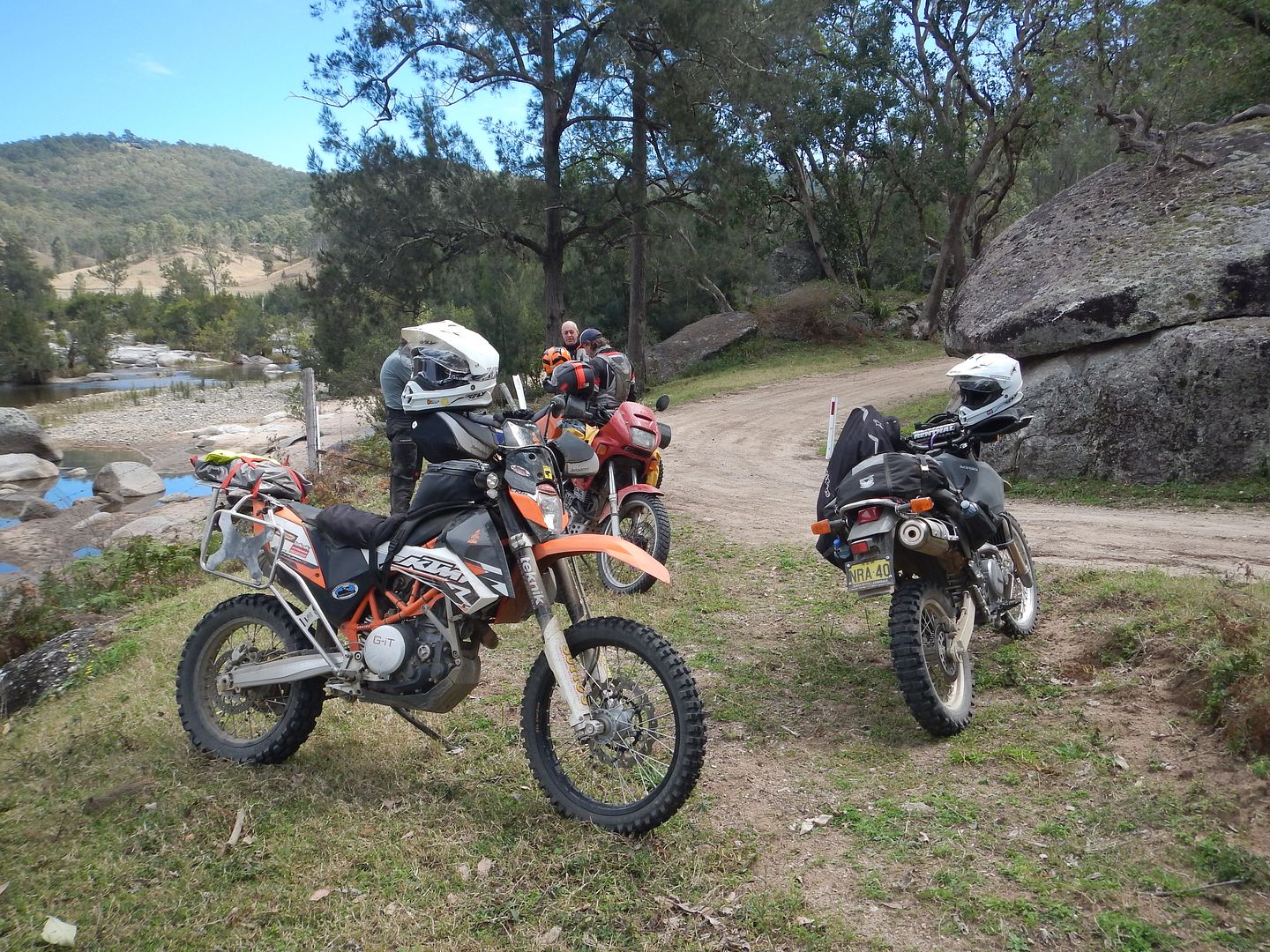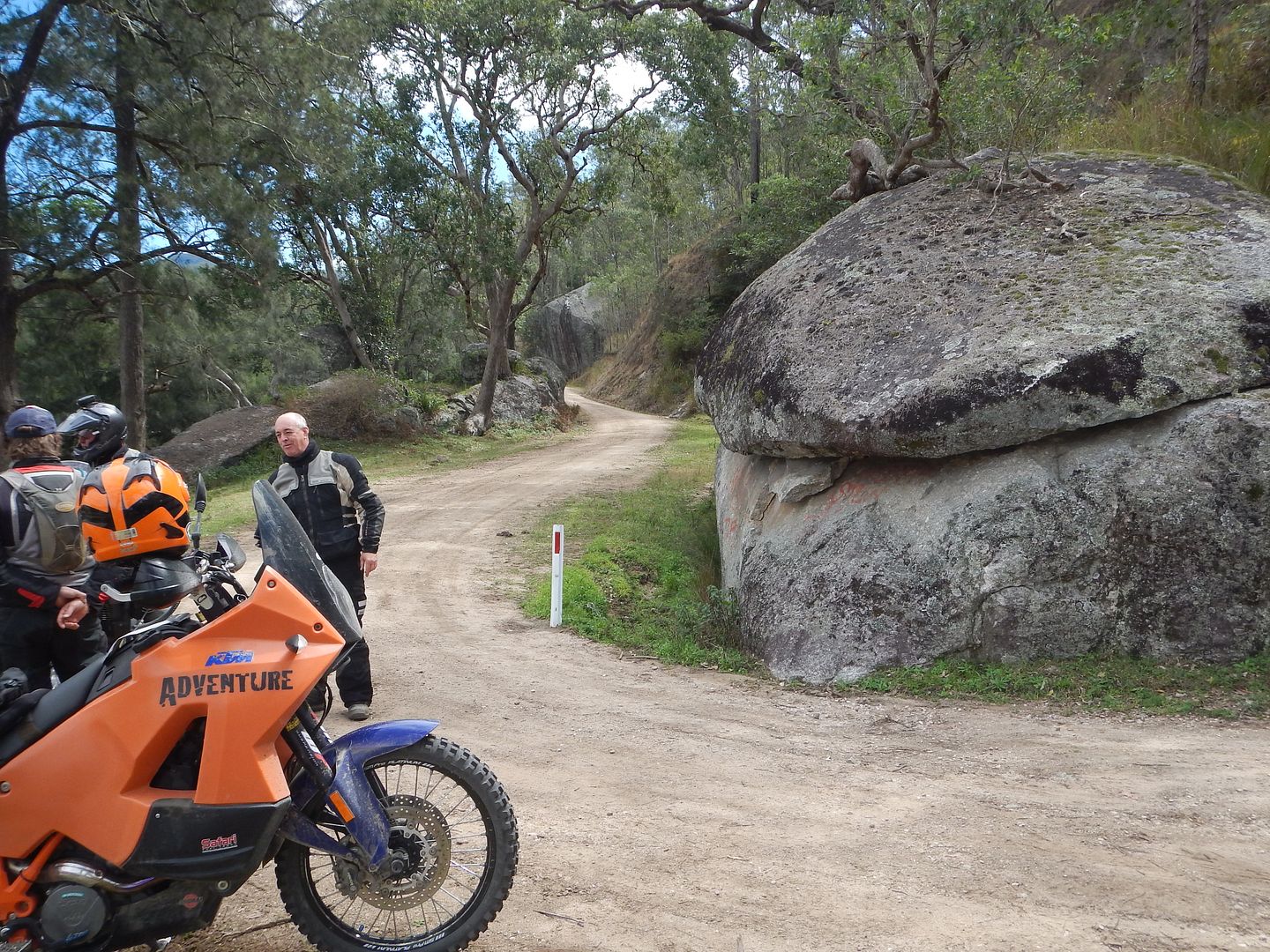 This brought us to a fun, twisty slab section of the Bruxner Hwy that was a blast and a great chance to cool off with some higher speeds and feel the wind for a while.
We crossed Crooked Creek and Cataract River on our way to Boorook State Forest and winding our way out to Bald Rock National Park.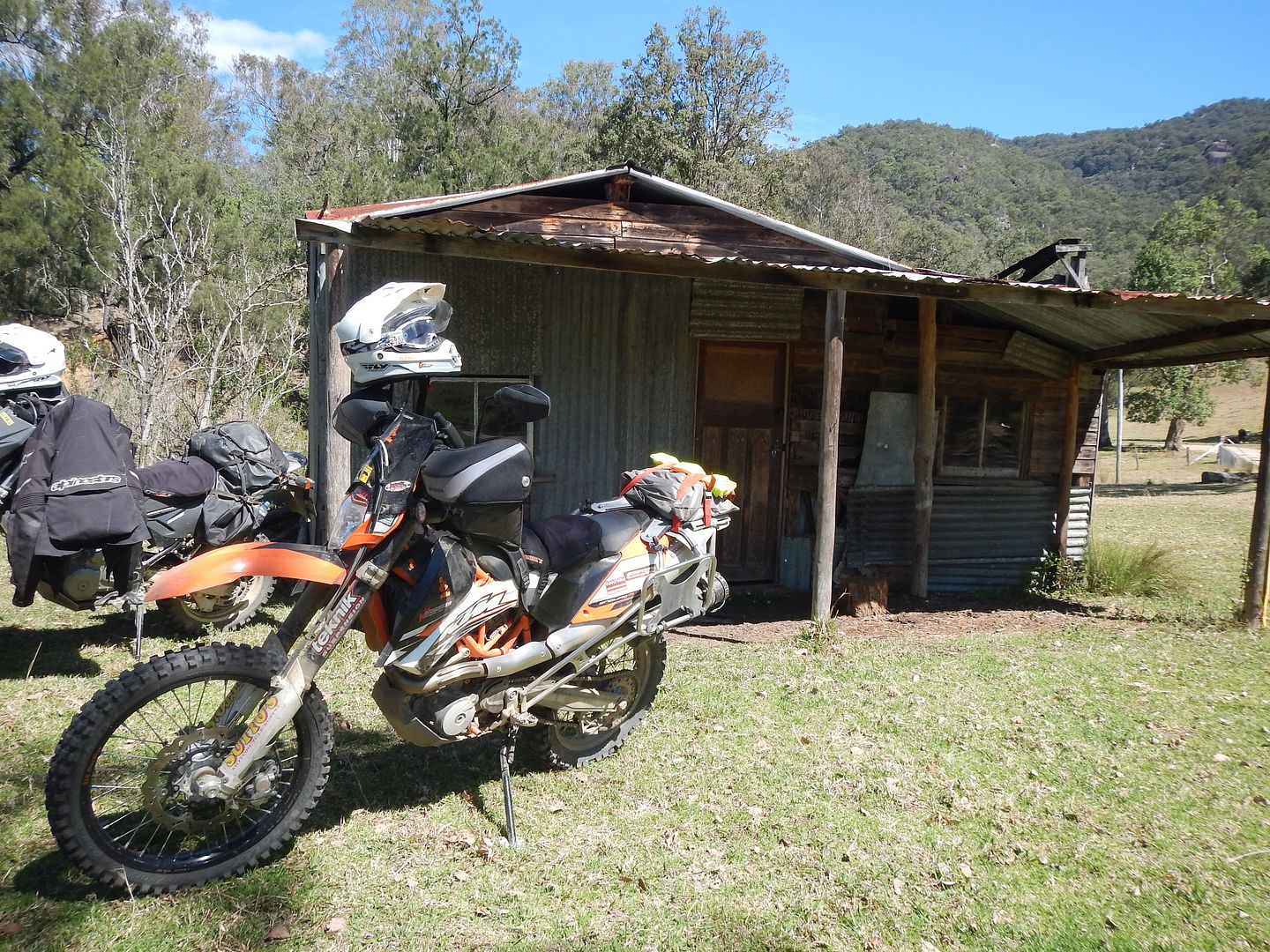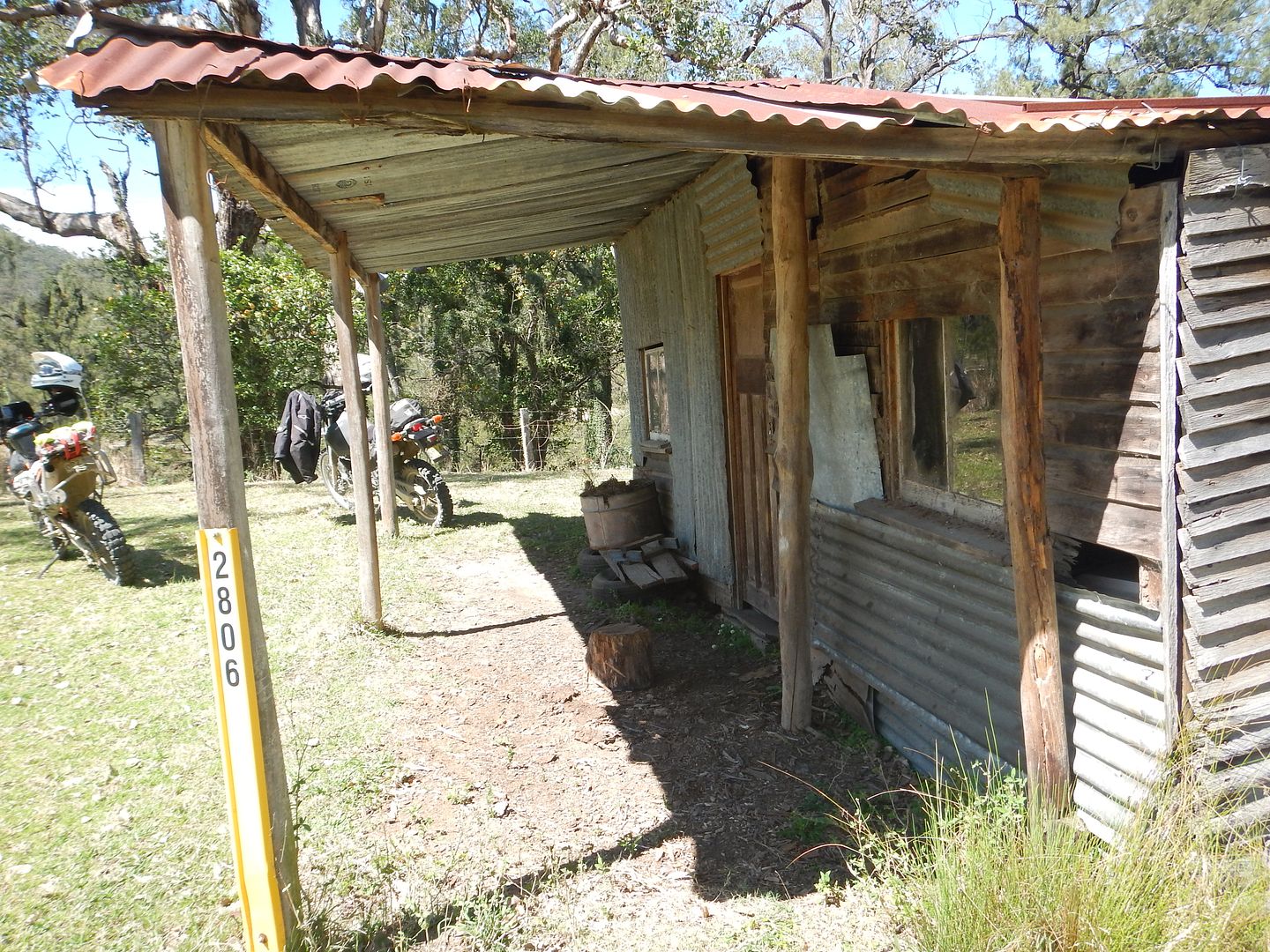 Tonnes of great crossings like this along the way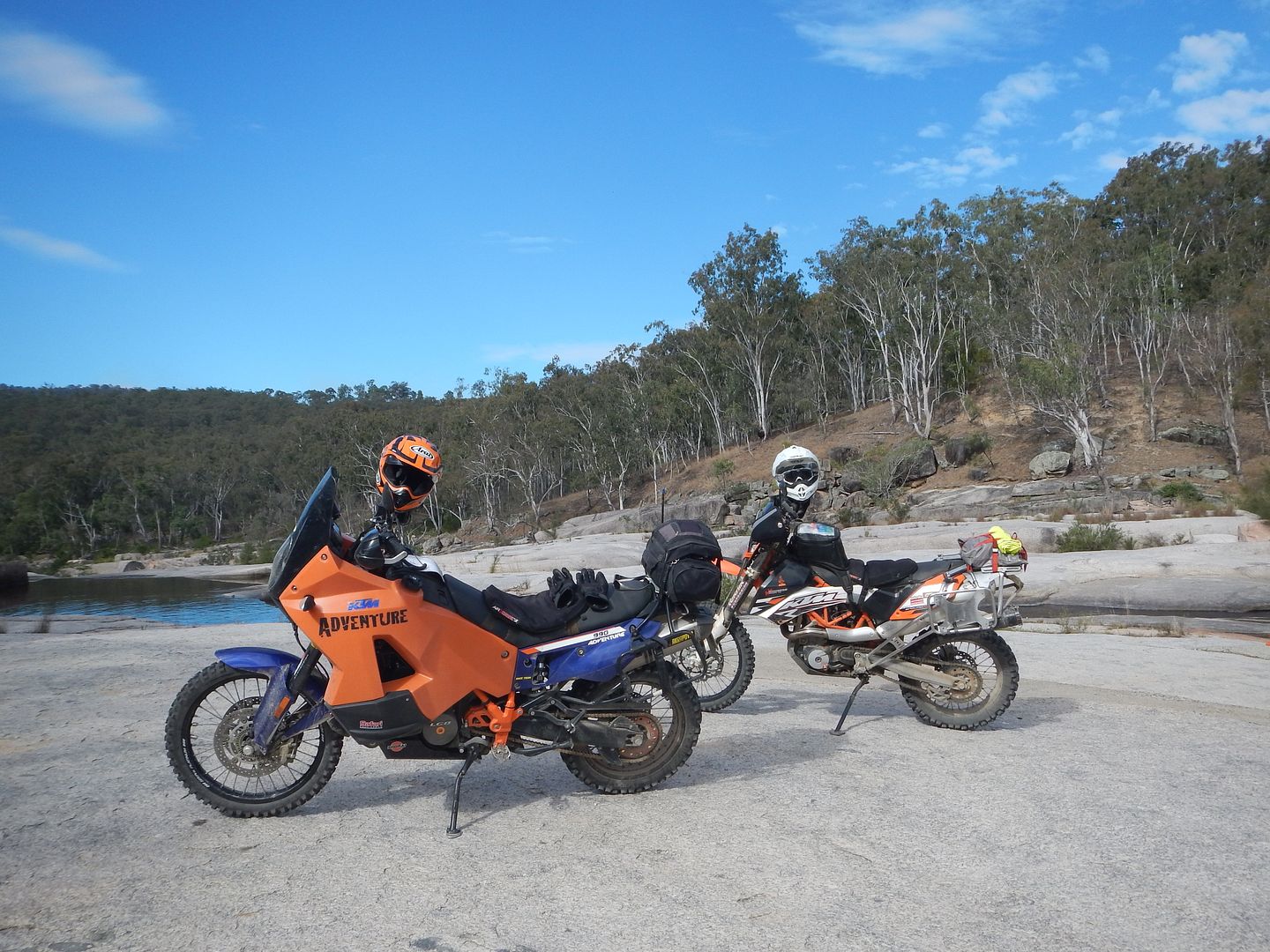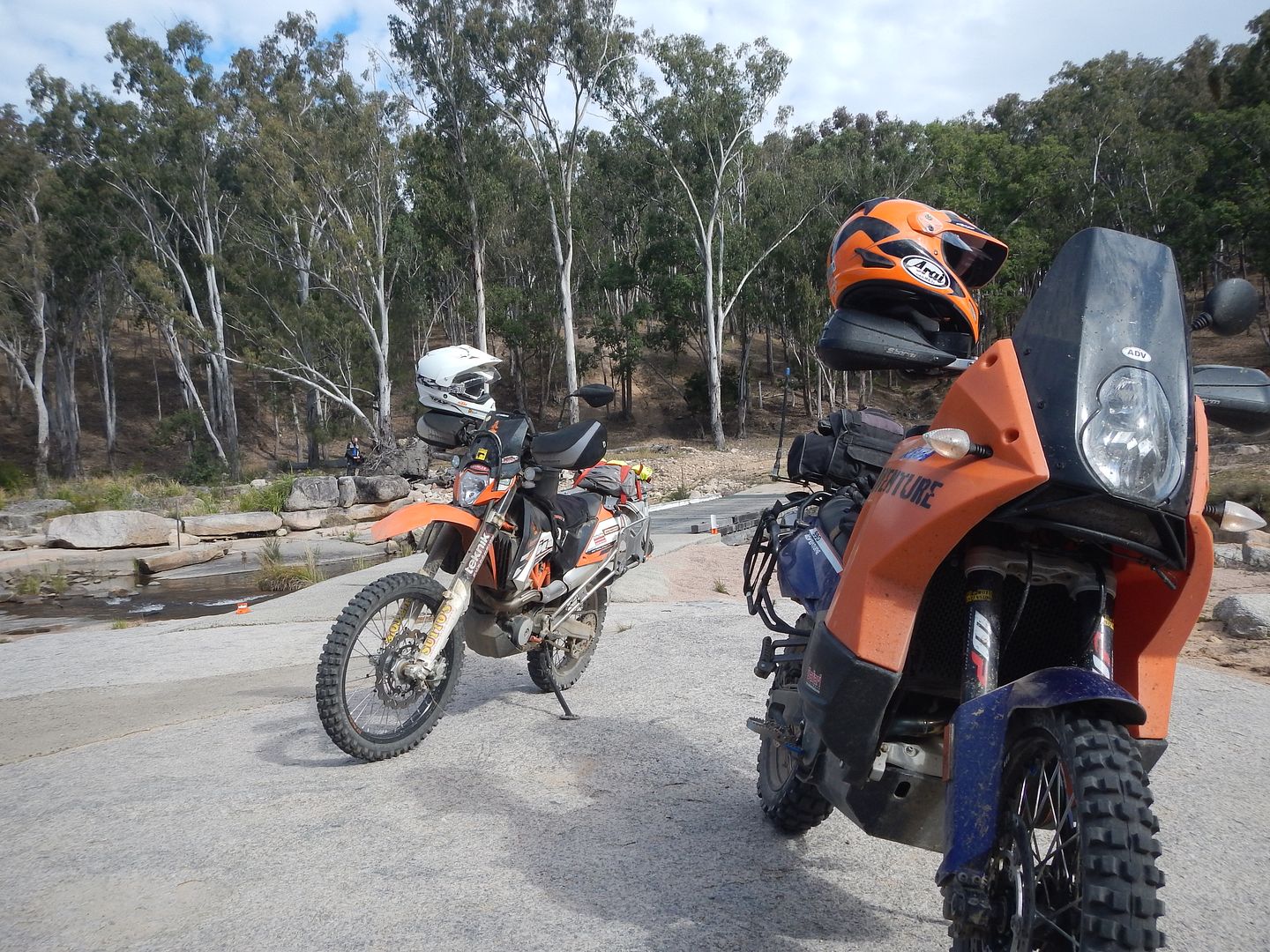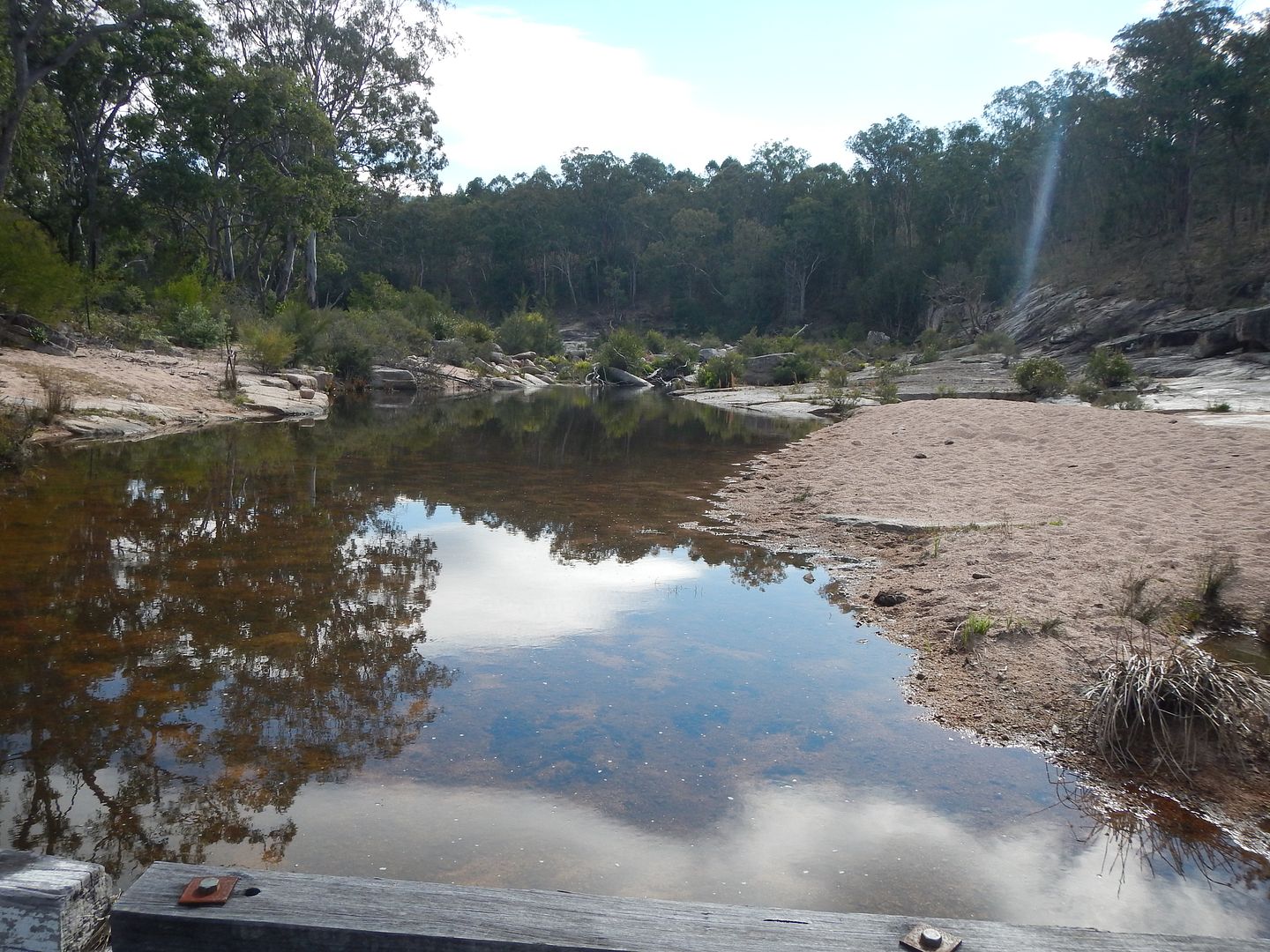 The rock is the second largest rock in Aus, only second to Ayers Rock actually, and look somewhat similar. We did the short walk to the rock face then climbed part way up as it was damn steep, slippery and not favourable in full riding gear. Still a great view into QLD as we were right near the State borders.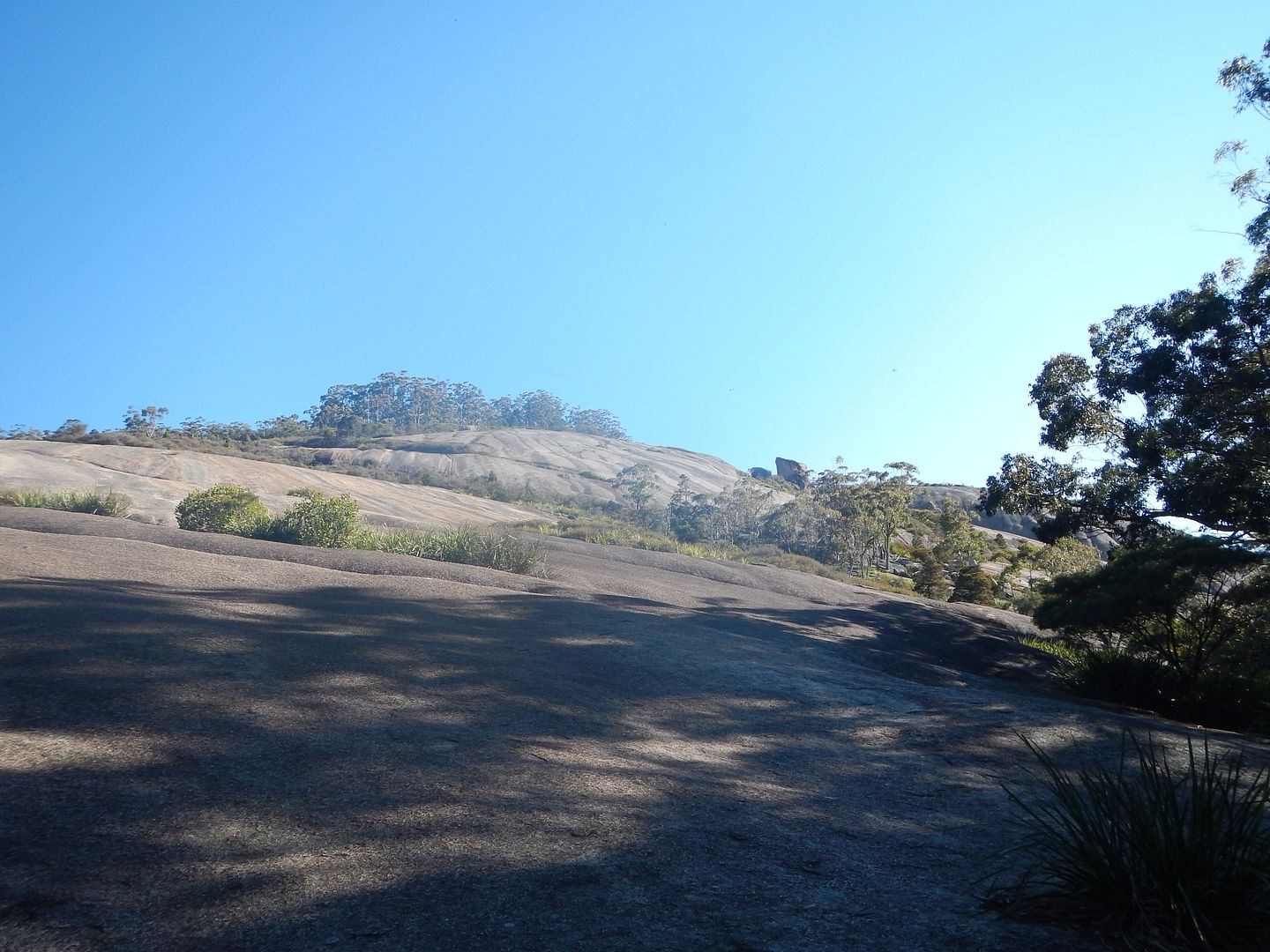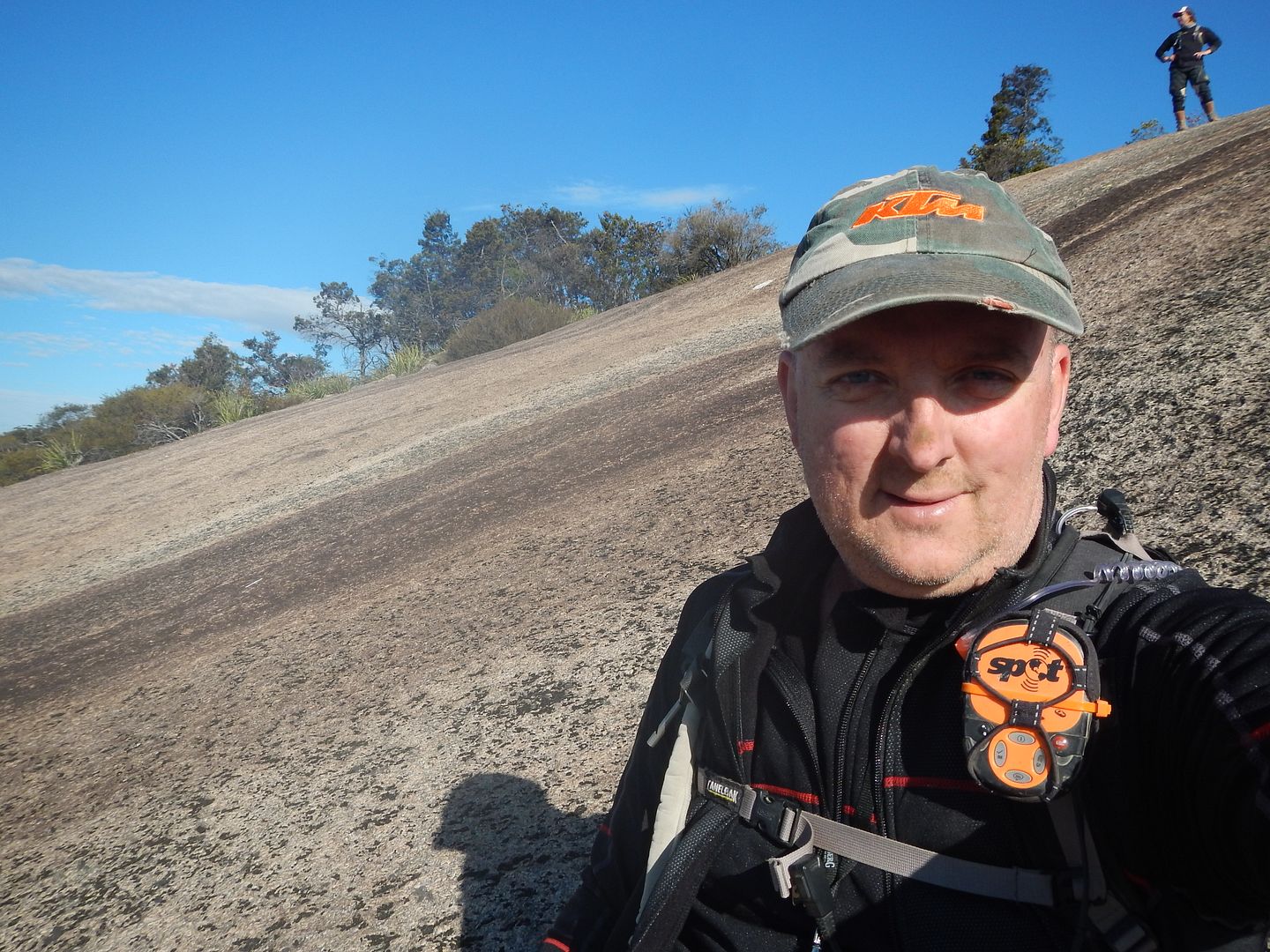 After carefully climbing back down, we rode some more great trail around to Bookookoorara and headed out into Boonoo Boonoo National Park to visit the BoonooBoonoo Falls Lookout.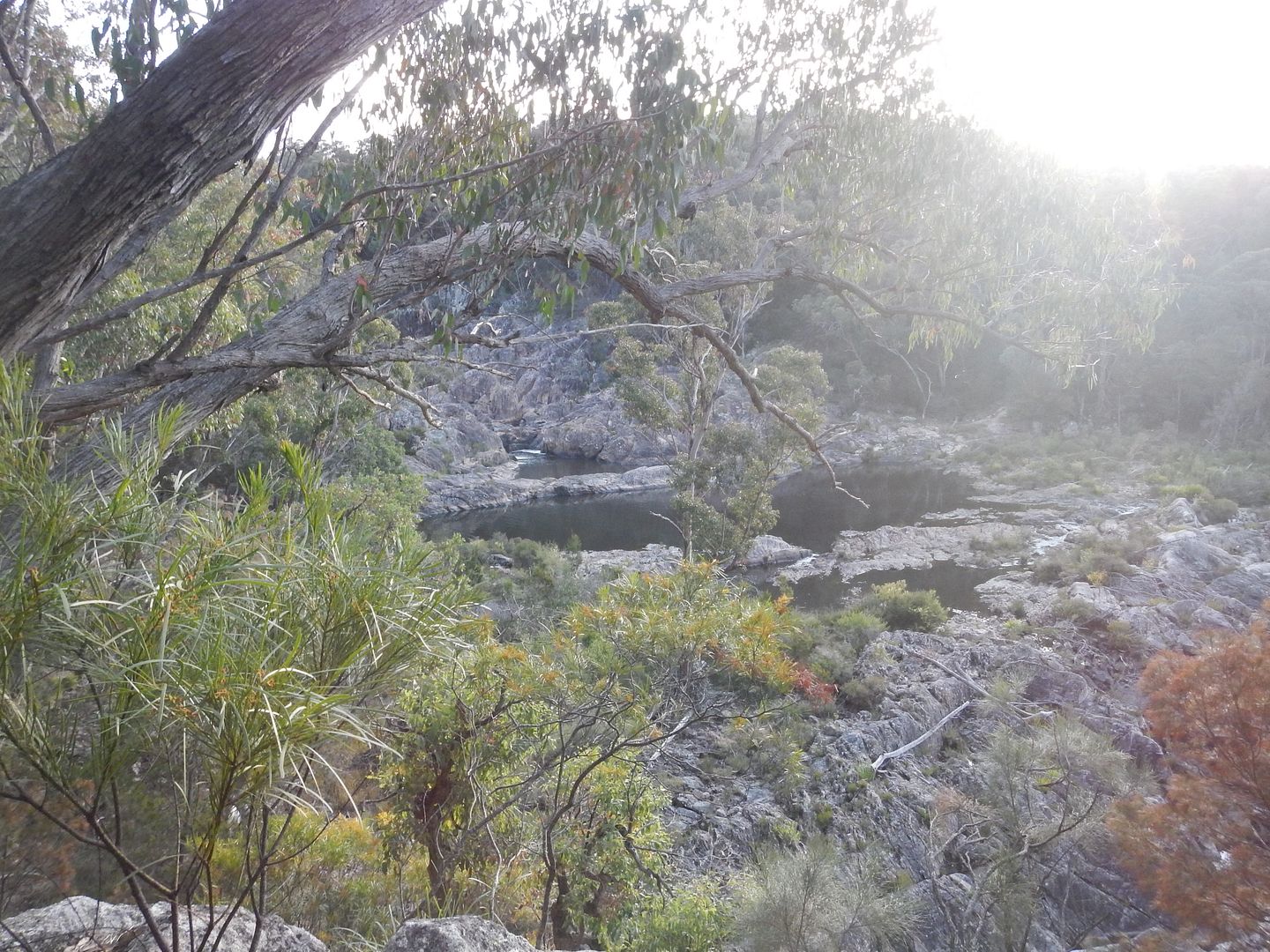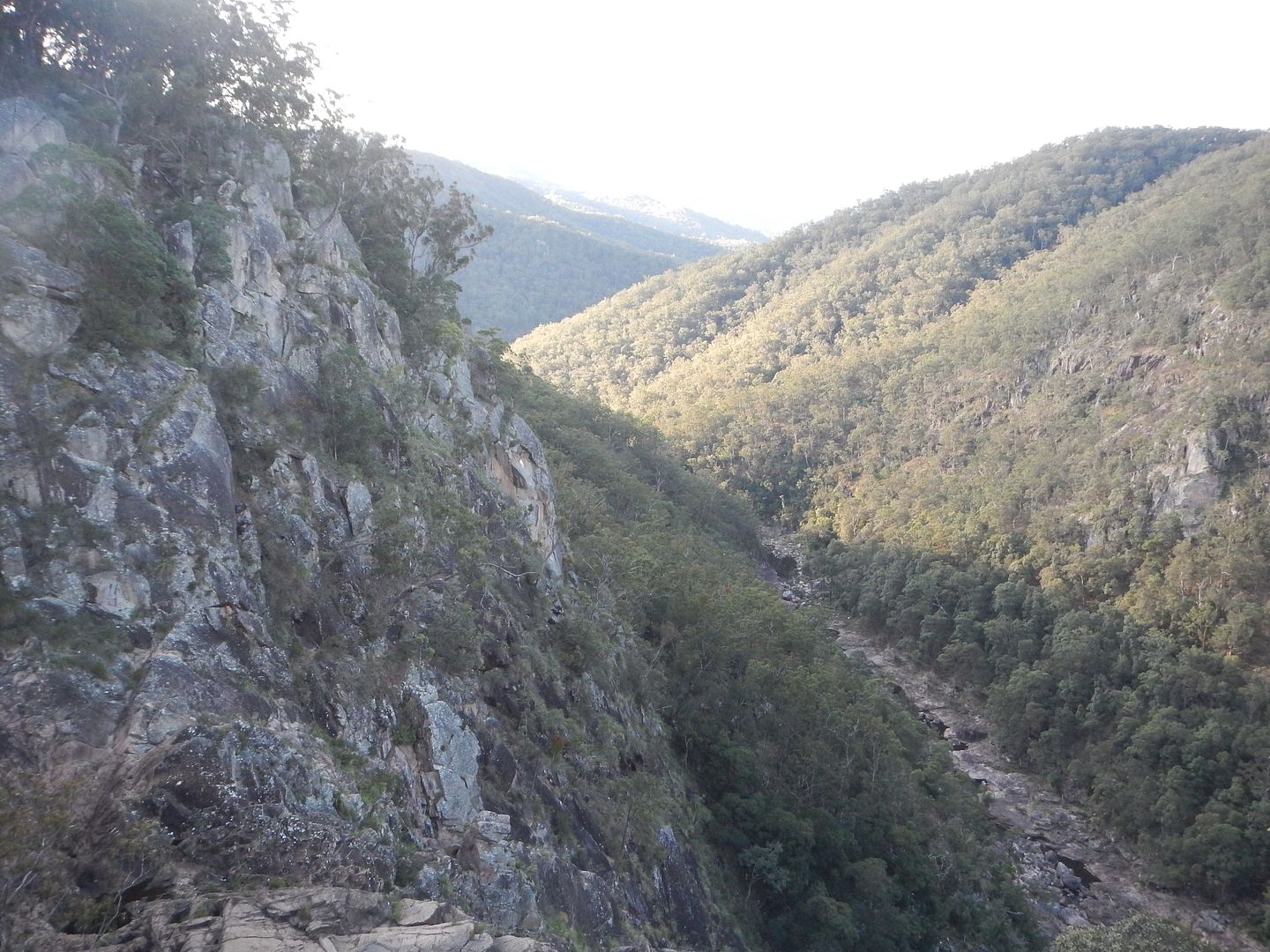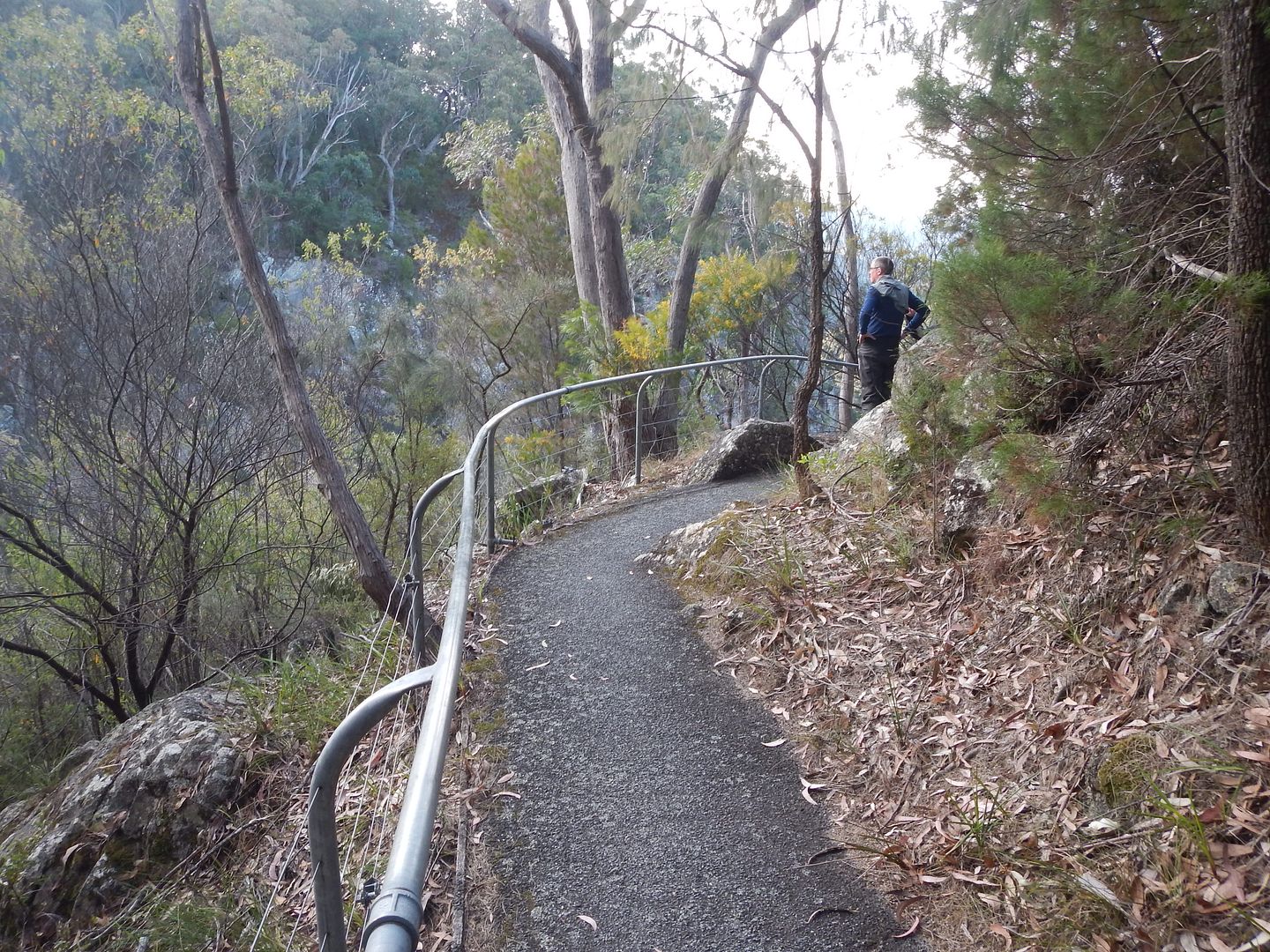 Another great spot with large falls and a huge gorge cut into the landscape snaking it`s way north out of the valley.
It was getting late again as we wound our way back out of the National Park along Mount LindesayRd and found our way back to Tenterfield to end a great day loop.
More beer was next on the agenda before a fantastic meal at the Tenterfield Bowlo, where were staying for the 2 night anyway.
A lazy 242 klms today taking the total to 1167 klms at the halfway point
---
OLD BULL #101
Original Ride-

`84 XR250R

GONE
Previous Ride-

`04 KLX250R

GONE
Current Ride- 2010 KTM 690R Enduro


"Still hangin` in there"
The following user(s) said Thank You:
TJ blue
Please Log in or Create an account to join the conversation.
Topic Author

Adv Forum Moderator
" Found Yellow Rock, Bald Rock & The Tunnel. Now what ???"
3 years 11 months ago
-
3 years 11 months ago
#171323
by EAGLE`02
NW4 - DAY 4
Day 4 was back into it with fully loaded bikes again to head to the next overnight stop at Dorrigo.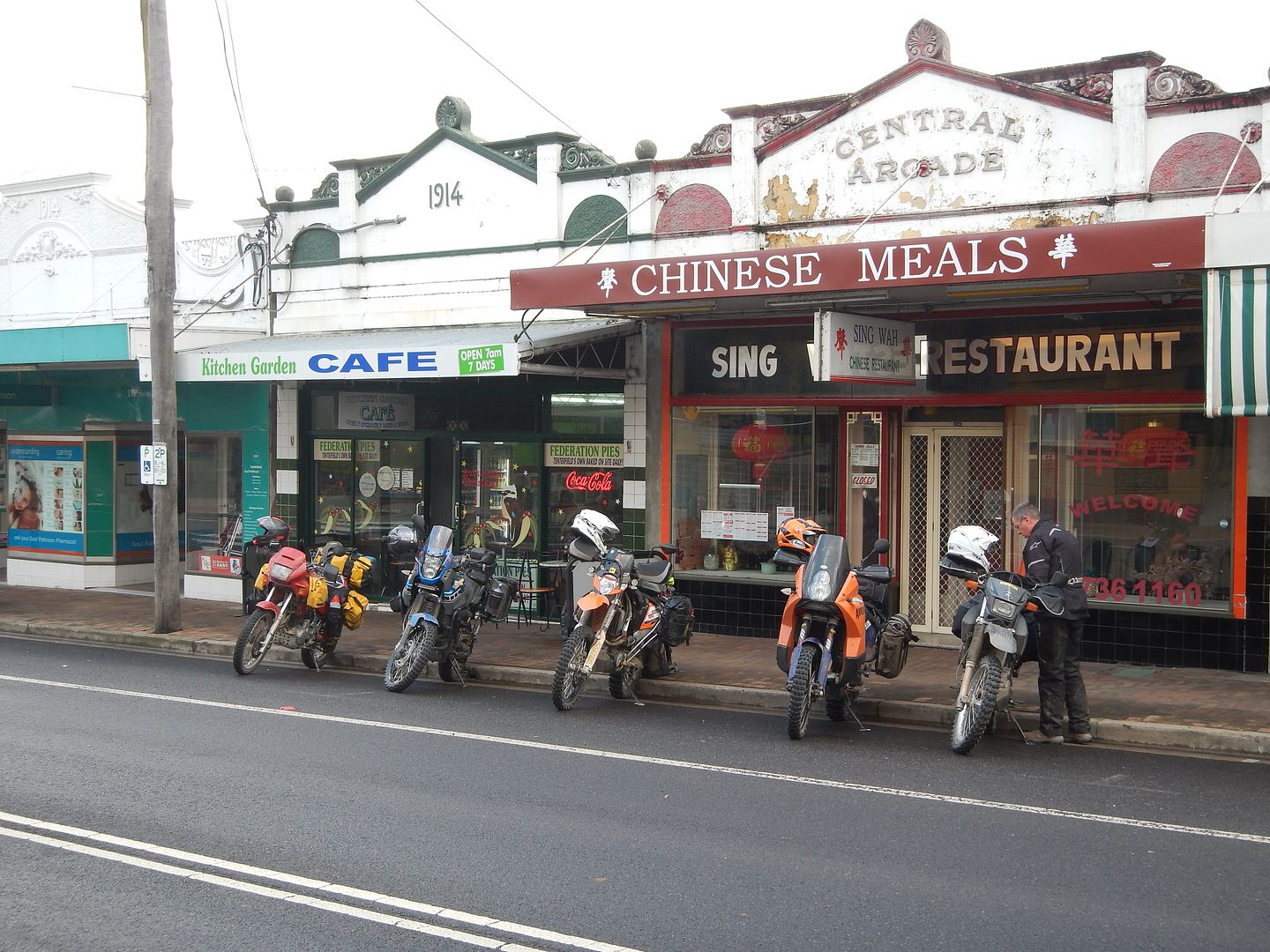 Another hearty breakfast & more super coffee was the go at the same Café as Day 3 before hitting the New England for a short slab run to Sandy Flat rd. Conditions were nothing short of El Primo with overnight rain and a light morning drizzle wetting out the marbly dirt just peferctly to give some great grip. I`m sure I heard the guys commenting on how hard they had to work to get the rear to slip out into corners.



We wound our way out along the edges of Forestland State Forest to start the climb up Mt Spirabo. Steep and twisty up to the top before dropping quickly down the other side to Morven Creek and Capoompeta.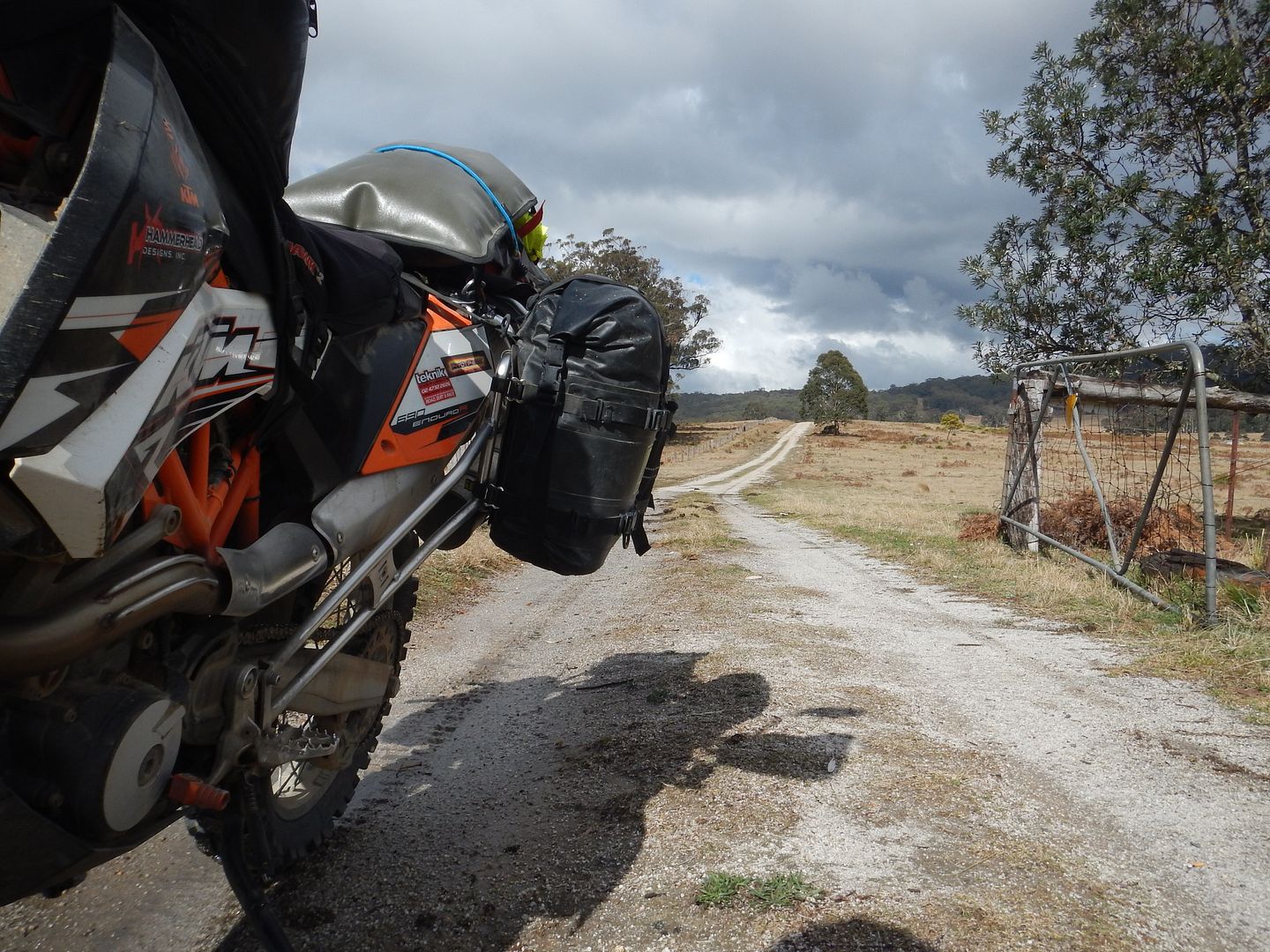 We crossed Deepwater River a few times before running out to Curramore State Forest and back across Rocky River to Glen Elgin. We twisted ouw way south along the river banks which brought us to Mount Mitchell State Forest and another cracker of a road, Old Grafton Rd.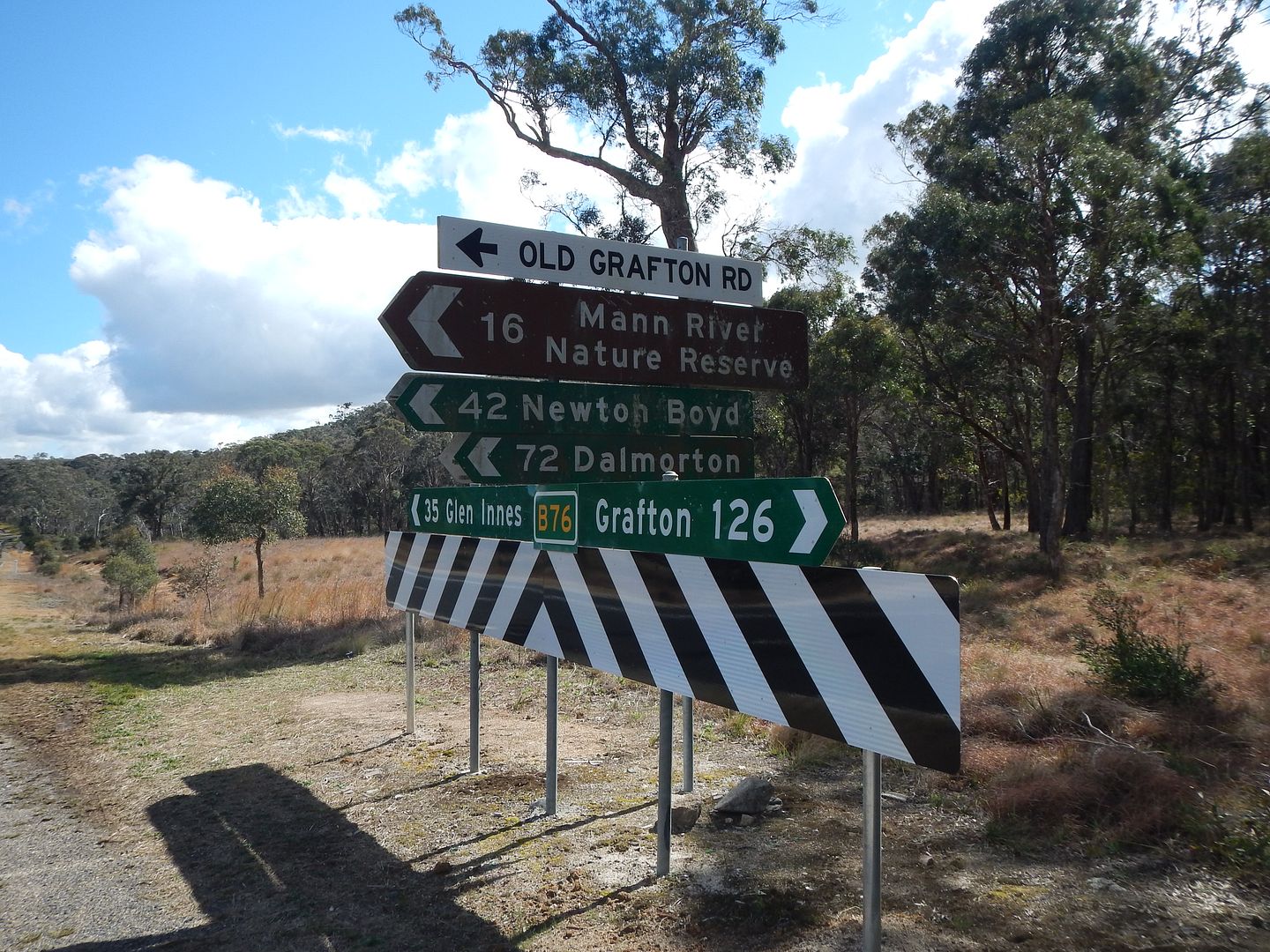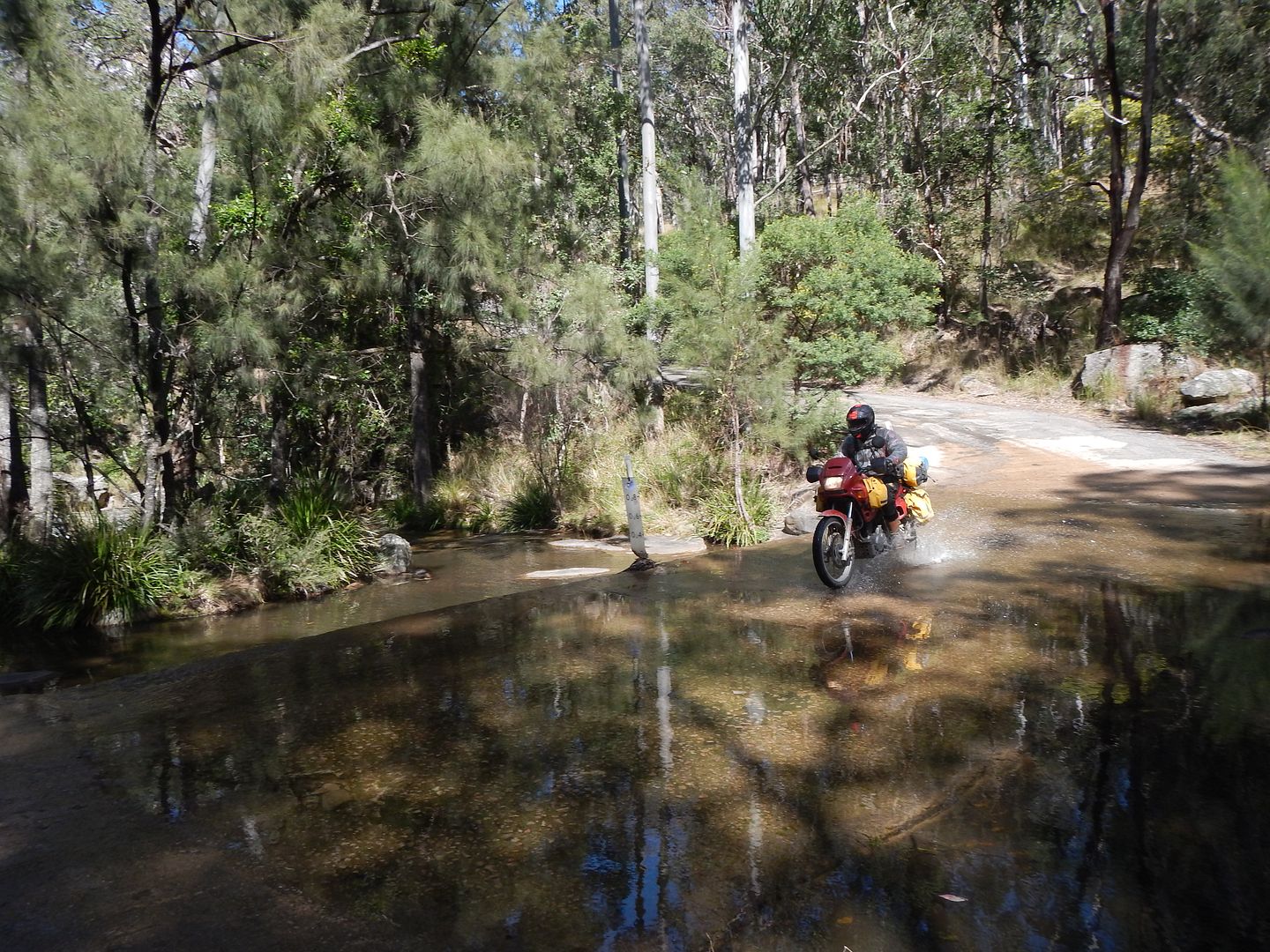 So the fun began again as we whipped along and down, down, down to the bottom of the valley over countless wet causeways, across the Mann River for the first time of many and to the next big destination, Narrow Pass Firetrail.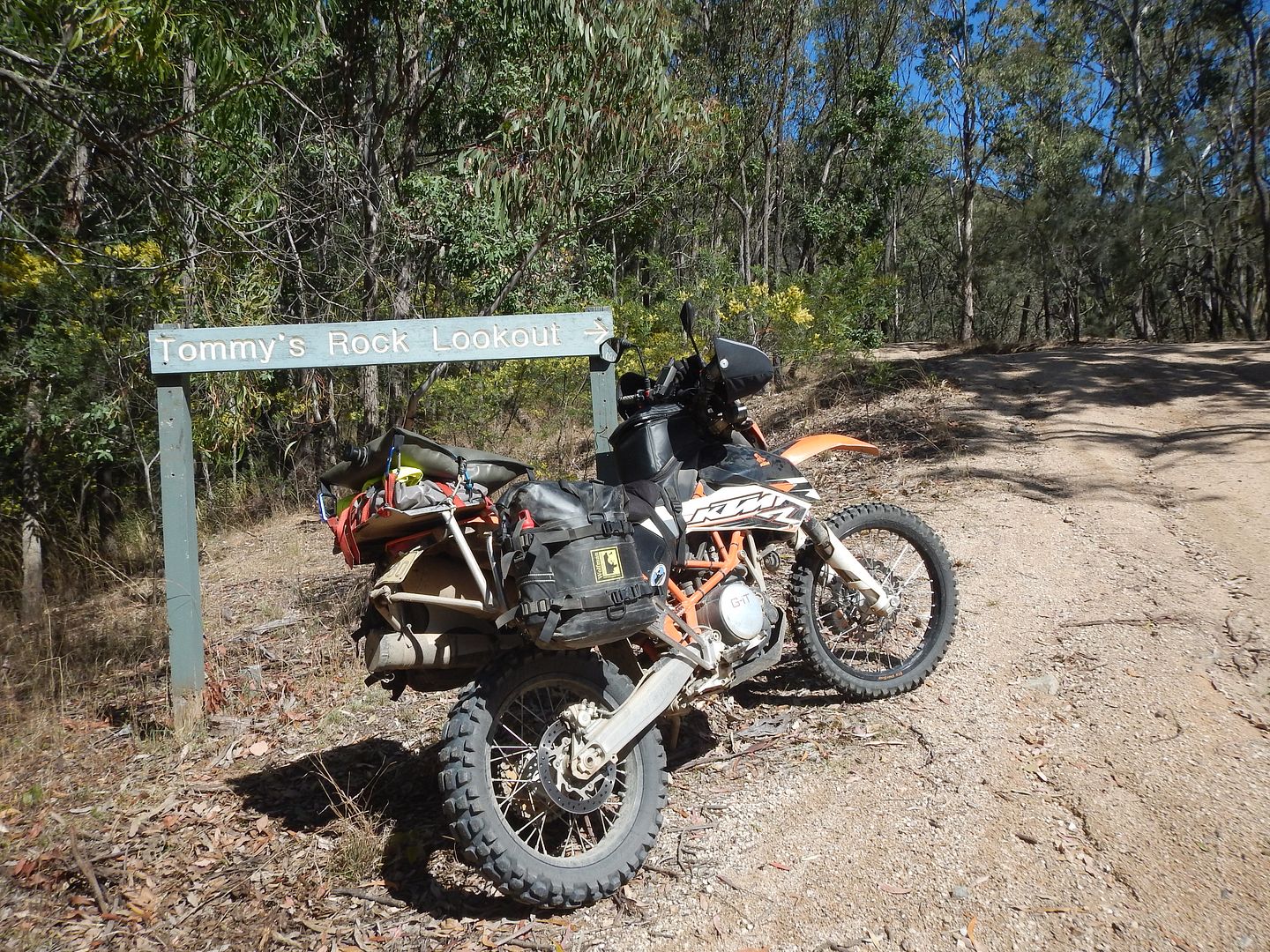 This was the start of the Up, up, up & up from around 400m to 950m in 4 klms of trail. The erosion mounds are numerous and steep with rubber belts mounted on Koppers logs at the peak of each hump to direct water flow away.
I stopped at the bottom to unload the contents of my fuel bladder into the main tank, getting some weight off the back wheel as that`s the last thing I needed on the climb up.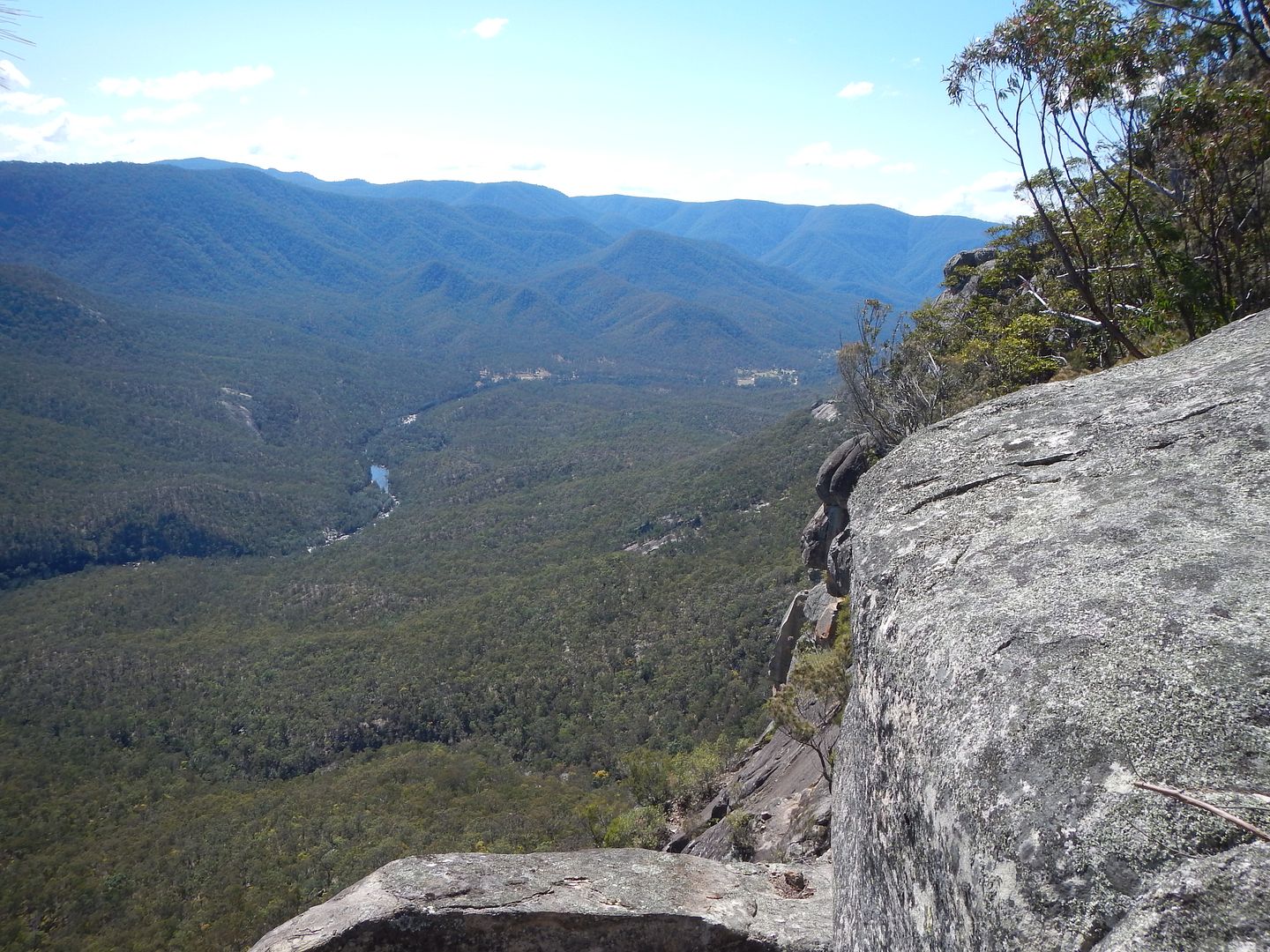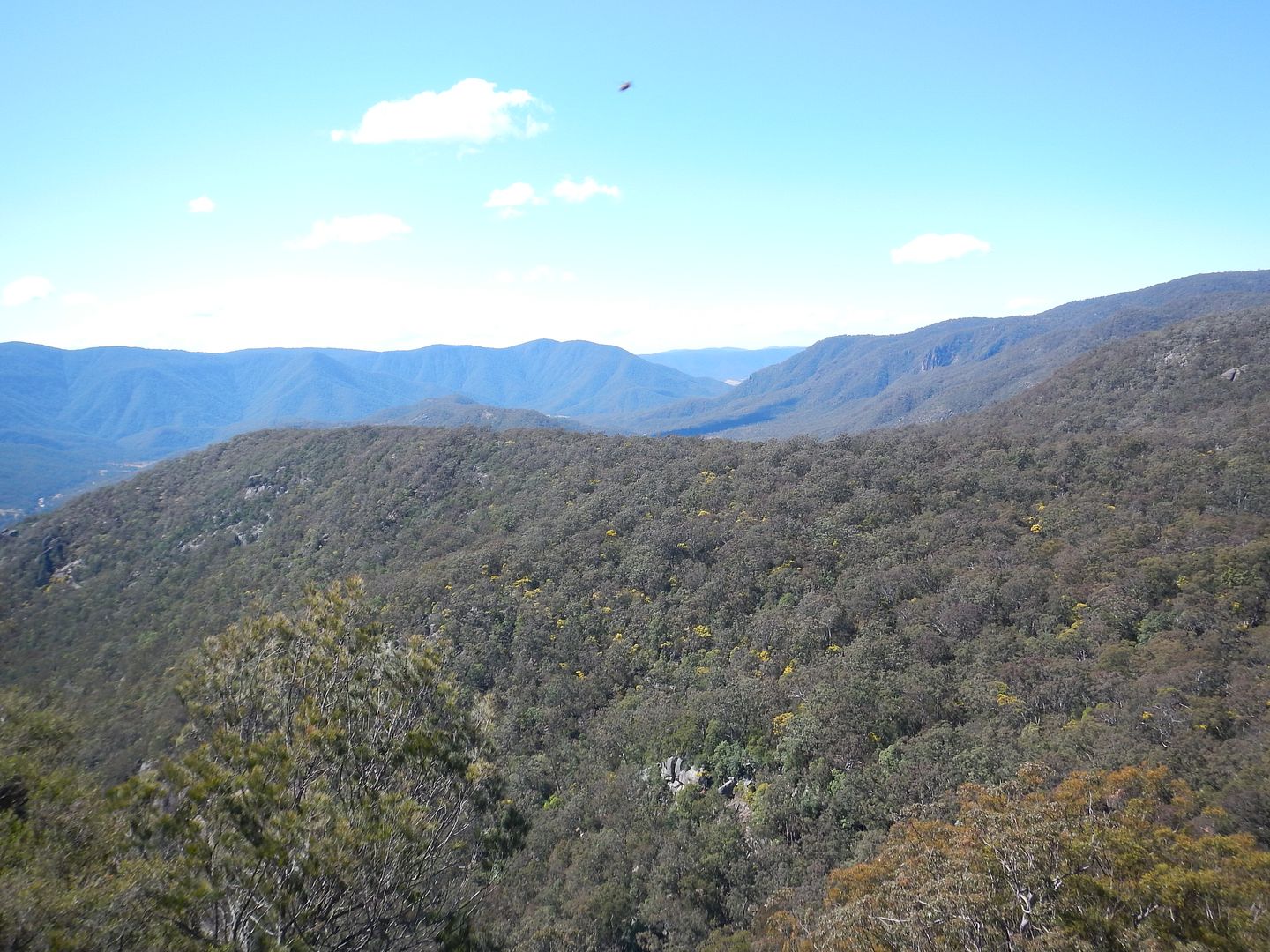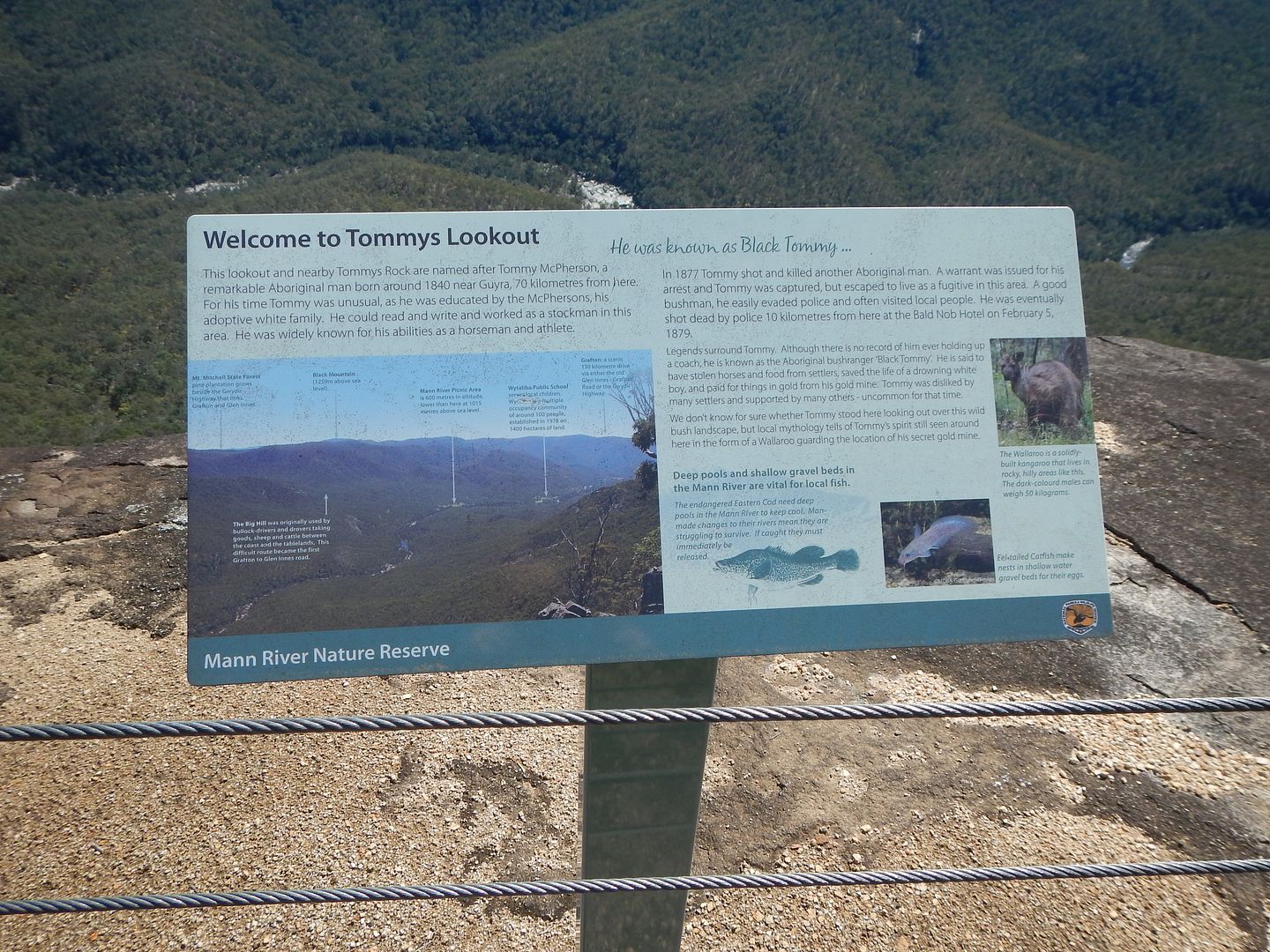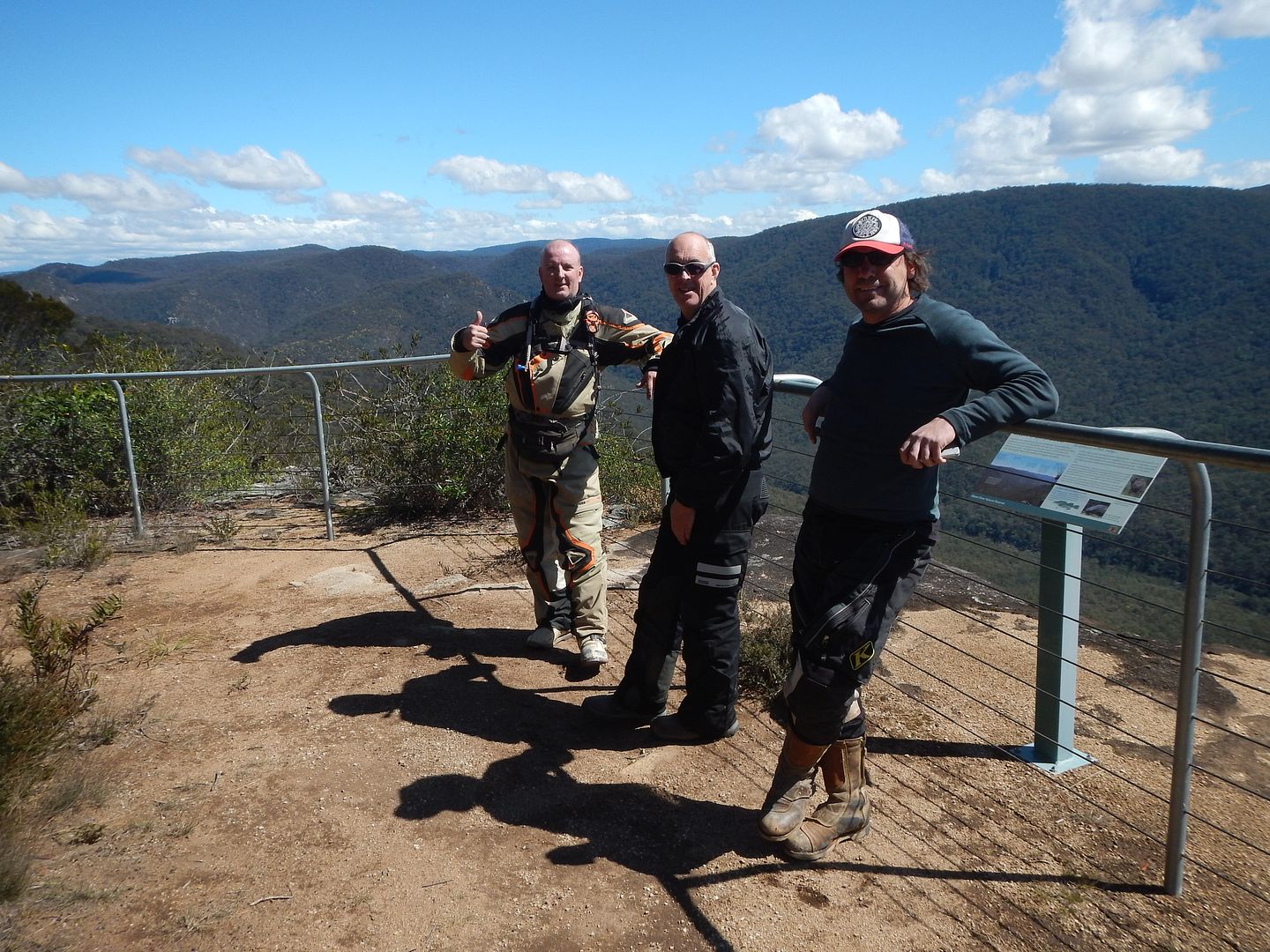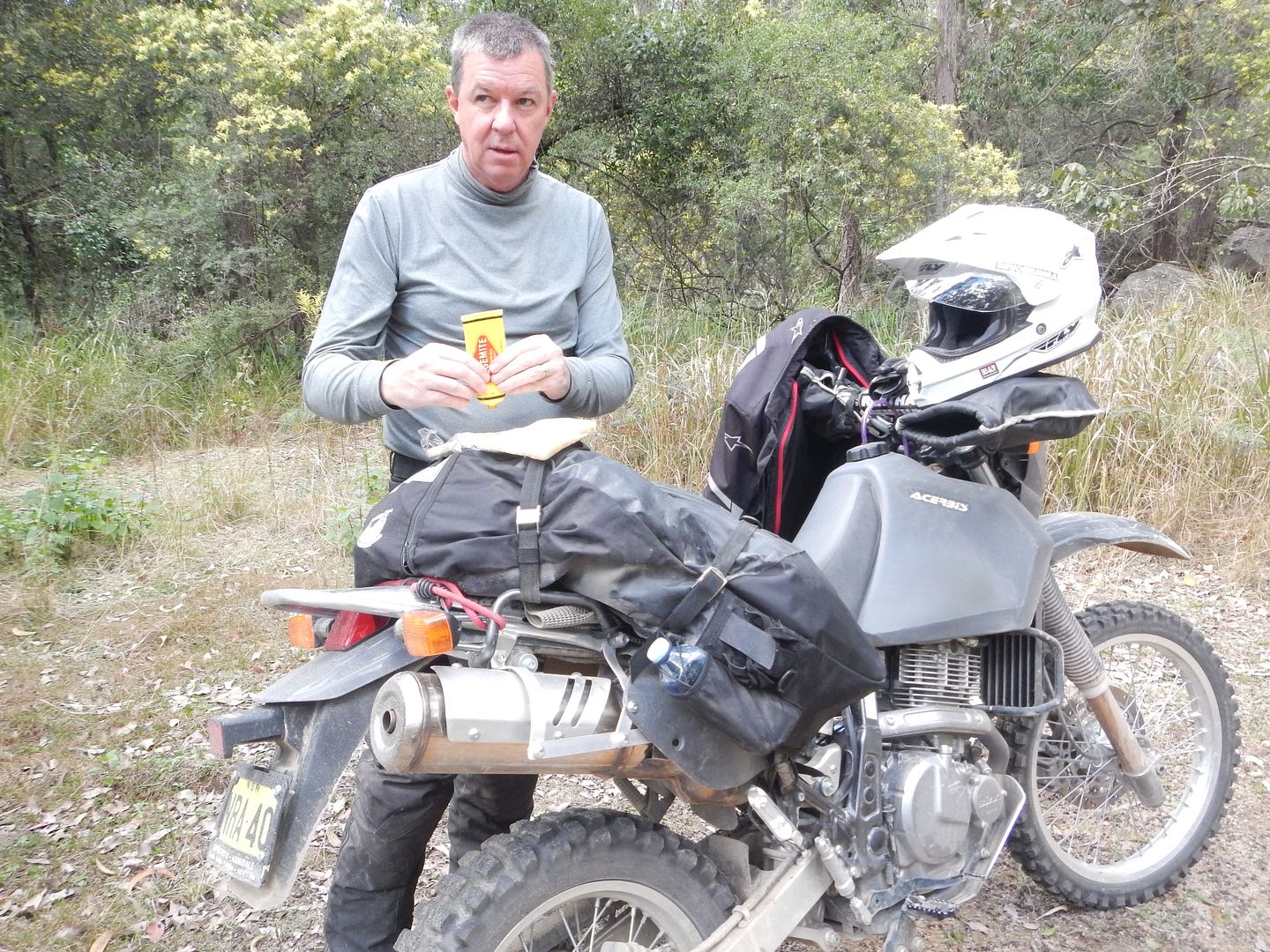 Seahorse unfortunately came to grief about a quarter of the way up and had sapped his energy picking the loaded Tenere back up on his own. He claimed that he would soldier on and see if he could make it to the summit.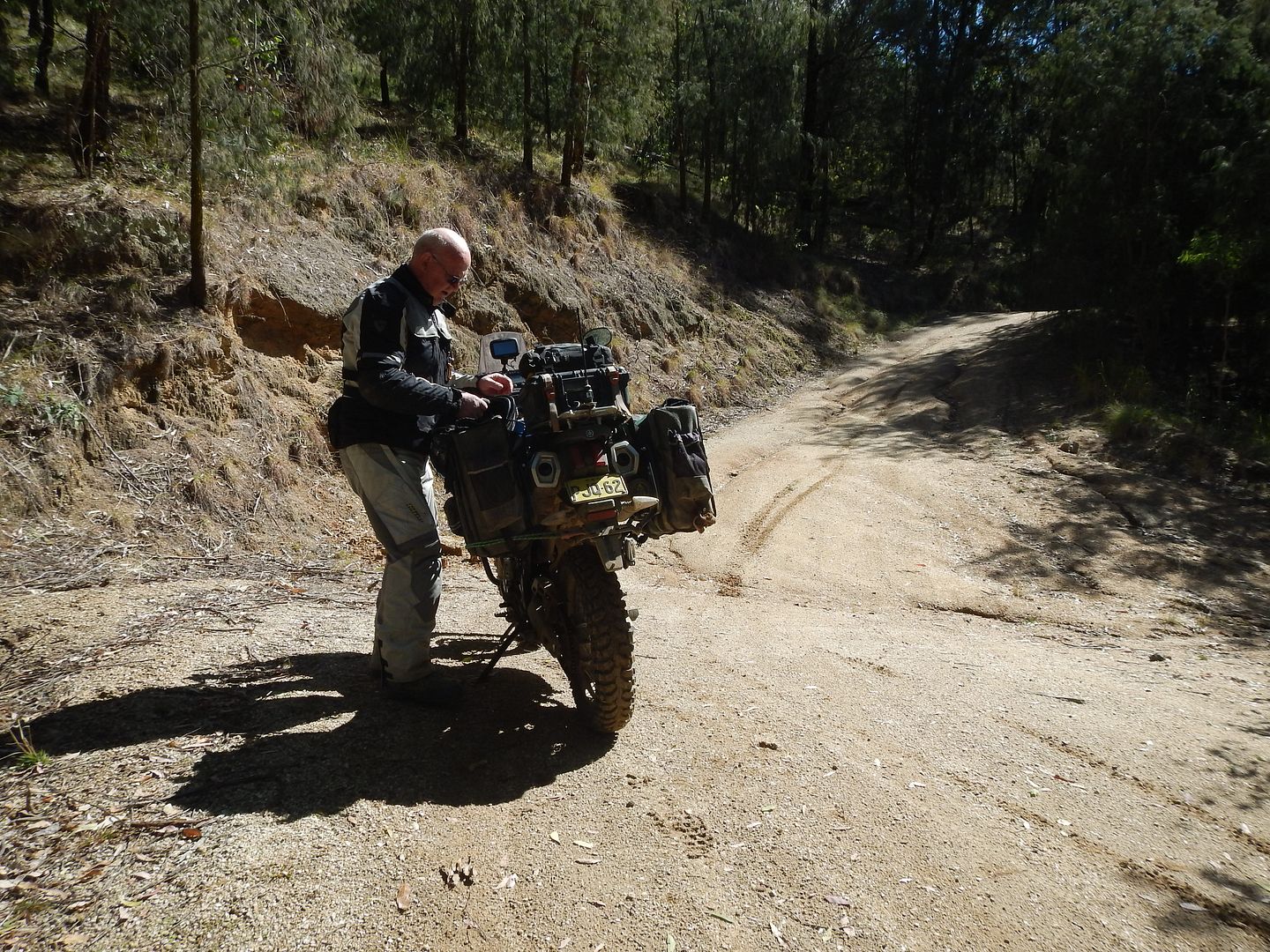 At the top, the view is nothing short of spectacular and this is a must do for anyone visiting the area, even though it`s only a short run up and back down to the bottom of the valley.
After taking in the beauty, we rolled back down, down, down and came across Seahorse again with the Tenere laying on it`s side with him patiently waiting for assistance. To his credit, he was not that far from the top, but chose to call it as a "not to be" and I give him credit for that.
Now back at the bottom, it was time to rip along the hundreds of twistys, bridges and causeways until we came to the other must see stopping point The Tunnel.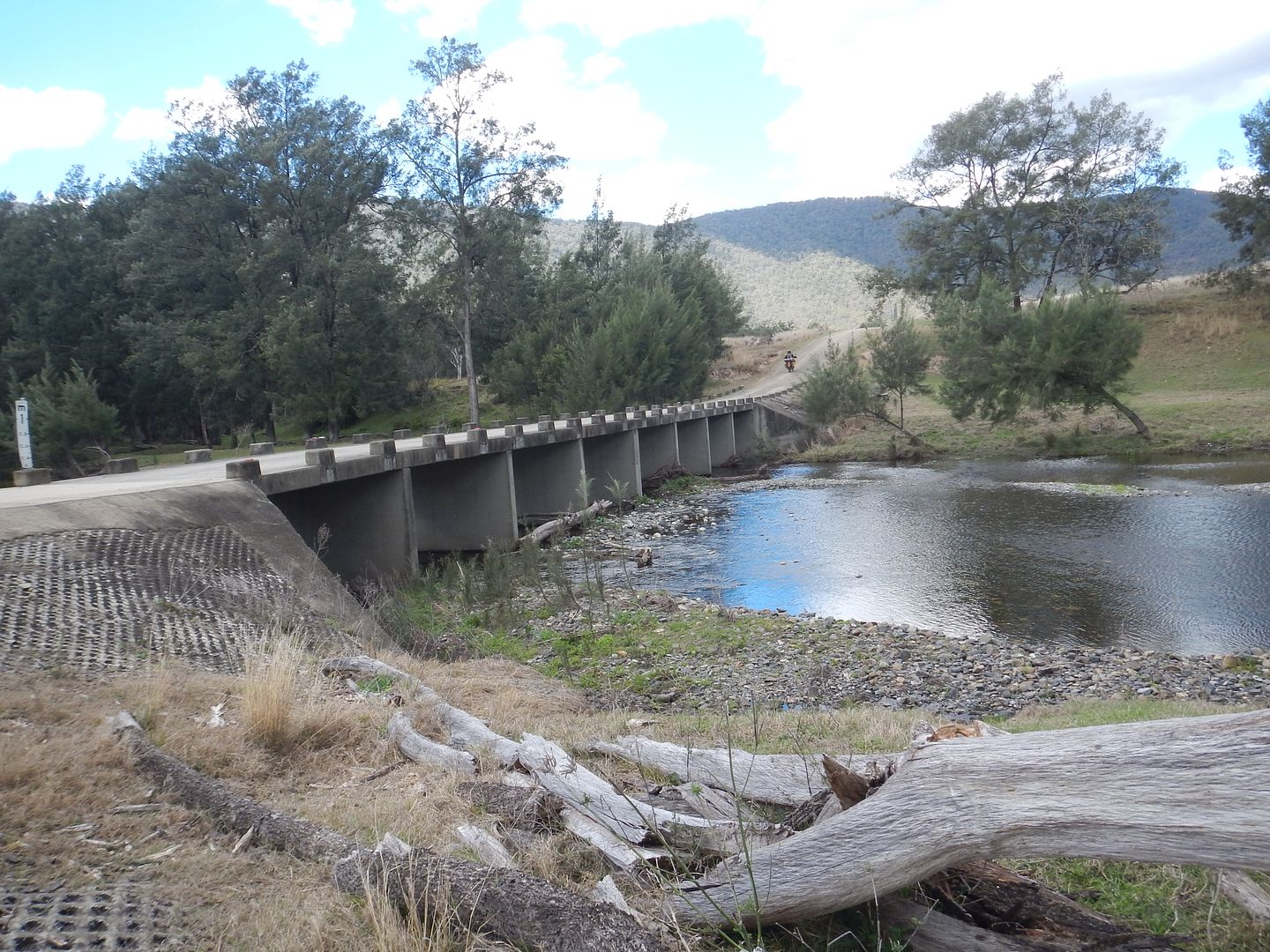 And then the Tunnel came into view for the first time for me .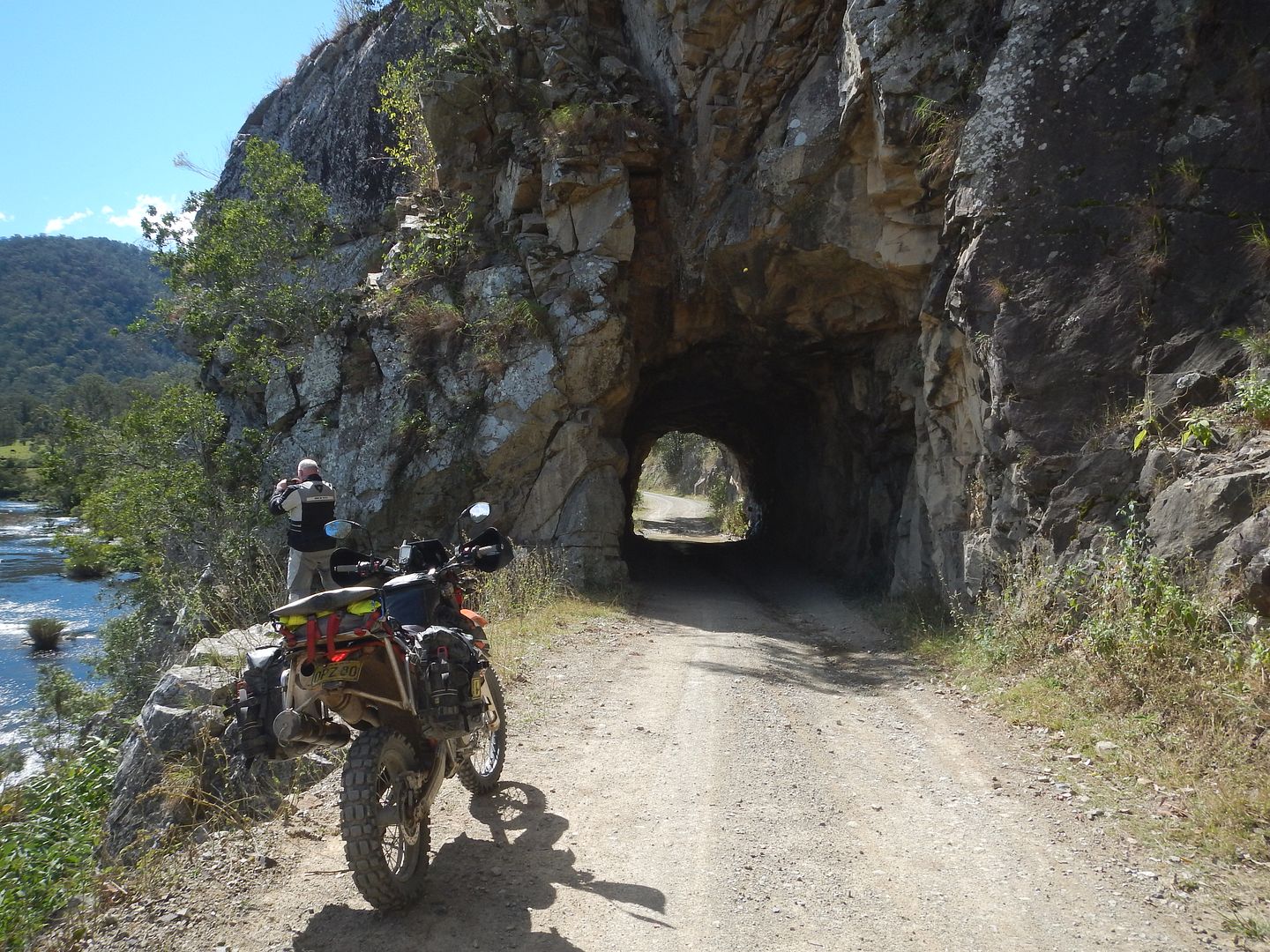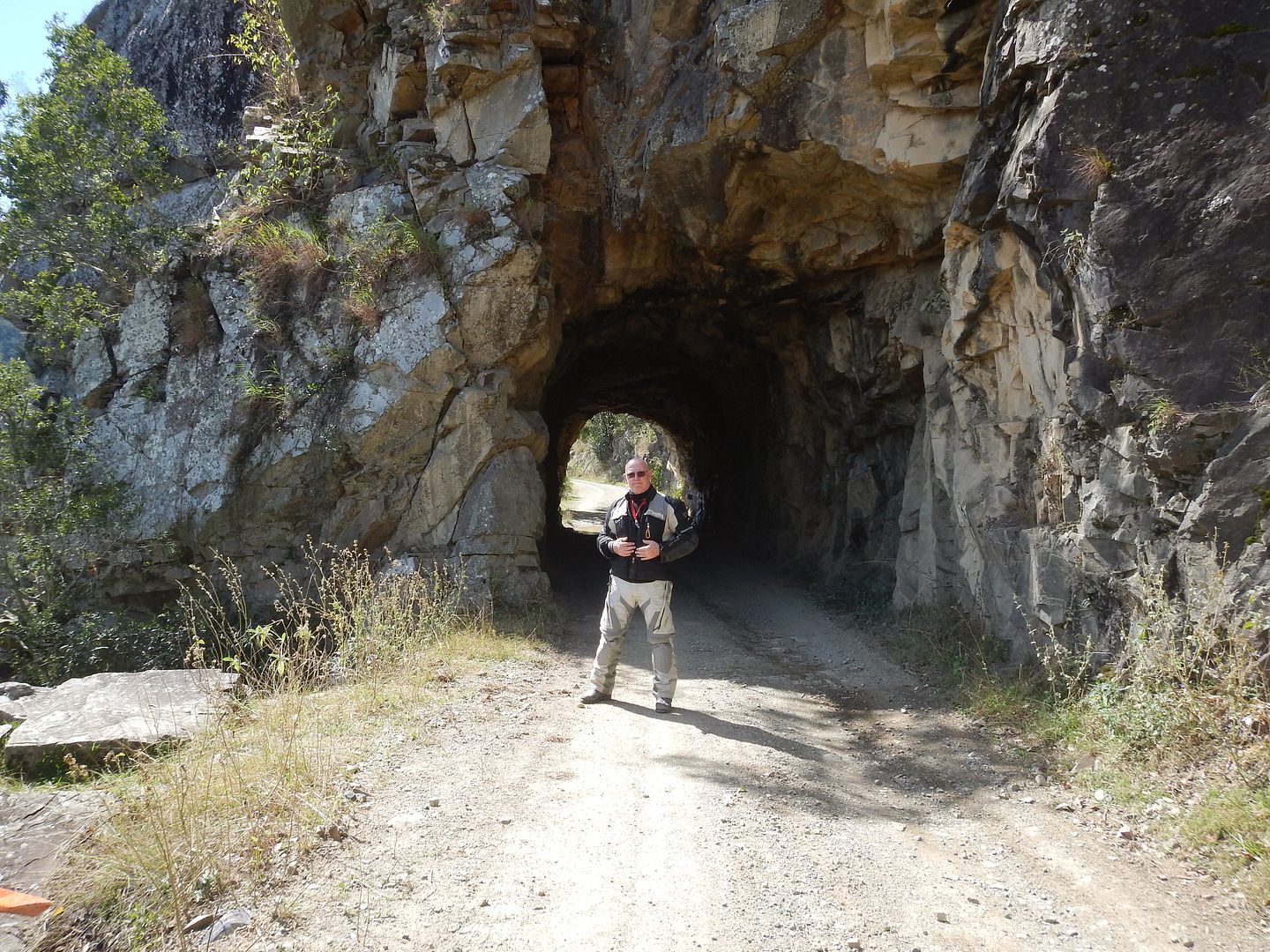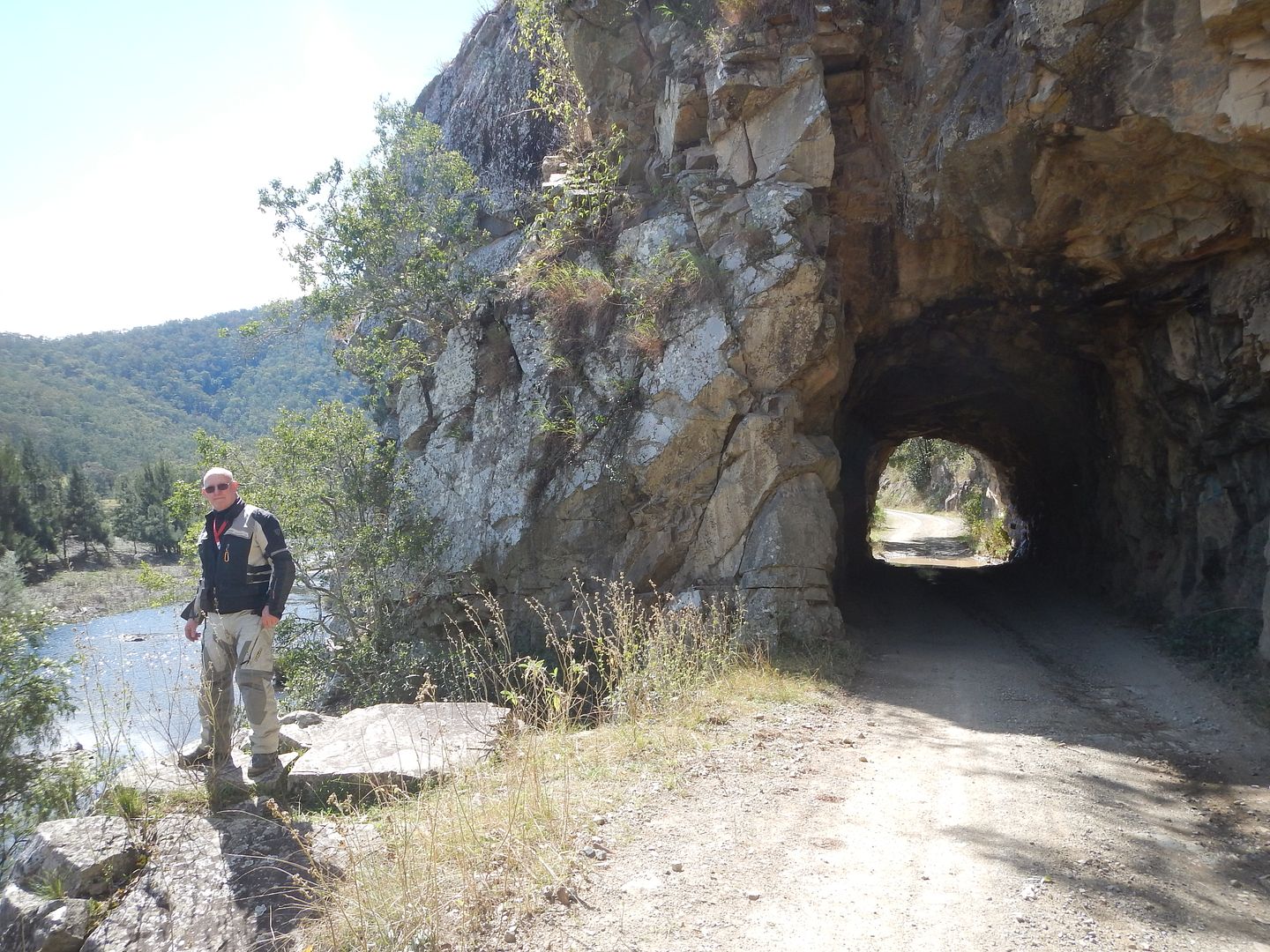 Seahorse had asked us to wait so he could video us riding through, and Muddy hatched a bright spark plan to surprise him by riding in side by side. Well that was a great idea until I realized I was committed standing on the pegs and approaching the waterhole at speed with no time to stop, lofting the front and pretty much emptying the puddle of Milo Water onto the tunnel walls. Luckily Muddy realized what was coming and managed to pull the big twin up just enough to stay just behind the wall of dirty water.
Next stop off was Dalmorton Butcher Shop. We had a walk around, sussed out the meat hooks and asbestos lining ,,,tooks some more pics and sussed out the crossing to the camping area.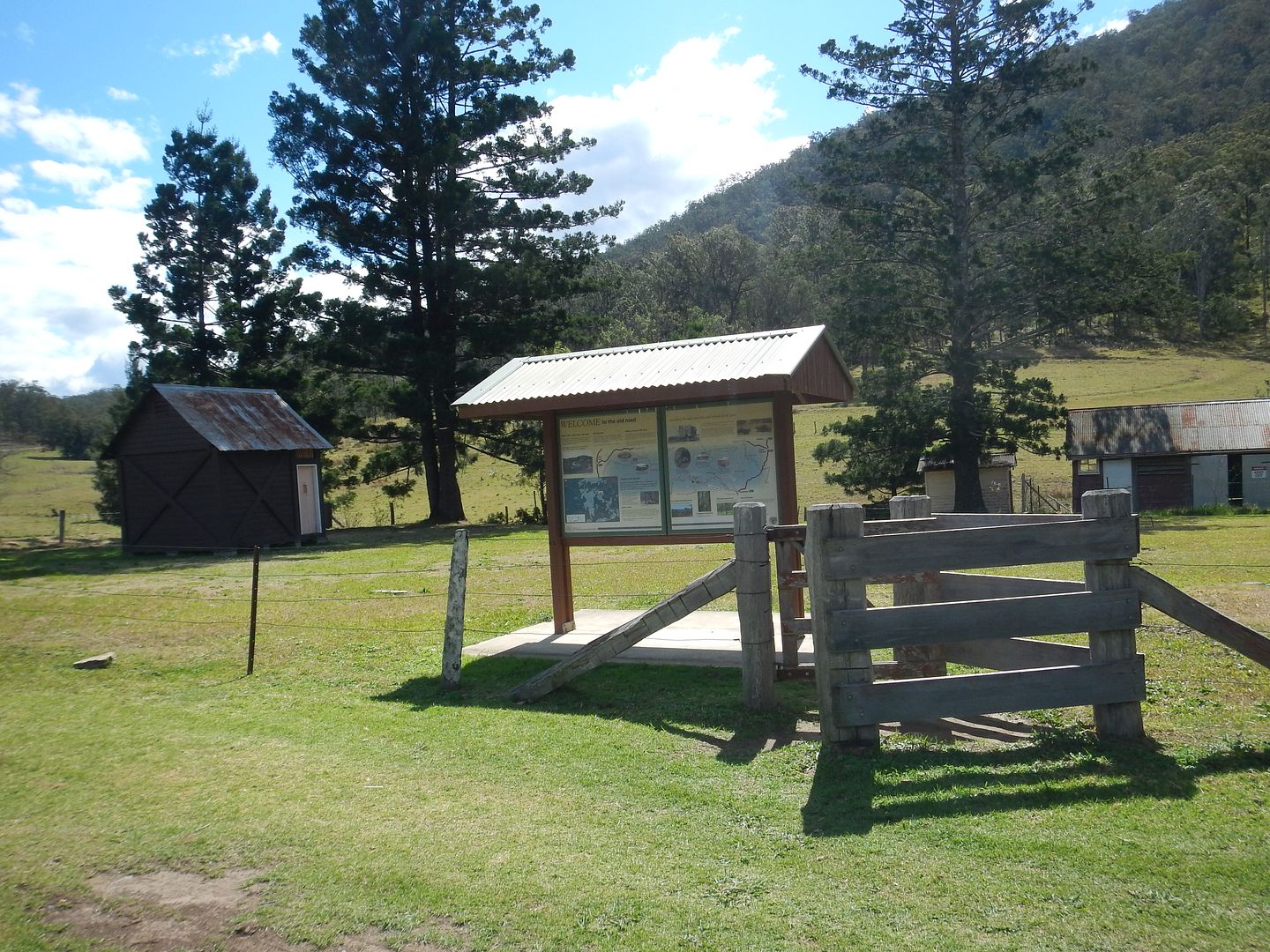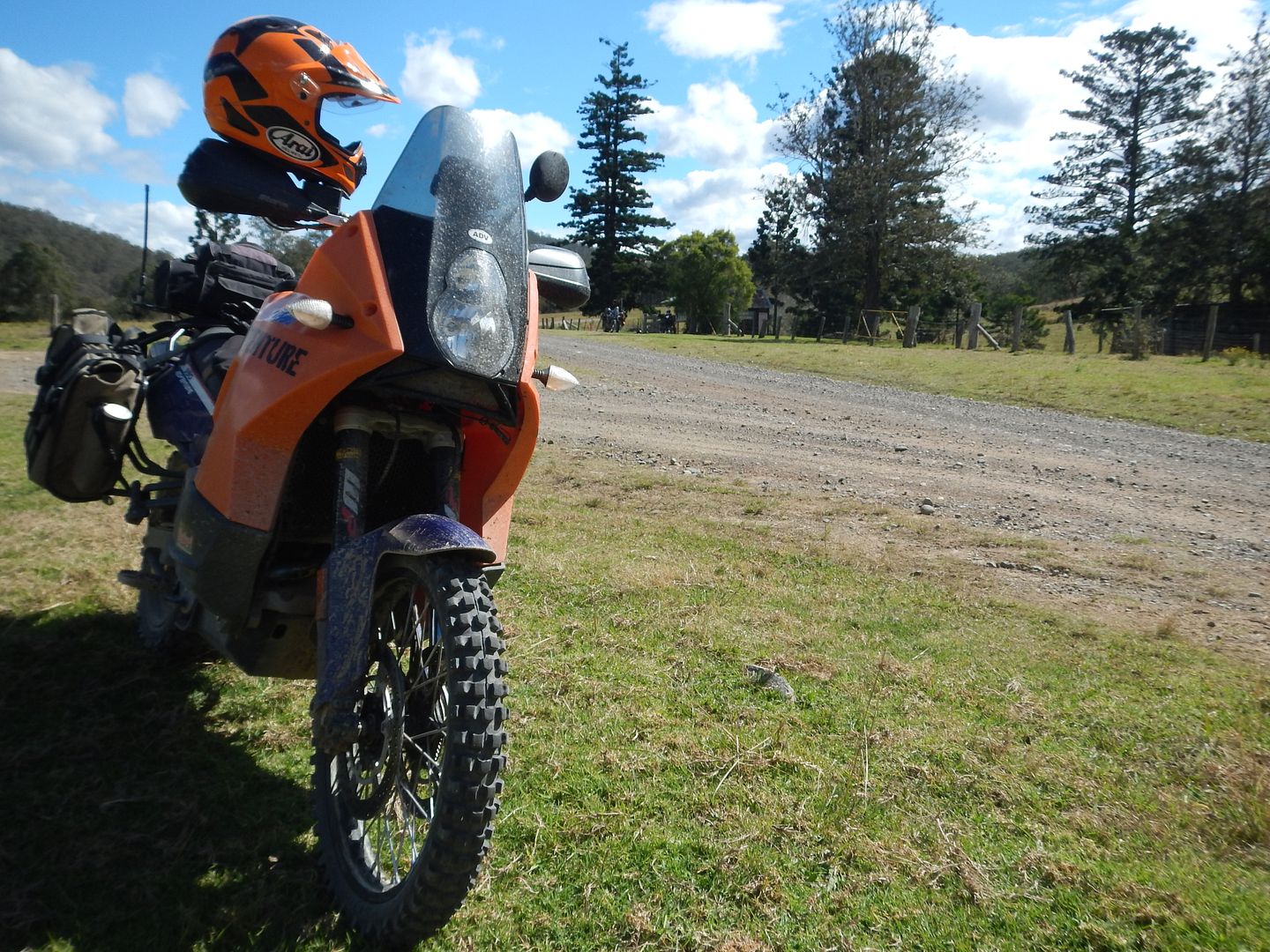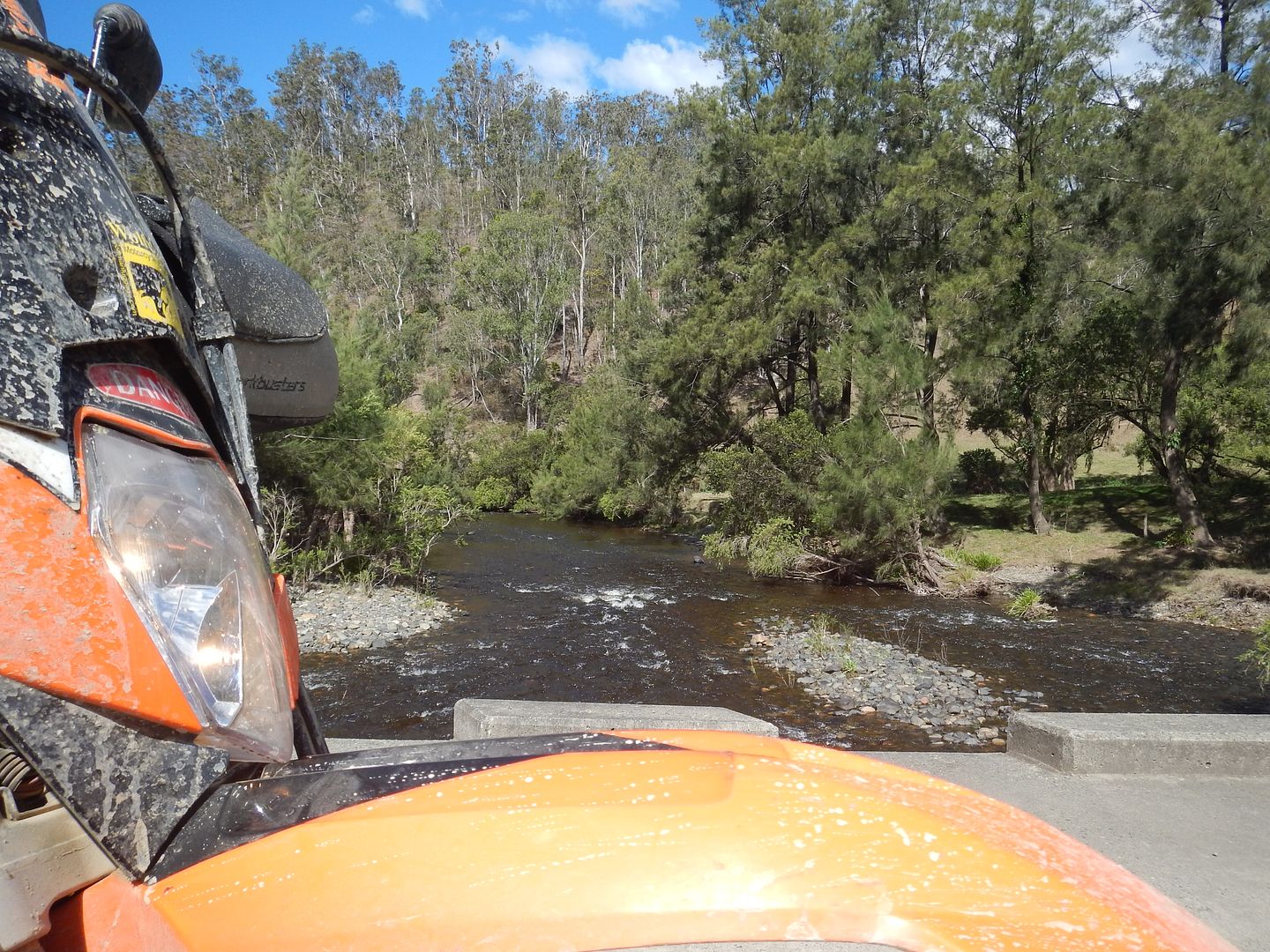 Past the old Power Station Bridge.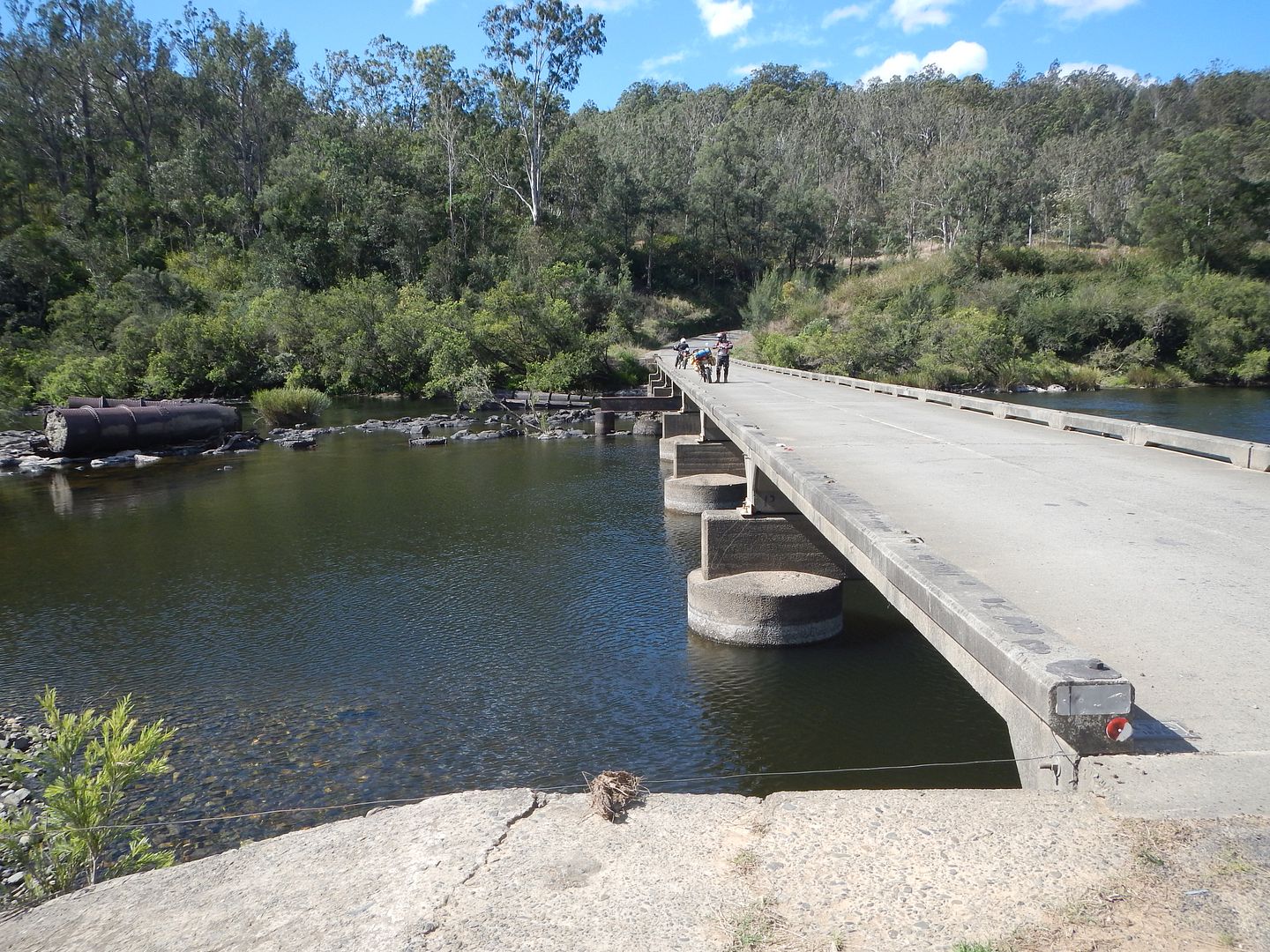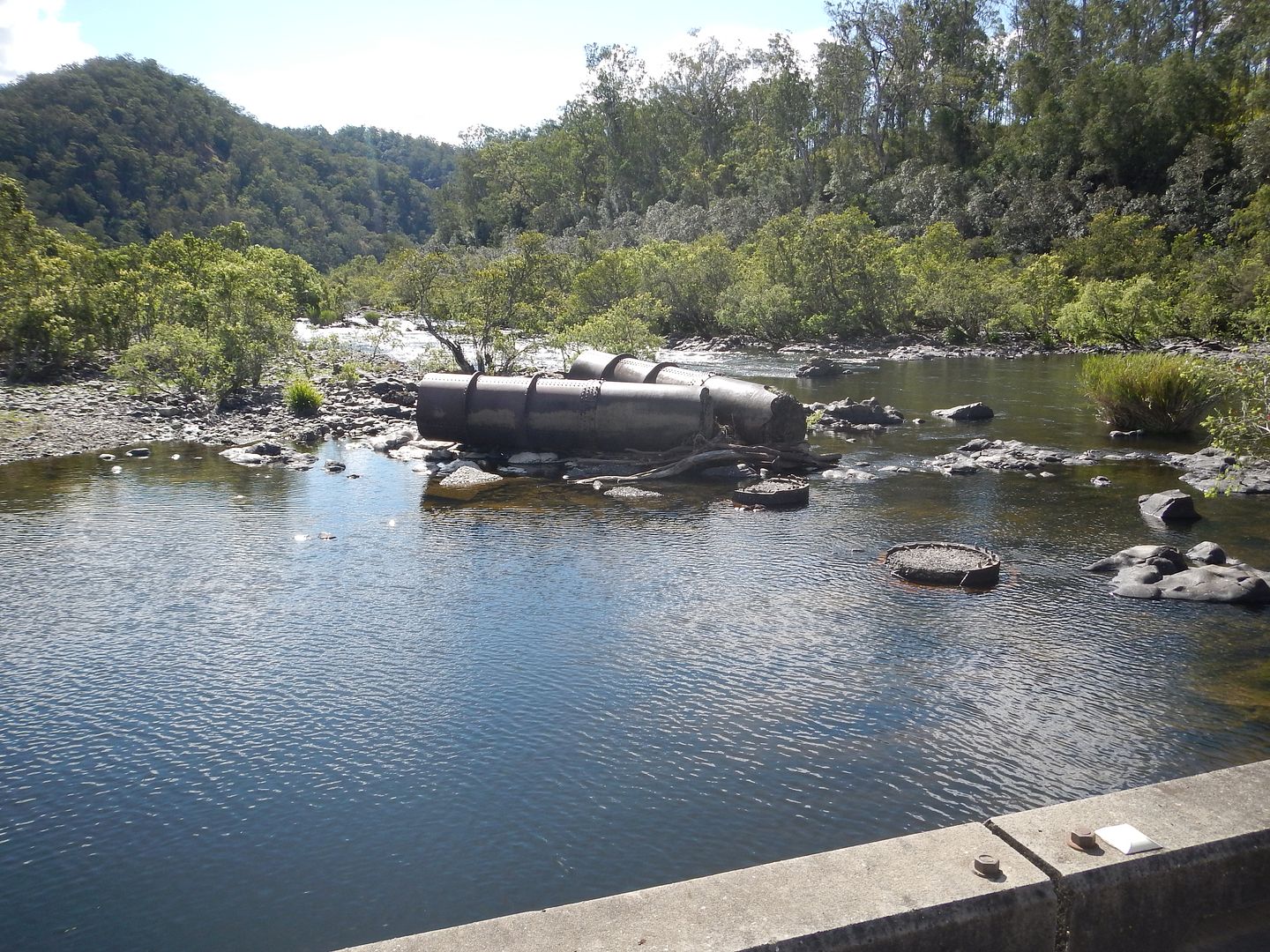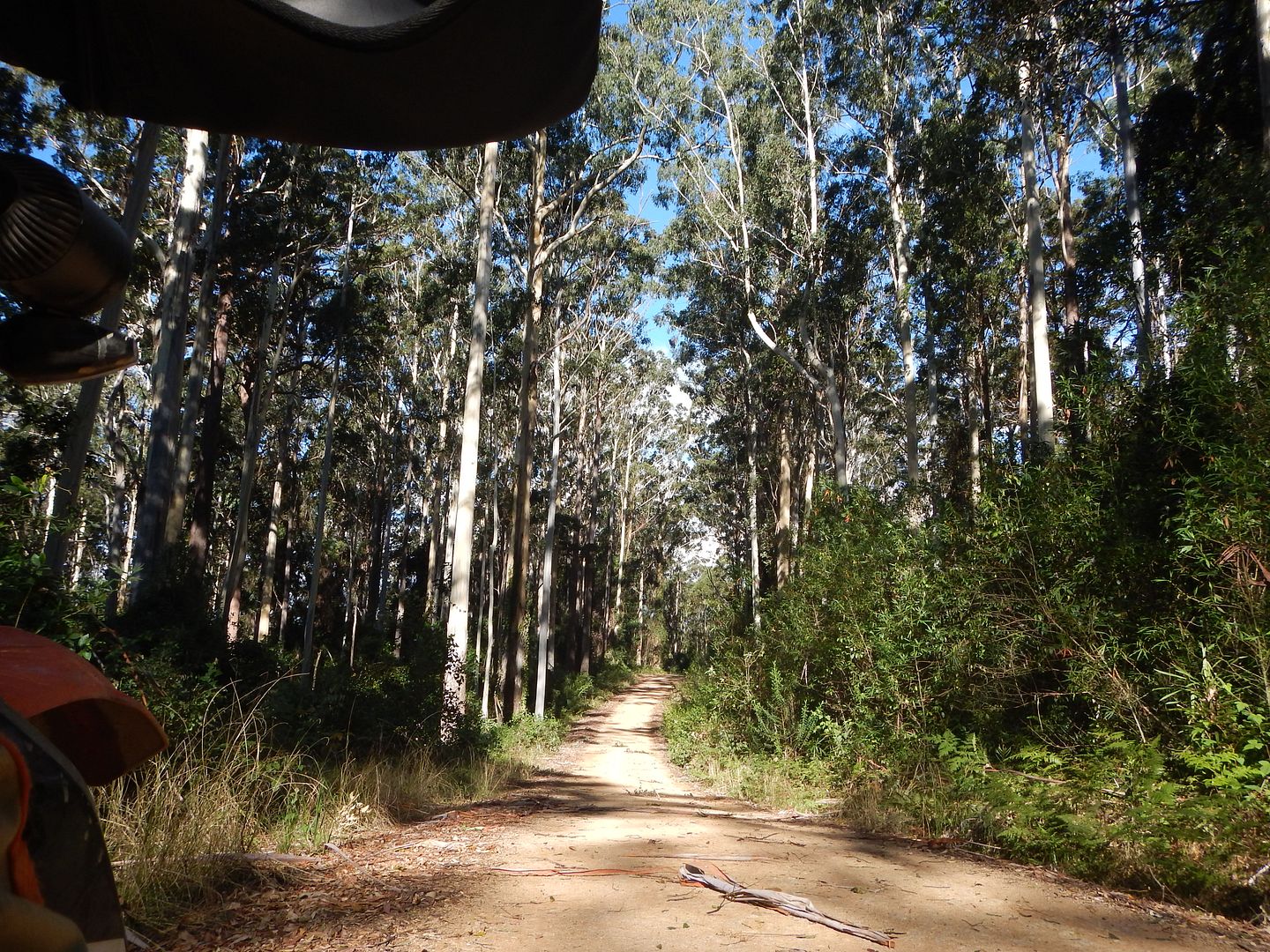 A quick stop at Lowanna General Store for a drink.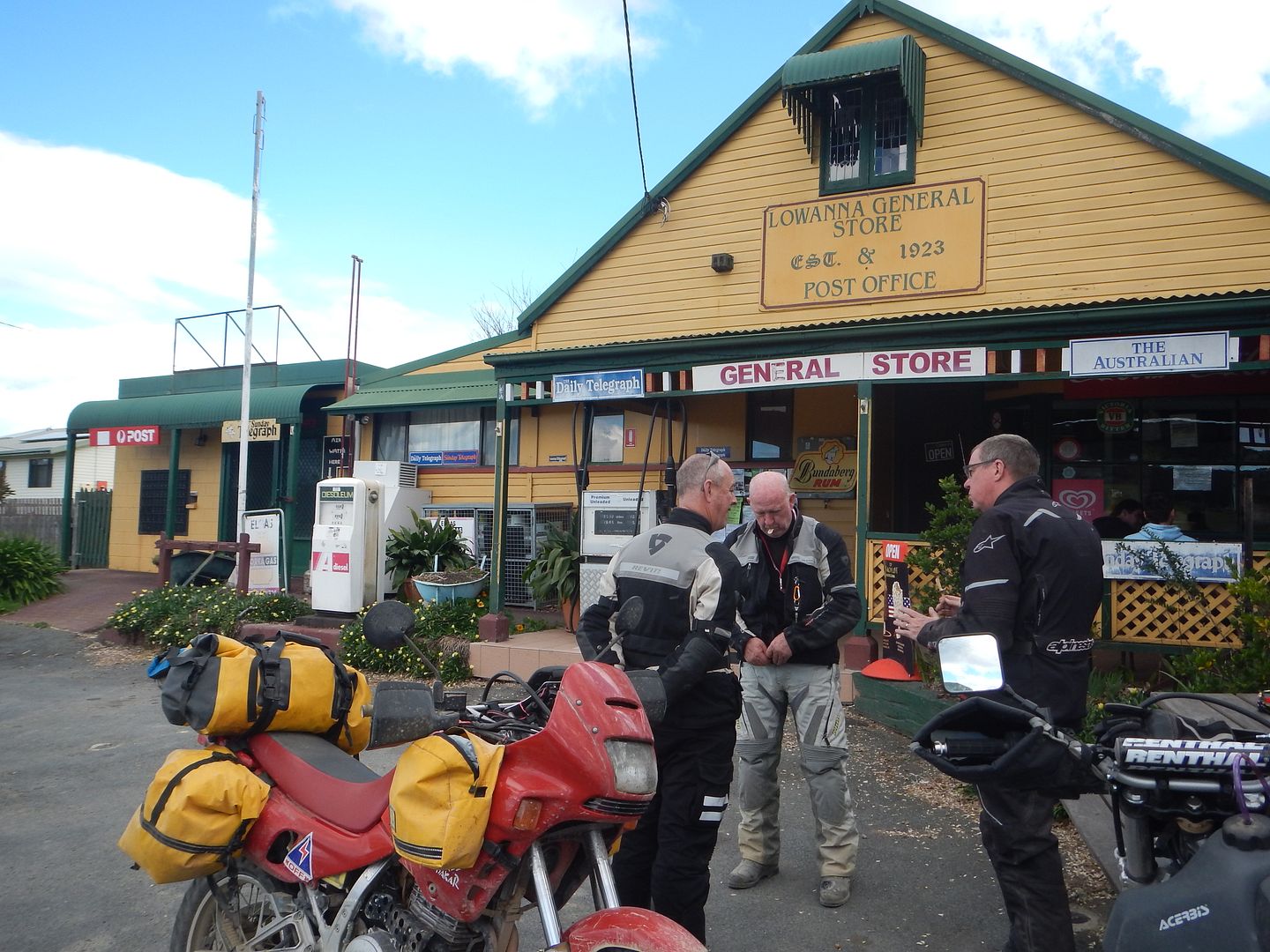 After all the fun on the OGR, we came onto Dorrigo – Coffs Rd near Ulong skirting the edges of Cascade and Junuy Juluum National Parks before running down the ever twisting dirt, under the Heritage Trestle Bridge and winding up in Dorrigo for the next nights accommodation at the Heritage Hotel.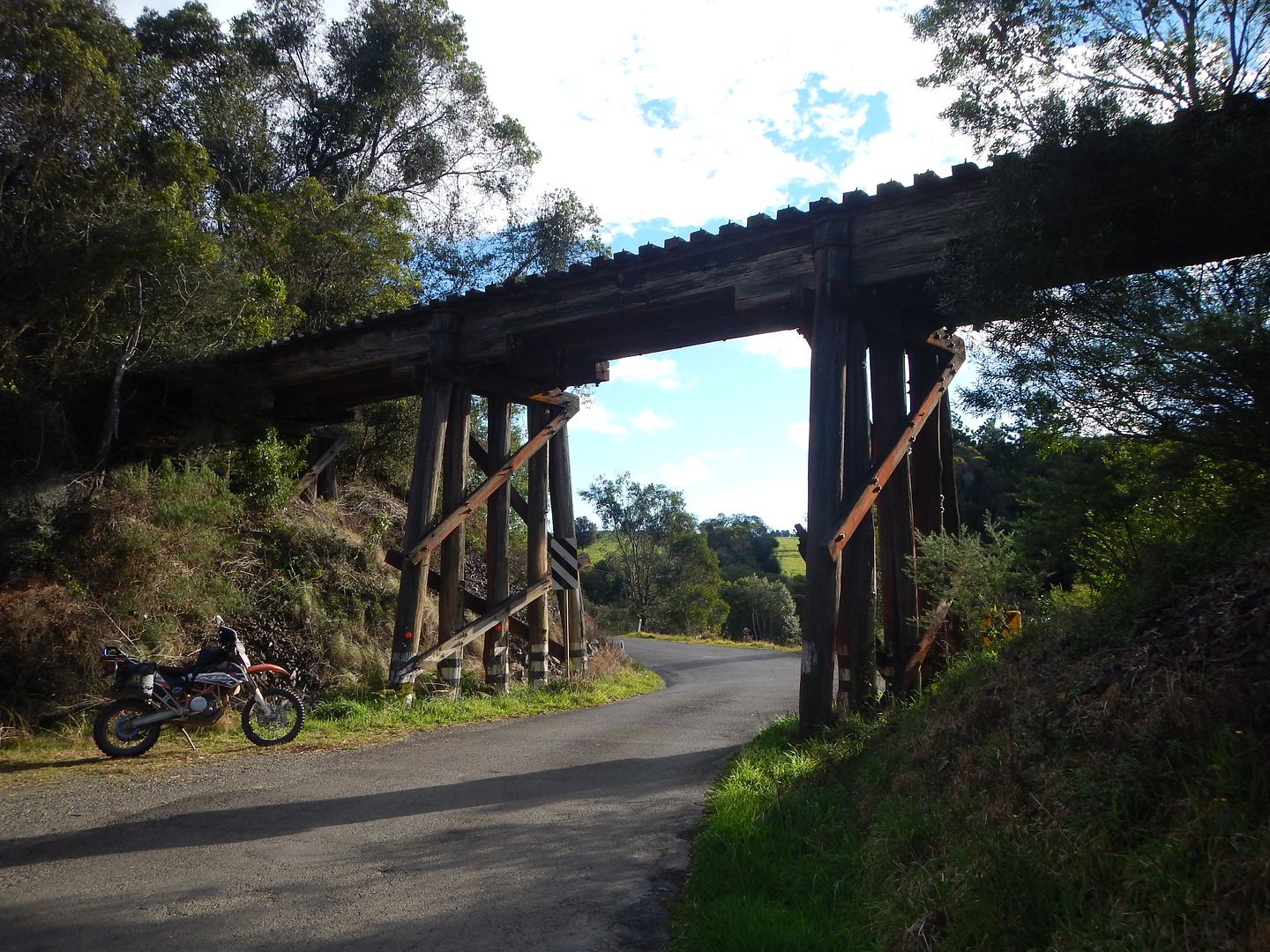 A further 317klms today bringing us to a total of 1484 klms at the end of Day 4
Only 2 Days to Go !!!
---
OLD BULL #101
Original Ride-

`84 XR250R

GONE
Previous Ride-

`04 KLX250R

GONE
Current Ride- 2010 KTM 690R Enduro


"Still hangin` in there"
Last edit: 3 years 11 months ago by
EAGLE`02
.
Please Log in or Create an account to join the conversation.
Topic Author

Adv Forum Moderator
" Found Yellow Rock, Bald Rock & The Tunnel. Now what ???"
3 years 11 months ago
#171327
by EAGLE`02
NW4 – DAY 5
So today was our first wet start after thunderstorms throughout the night in Dorrigo. On went the wet weather gear after a hearty breakfast in the Dining Room of the Hotel. And off down the Waterfal Way we rode, with caution as the road was wet and a tad slippery, heaps of roadworks going on as well due to what I gather was recent storm damage in places. Waterfall Way shirts along through the edges of Dorrigo National Park and has a few waterfalls dropping down next to the road and disappearing under the pavement through culverts, very scenic ride even for a tar run.

At the bottom we headed to Thora and crossed the Bellinger River before coming to another cracker of a road, Horshoe Rd. We had descended down out of the weather, so off came the wet weather gear as we were already warming up fast. Horseshoe was awesome and also very grippy due to being dampened overnight with the rain.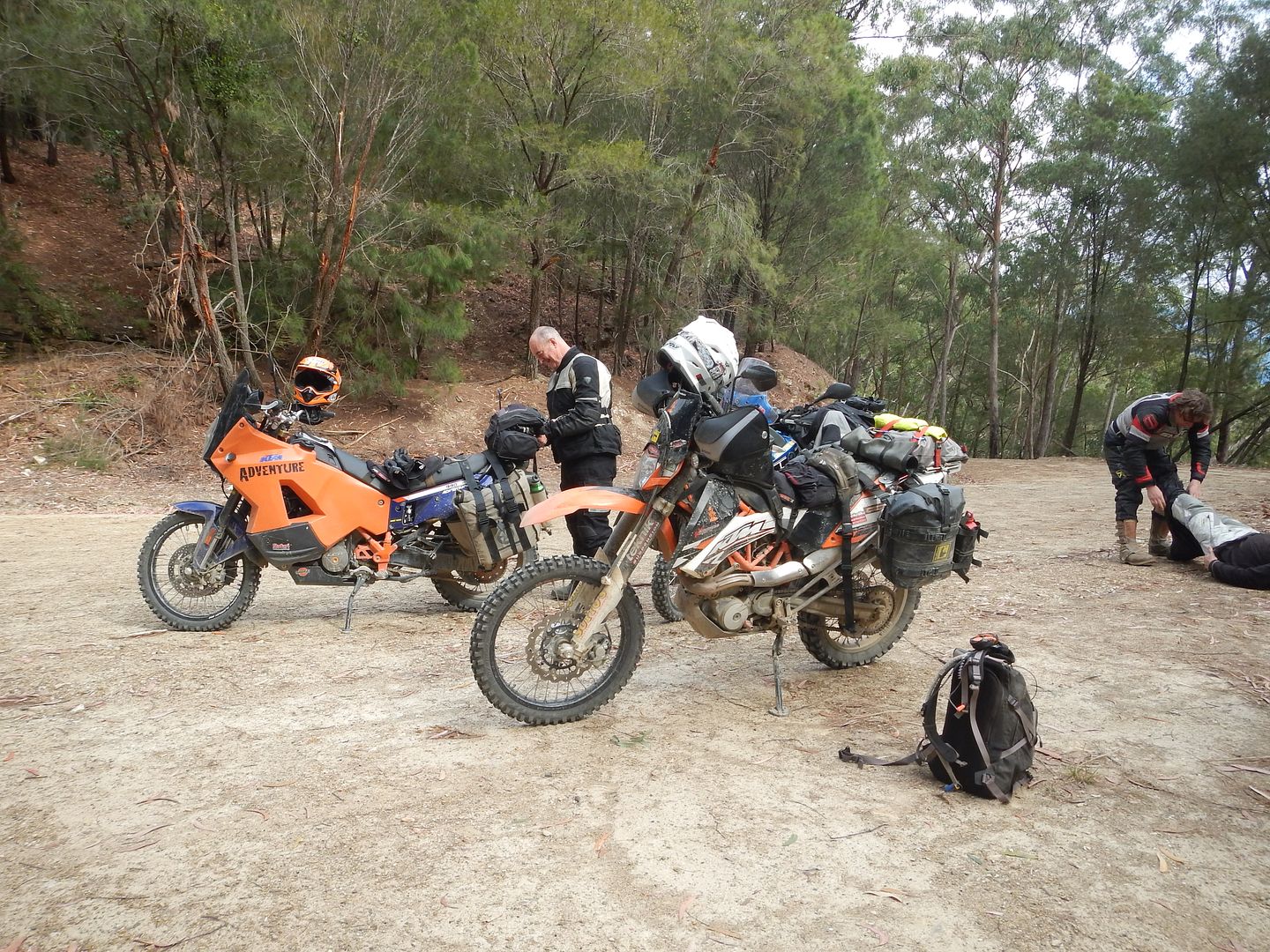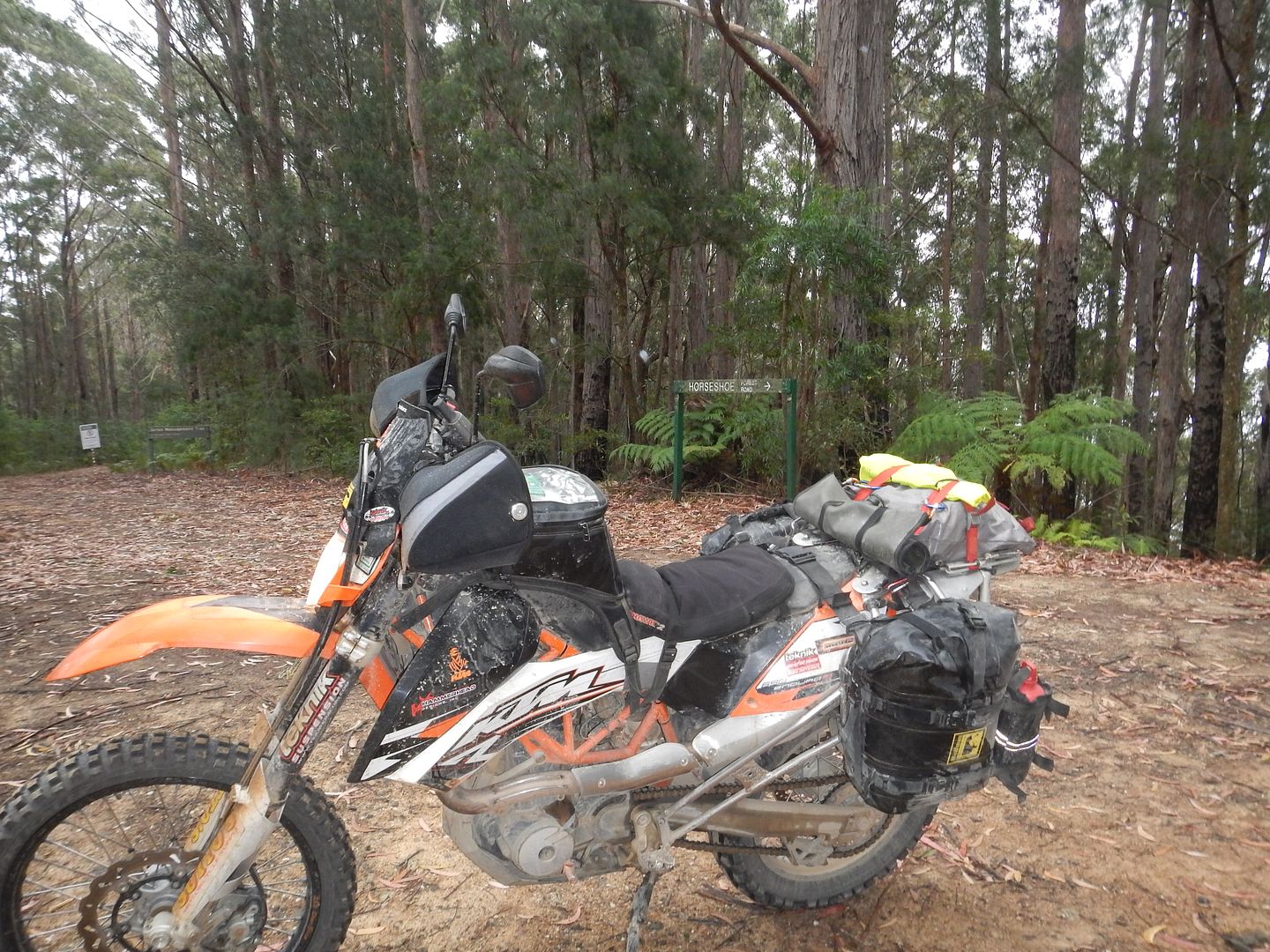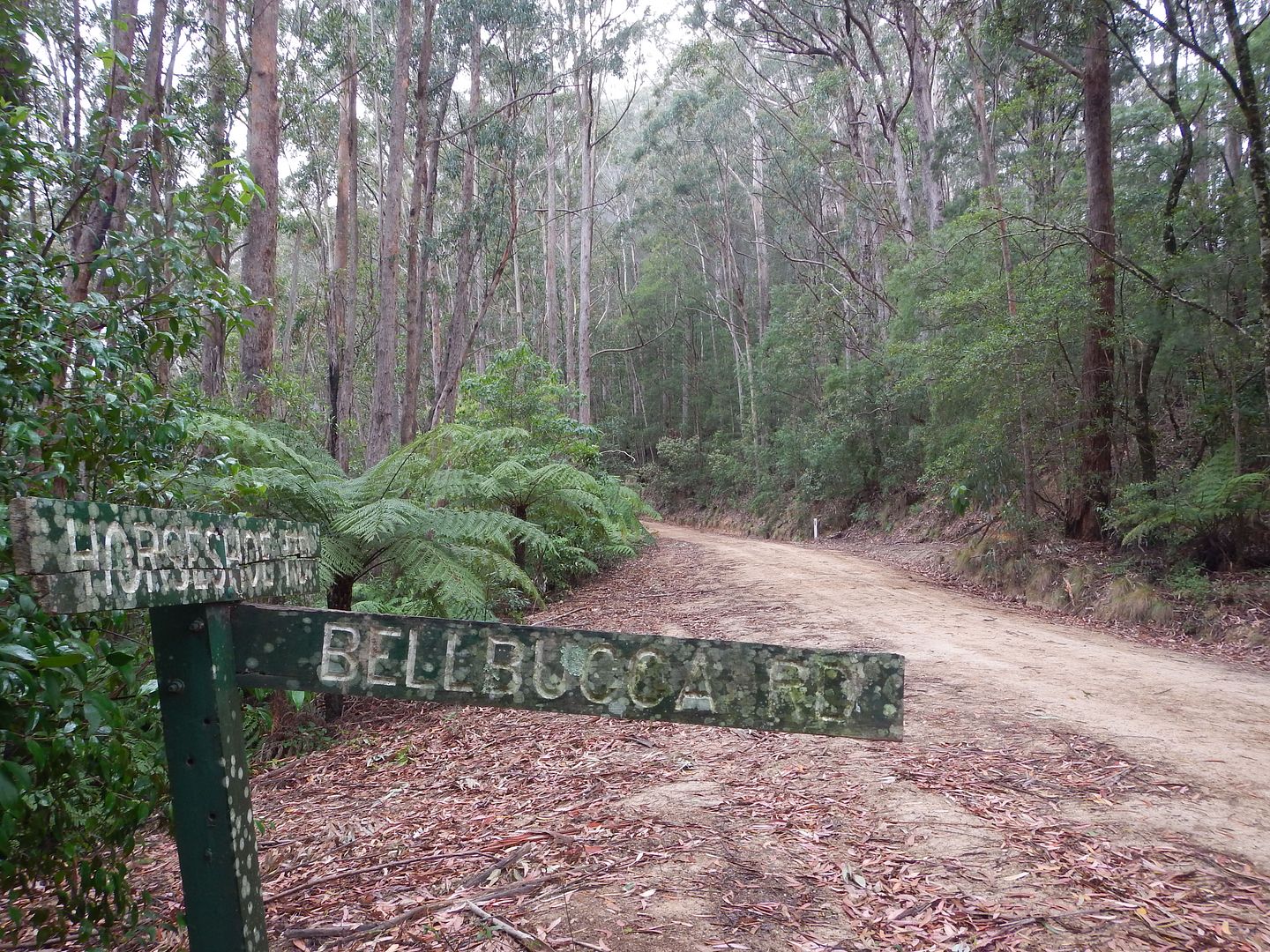 This took us through Die Happy State Forest, Roses Creek State Forest & Baalajin Nature Reserve which were all pristine rainforesty type terrain and plenty of fun trailriding.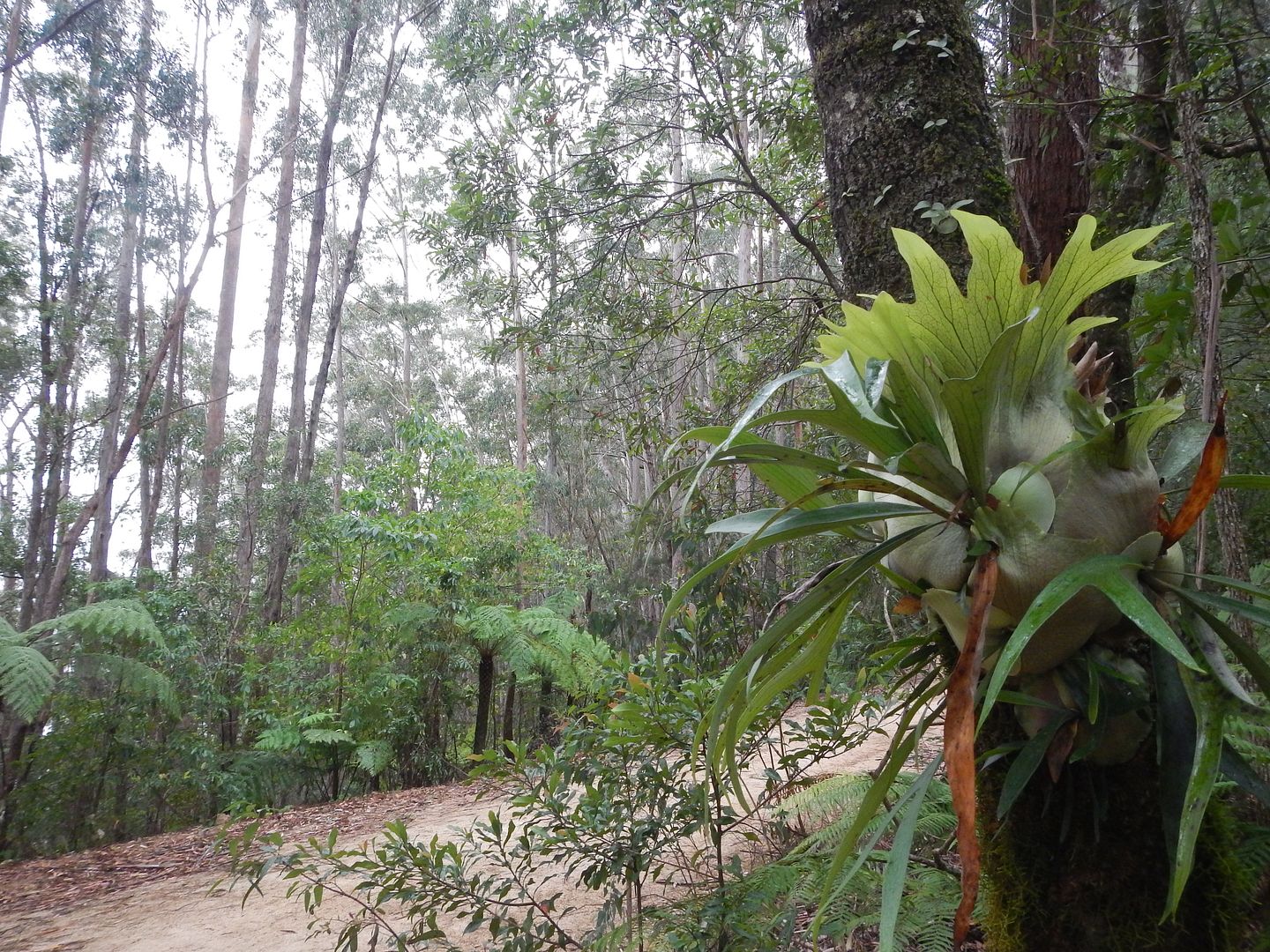 Next was Juggawarri Nature Reserve with Bellbucca Rd that found us winding along and across a small tributary creek off the Nambucca River through to Missabotti , onto Bowraville Rd and eventually into the very tidy town of Bowraville.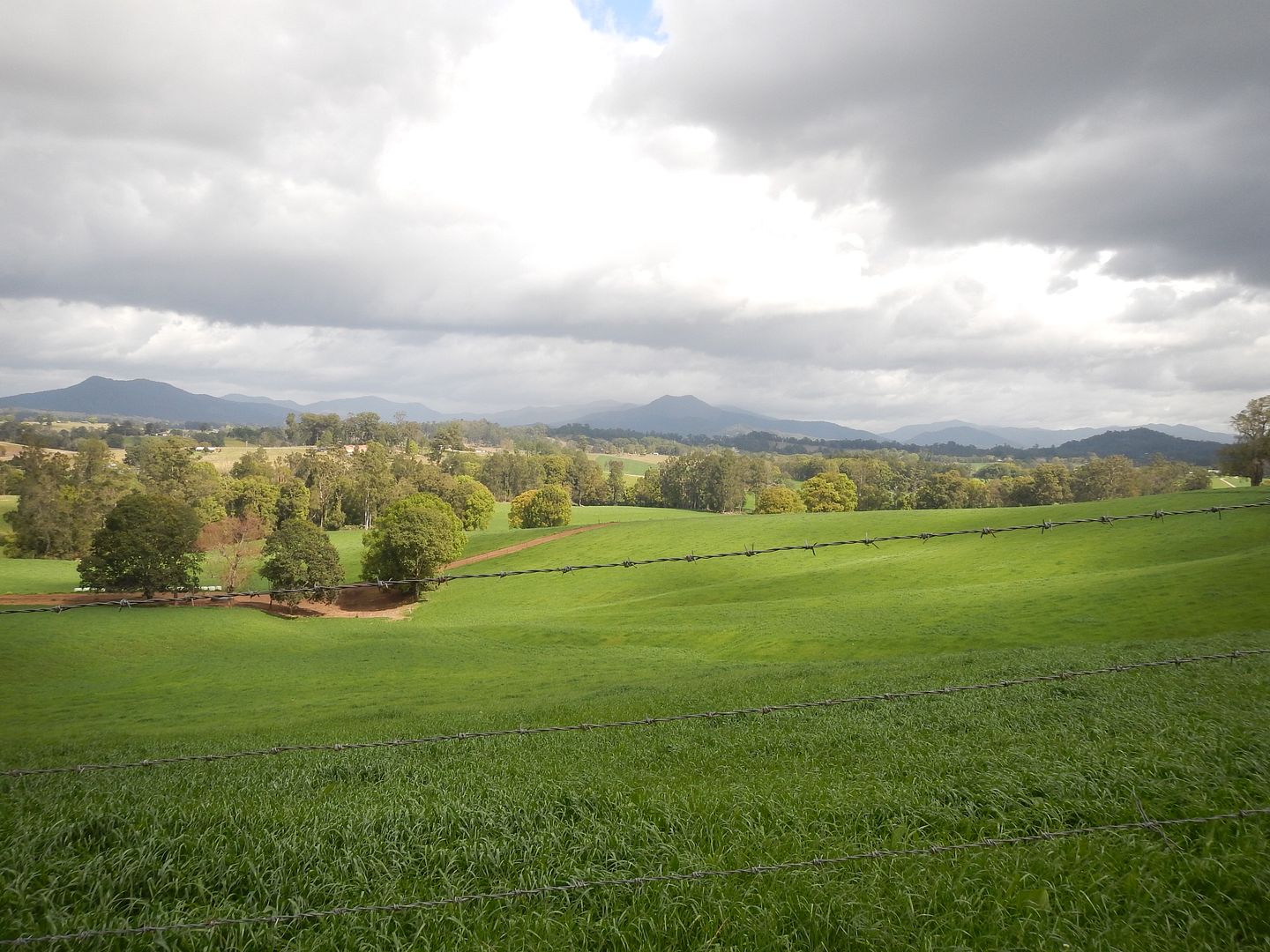 We left Bowraville along South Arm Rd which turns into Williams Hill Rd and snakes it`s way down through some beautiful sleepy farmland properties and into Taylors Arm where we had to divert for a short time to the famous Pub with No Beer, and of course, I had to have a BEER.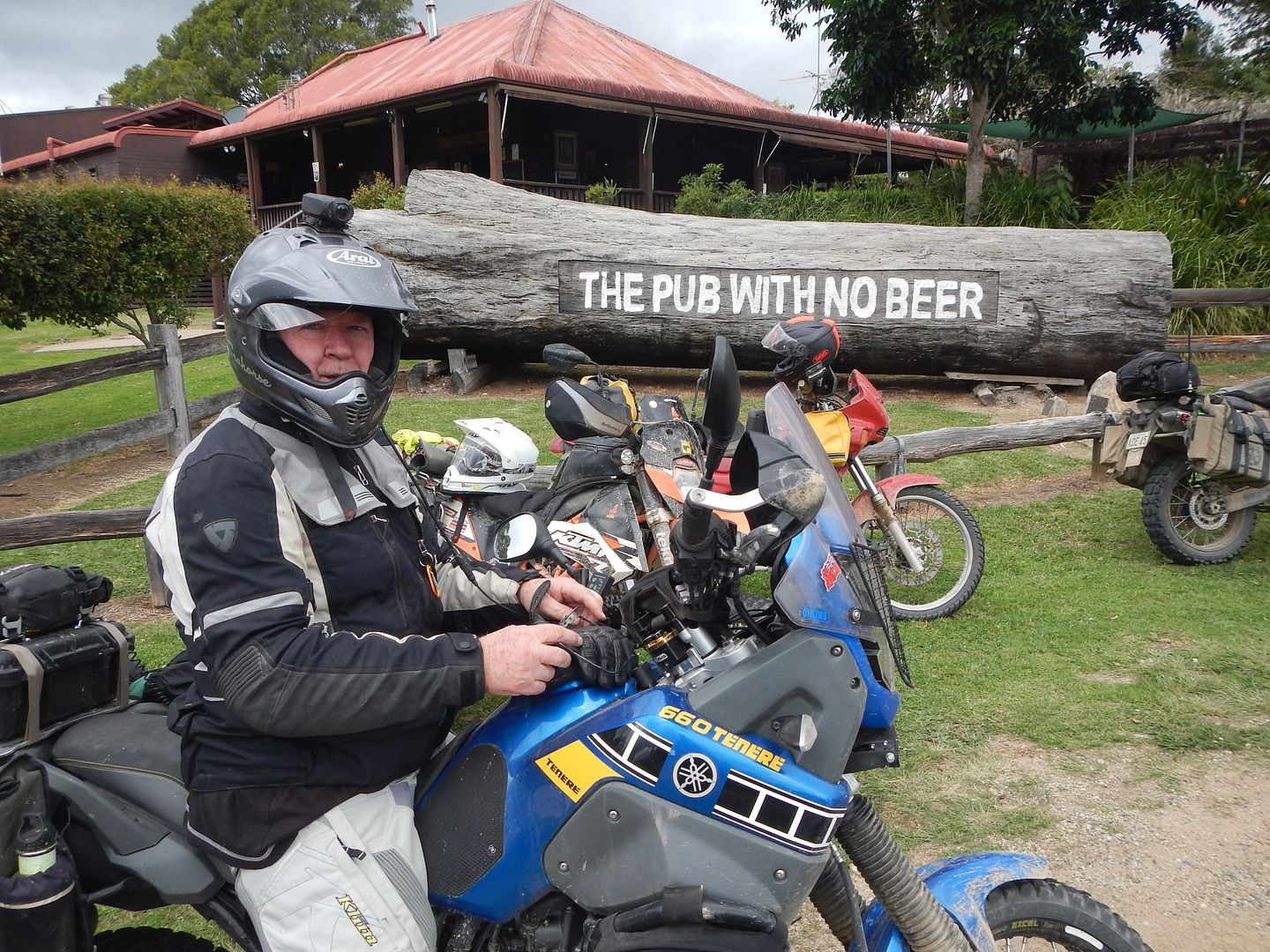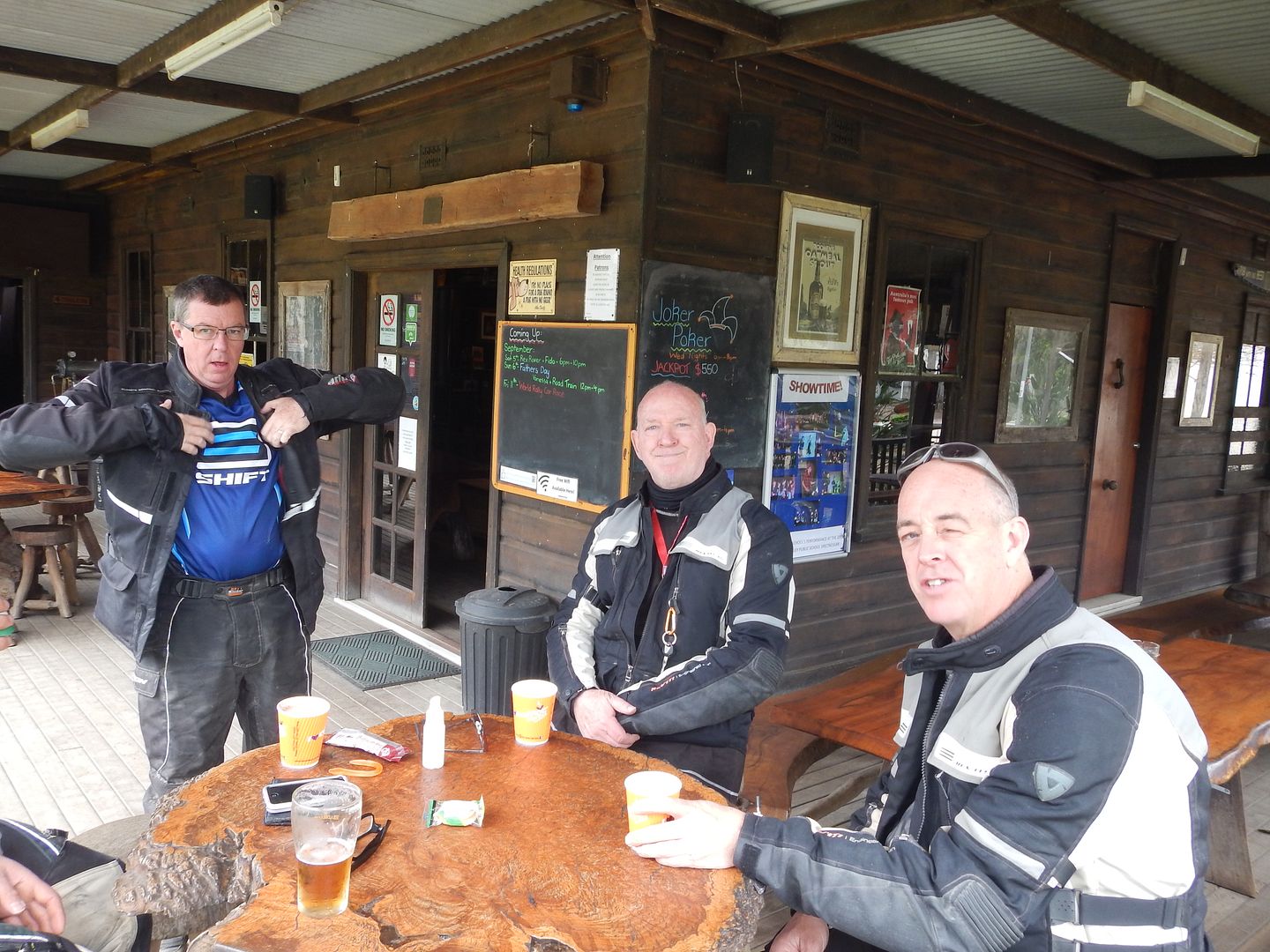 After a beer, a short rest and feeling somewhat refreshed we wound our way south to Bakers Creek and Hickeys Creek Rds to Ingalba State Forest. Eventually we ended up at Toorooka and crossed the Macleay River and followed along the banks of Warbro Brook to Carrai Rd and into the wilderness of Oxlet Wild Rivers National Park and Willi Willi State Forest. It was quite damp in the forests down here and some of the rocky climbs and descents were a tad tricky to keep us on our toes with loaded up bikes.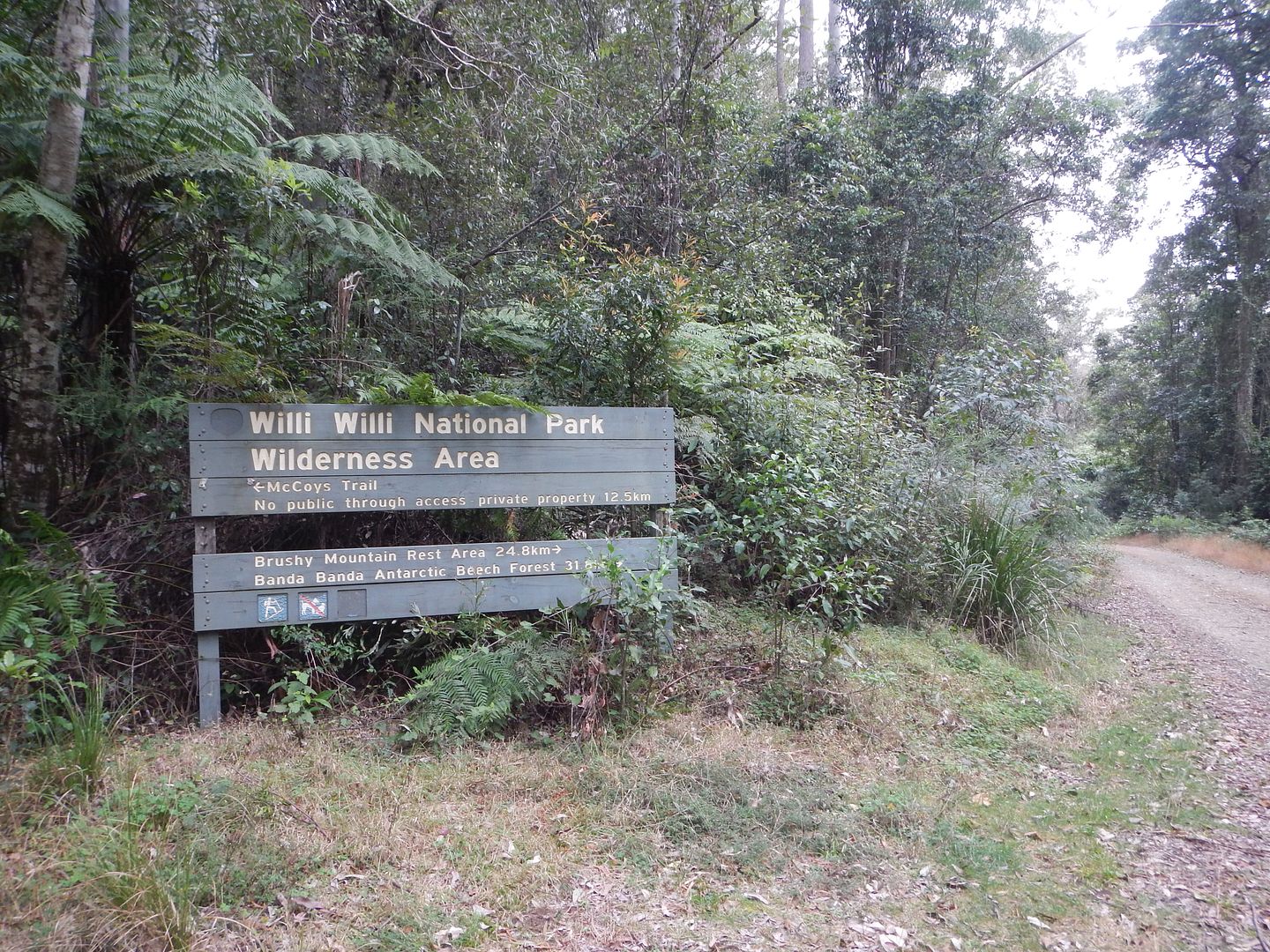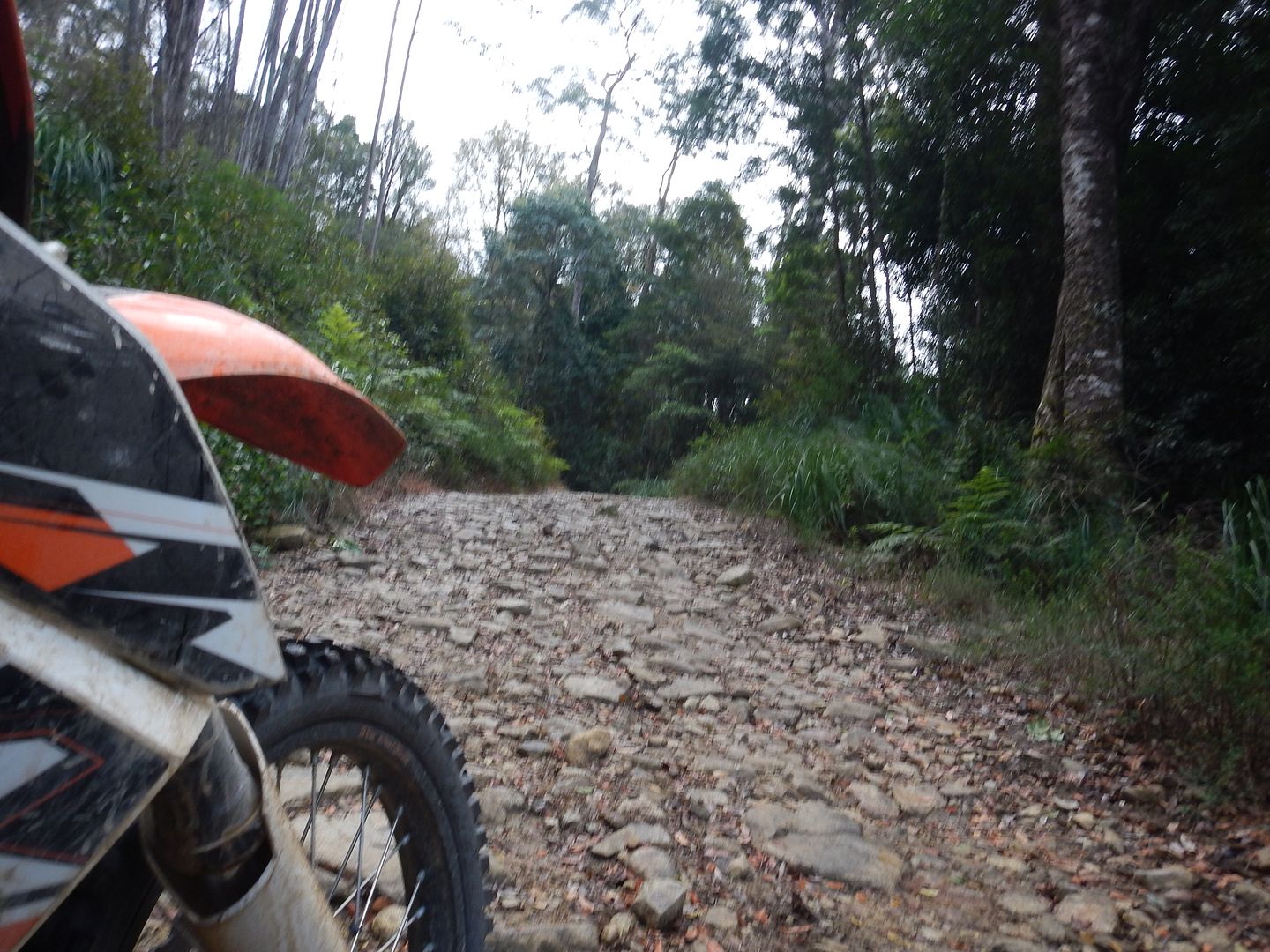 After what seemed like hours we turned on to Coachwood Rd and continued along through to Racecourse Trail which was an absolute cracker as well, even though it was slippery as buggery in places.
Eventually we crossed the Forbes River with some deepish water crossing with loose ghoully bottoms that may or may not have caught one or two blokes out,,, and rode through the Arctic Beech Forest, which I think has been destroyed by fire.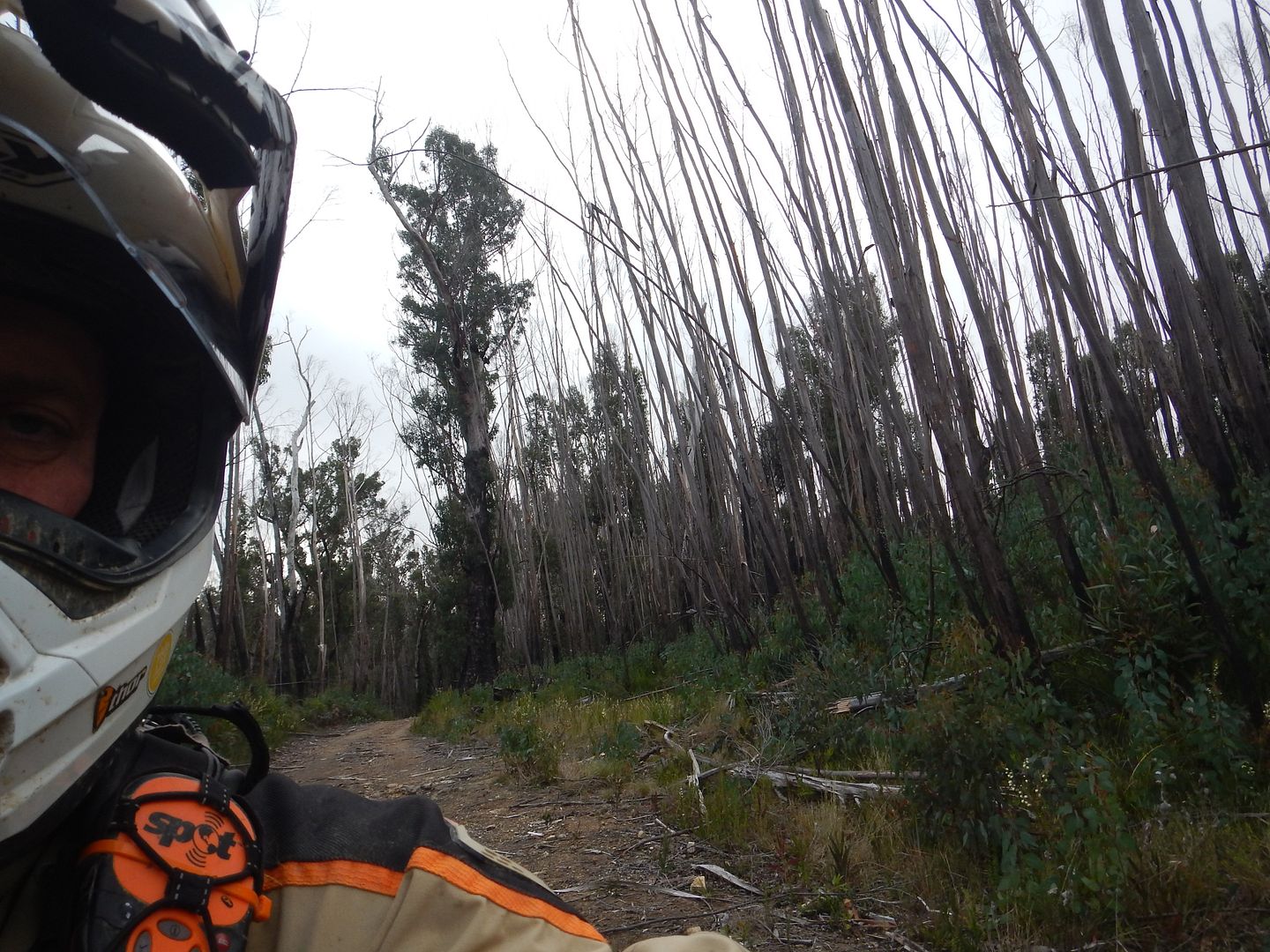 Time was getting on real quick and light was fading fast on the tail end of what we already knew was going to be a big day. We had already had a bit of a navigational change earlier in the day due to a washed out bridge and some downed trees, so it was here that we rerouted to Hastings Forest Way for a darkening and dam run down out of the mountains towards Mount Boss and Bellangry State Forests and coming out to the sleepy village of Beechwood before then slabbing it into Wauchope at 6.00pm and just on dark.
The crew were staying at the local Motel, but I has previous plans to visit some of the local Wauchopians at Mick`s place for a beer before heading out to King Creek to stay with my sister and family ahead of her birthday. Plans were hatched to meetup in the morning in town before heading for home.
320 Klms smashed out today in some testing conditions and a total of 1804 klms with one day to go.

---
OLD BULL #101
Original Ride-

`84 XR250R

GONE
Previous Ride-

`04 KLX250R

GONE
Current Ride- 2010 KTM 690R Enduro


"Still hangin` in there"
Please Log in or Create an account to join the conversation.
/
/
/
Time to create page: 0.612 seconds