/
/
/
×
Adventure Ride Reports, where have you been what have you done
Back to back Simpson crossings, 2 days, 2 xWR250Rs, 2 x lunatics
3 years 11 months ago
-
3 years 11 months ago
#171154
by TB
So with a week off work and plans changing and the ride planned not required as such I was left with a what to do. Having run a ride with RideADV in June across the Simpson I found myself wanting very much to go back out there and ride it anyway I wanted. Normal rides across the Simpson are either along the Rig Road or the harder but shorter option being the French Line being 520 odd kms each way Birdsville to Mt Dare. In June we did the French Line in two days, the two days proved to be a few very long days for some, while other groups took 3 days for the French Line like the group Nick J was with at the time. Also noted at the time was that Daryl Beattie tour took the Rig Road and took 3 days as well. The 2 days for our group was a major push for the support cars as well. With different skills sets in a group it's a very hard thing to manage as Nick J said later they had a guy that hadn't ridden sand and that slows the group even though they had planned 3 days to cross it is hard for everyone that can get along ok.
From all this I came up with two ideas, one was I wanted to ride it differently and the other was we at RideADV should run a ride across the Simpson where riders could ride supported on lightly loaded bikes but not have to wait for support vehicles. When riding across the Simpson you see bikes waiting for support vehicles all the time. We will base camps and people will be able to ride their own crossing needing only a 170km fuel range nothing more. More on that planned ride for 2016 later
So I asked around, who can ride sand, who can get time off, who wants to ride for maybe 10hrs with very few stops, who can ride sand, who wants to drive 2000kms each way, who can ride sand, who can put up with me and my ADD.
So Pete the Wulf, Chris (mate from Vic) and I left home on Friday arvo for Birdsville with 2 WR250Rs on the trailer. My WR was only finished the night before and the Steering damper, a GPR which we had no experience with was on fitted to PTW's the afternoon we left.
We drove to the QLD border that night north of Bourke and rolled the swags out for a few hrs sleep.
Next morning it was on to Cunnamulla for breakfast then to Windorah and finally Birdsville at around 8pm that Saturday night. Dinner and beers

Sunday was a chance for PTW to first ride the WR and remember where everything was on a bike as it had been 18 months since he had really ridden a bike. We went out to Big Red and did the first 6 dunes of the Simpsons 1100 + dunes before returning to Birdsville and fueling the bikes up.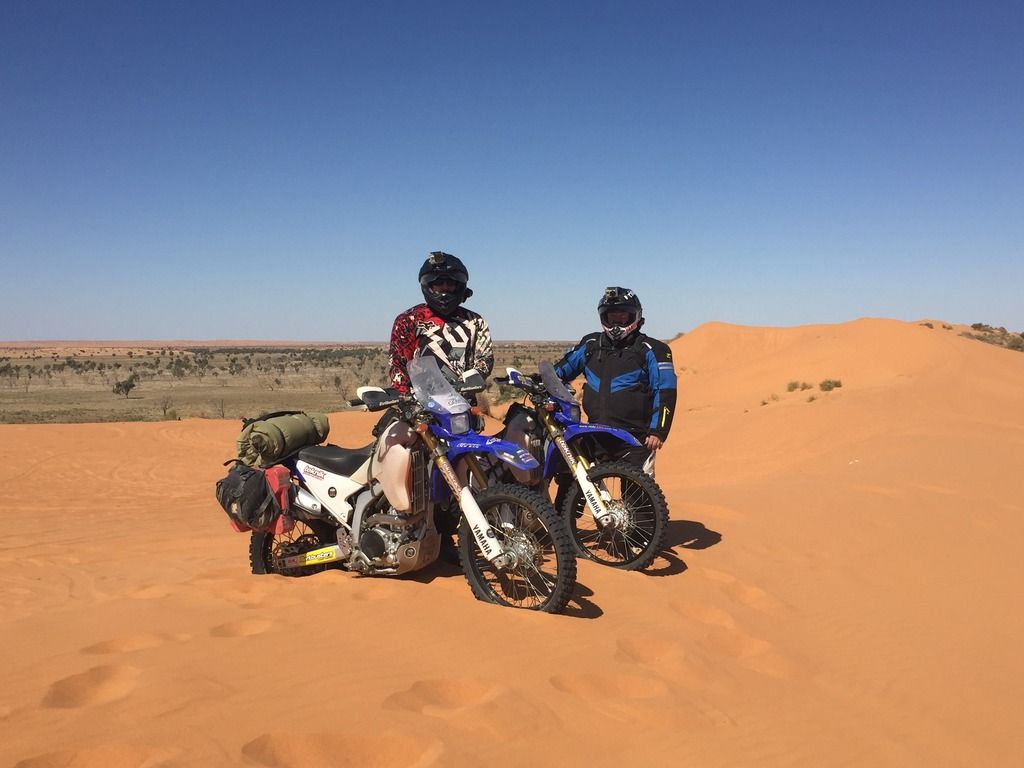 Each bike was carrying 34L of fuel, 18.5L in the IMS fuel tank and the remaining fuel in the 2 Rotpax on the rear racks.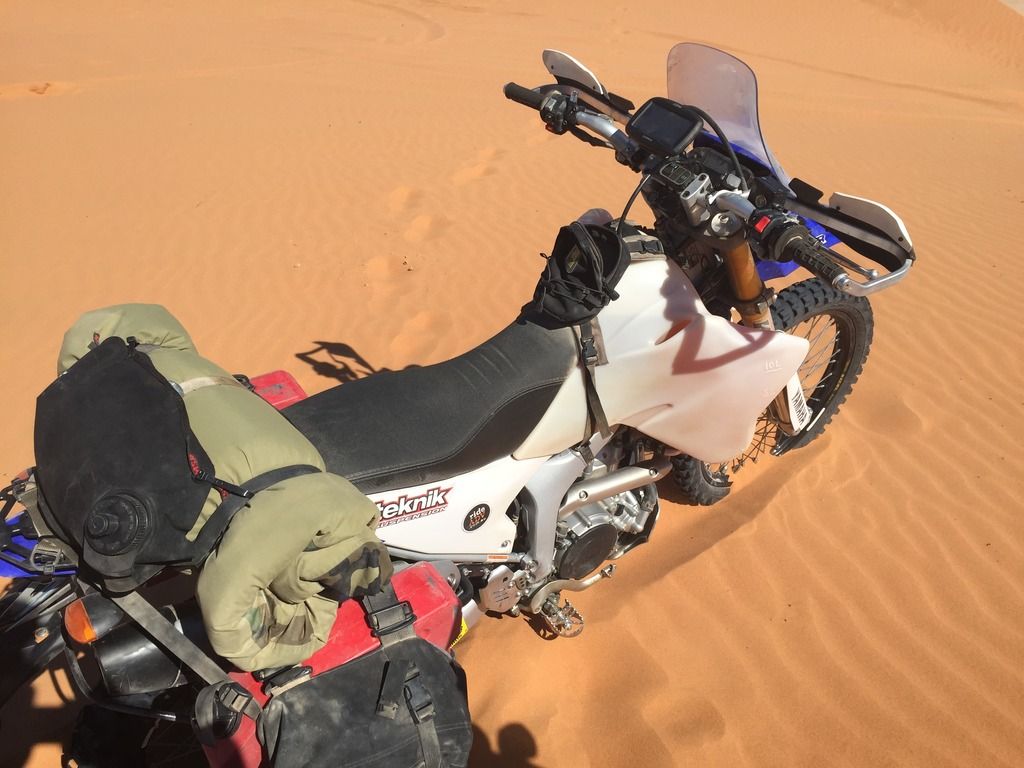 In June on the Simpson crossing I had broken the rack mounts using the same Rotopax and since had modified the rack mounts and braced the racks but it was untested so it was a real worry given we would be riding hard for maybe 10hrs and had also added bags to the outside of the Rotopax as well. Both of us had to carry tubes, tools and bed rolls in case we had to spend an unscheduled night in the Simpson.
What of Chris I hear you saying, well Chris had a sat phone like us and was there as a backup if it all went to custard. Chris was going to 4x4 to Poeppel's corner and have a scratch around. We were to call in every 4hrs just as a check in. We packed, unpacked, repacked and unpacked all arvo.
Monday morning at 5am sharp we rode out of Birdsville, both bikes had LED driving lights fitted which was blessing because there was no moon and it was as black as the inside of a cow! Once onto the French Line we got a pace established and pushed on not stopping for the first 160kms. I had wanted to be at Poeppel's cnr by 9.30am but we rode through at around 8.30am and we had made our first breakfast stop as we called it during that time so I was pleased. We pushed on at a steady / fast pace without any dramas except Pete's get off, it was a pretty big one at the bottom of a dune when it crossed up through 3 far sized whoops. Pete was lucky to get away with only bruising, the accident was only that, we weren't going too fast or tired at that stage it was just a miss read that resulted in a fall. After a few mins we pushed on until around quarter to 1 when we stopped for over half an hour. We transferred fuel, ate lunch and rested. We had come across a guy on a 990 that had been battling away crossing the French Line for 3days and had only covered 247kms of the 520 we planned to do that day!!! We had made sure he had everything he needed (except a Yamaha!!) and said we would notify Mt Dare, his rescue vehicle etc. The afternoon continued without any dramas, I was mentally over the track after the French Line and Rig Road finish. I had it in my mind the Simpson was finished and just wanted to stop. Finally after 9.24hrs of ride time, 11.24hrs since we left Birdsville we rode into Mt Dare.
I was asked as I walked in the door at Mt Dare was my name Greg? Phone for you, it was Lefty who had watched the spot tracker all day and wanted to congratulate us. Beers were consumed and plans hatched for the return the next day. We fueled the bikes, checked into our cabin and sat around in our ride gear (because we didn't take anything else except clean jocks to keep the weight down) Dinner was at 7pm, shower and bed. Man I was sore, the front of my calves and lower back. Pete was the same but we decided to stick to the original plan and ride back to Birdsville or wherever Chris was the next day over the French Line. I had never ridden it west to east. Word is that it is easier because the dune faces aren't anywhere near as steep on the west side of the dunes. I have to say personally it is so much easier and nowhere near as much fun. I love the challenge of the steep dune faces. The previous day I hadn't got stuck once, hadn't paddled or had the bars touch the ground at the pace we rode which was a great feeling.
Tuesday we had a later start and left around 8.30am. We pushed along stopping to let the front tyres down to 10psi just before the start of the Rig Road. Once into the dunes of death (as Fish calls it) the hardest section of the French Line we stopped and transferred as much fuel from the back to the front as we could to reduce the pendulum effect in the dunes. We stopped an took pics and started meeting people that had spoken with Chris and people that couldn't understand how we rode over in and day and were heading back again in a day. We got regular updates on where Chris was and had lunch with a group of bike with support vehicles at the Coulson Track intersection. They made us sandwiches which were heaps better than our protein bars. They had seen us blow past the day before and had only done 110kms in 2 days!.
We continued to punch along taking photos etc until we rang Chris at about 5pm. Now Chris was cranky because we had missed the last check in and didn't know where we were. He was about 125kms from Birdsville and was going to setup camp. Pete and I talked about it on the bluetoothes as we rode along. It was with mixed emotions, we wanted to keep going to Birdsville in the dark to finish the return. Also the night riding was amazing (video to be loaded in a few days) but Chris had wandered around as our safety net waiting and had setup camp and camping the night under the stars drinking beers would be awesome. We found Chris and then it hit, I was sooooooooooooo sore. Once in the camo chair I was flatout moving, Pete was the same. Chris cooked us dinner and got us beers. We sat around the fire and drank beer and chatted about the last two days, what we had done and what we would do different next time. The 2016 RideADV Simpson ride for everyone was fine-tuned and discussed.
Next morning it was a few very sore bodies that got up, geared up and left for Birdsville. We rode the final section discussing how different it was in the daylight against 5.30am and what I thought was trackside was nothing like that. Chris was going to be a few hrs behind at least, we mucked around again on Big Red and headed to the Birdsville Bakery for a camel pie and a rum at 10.30am. From there we went to the pub and waited for Chris. When he turned up we loaded the bikes and gear and headed for home 2000kms away.
The WR I rode went straight to BikeBiz Yamaha in Parramatta on display as is from the double crossing. It still has my swag, Rotopax, bags, Simpson dirt etc.
Thanks Pete for company on the ride, for a bloke that hadn't ridden to 18 months you did and epic job. Chris thanks for putting up with Pete and my ADD when bored which is 2 mins after I have finished the last thing. Neither bike had a spanner touch them the entire trip, mine was 11kms old when it left Birdsville. The bikes used between 29.5 and 31L of fuel going over to Mt Dare in the single day. The ride time for the return was an hour slower. I had no falls and Pete had none the second day. Thanks to Peter at Yamaha, Steve @ Adventure Moto, Nick @ Tekniks, Dave @ Link International, Matt @ Barkbusters, Brad @ Ballards and everyone else that helped.
Watch for next years mission

I will add some video later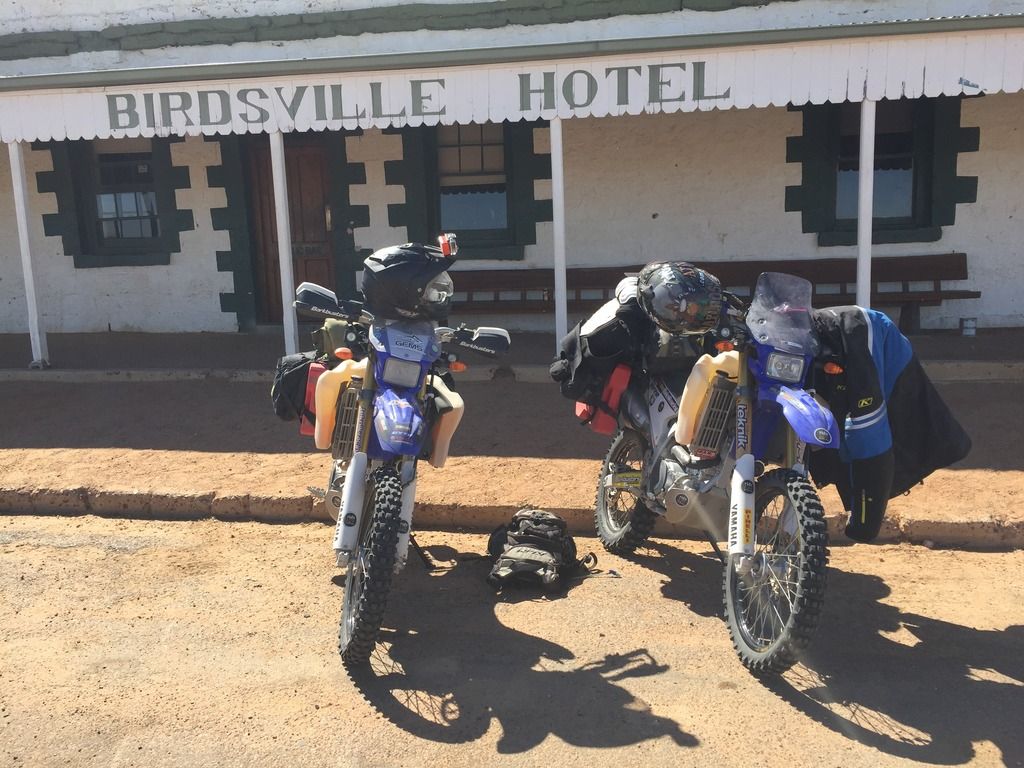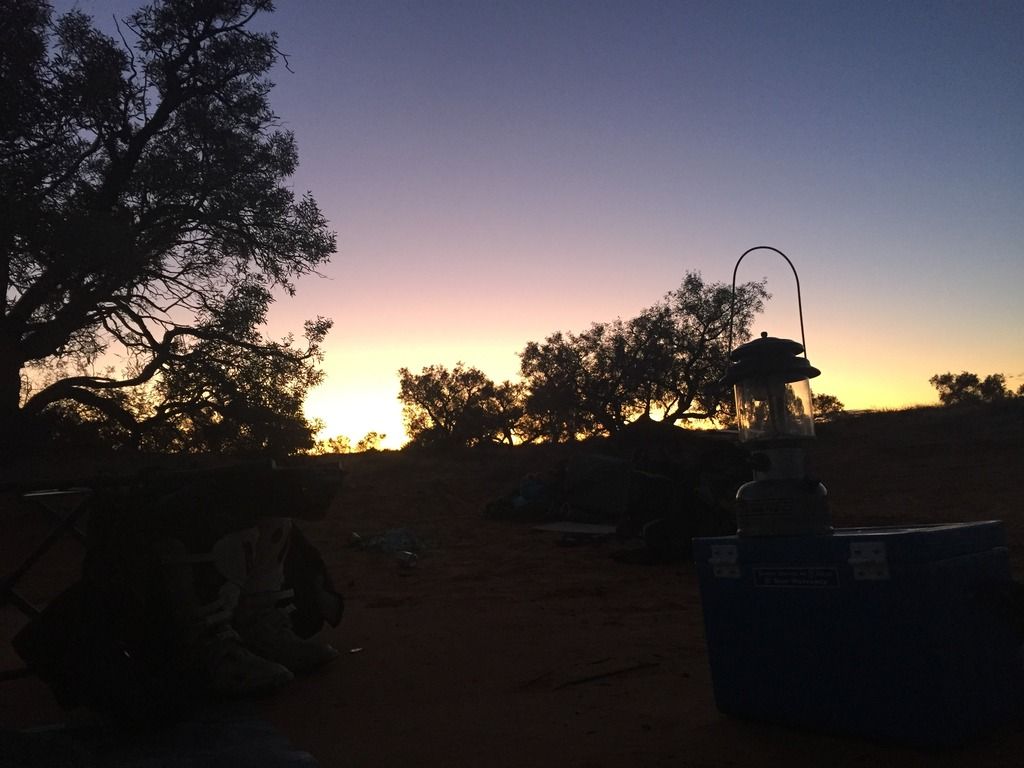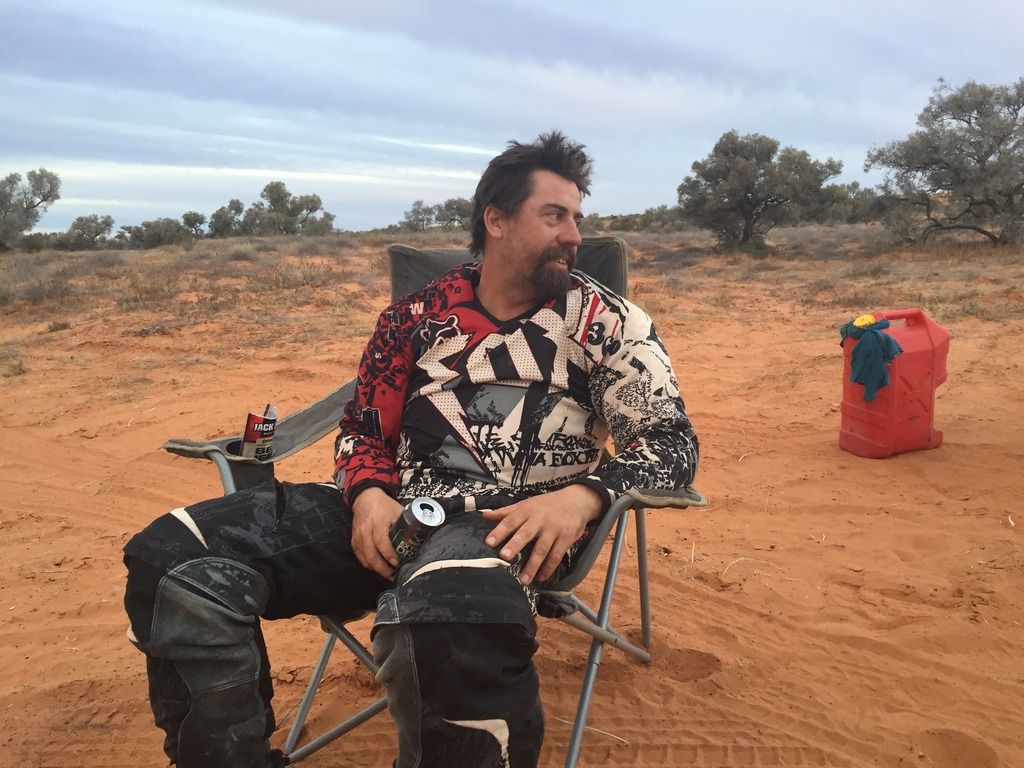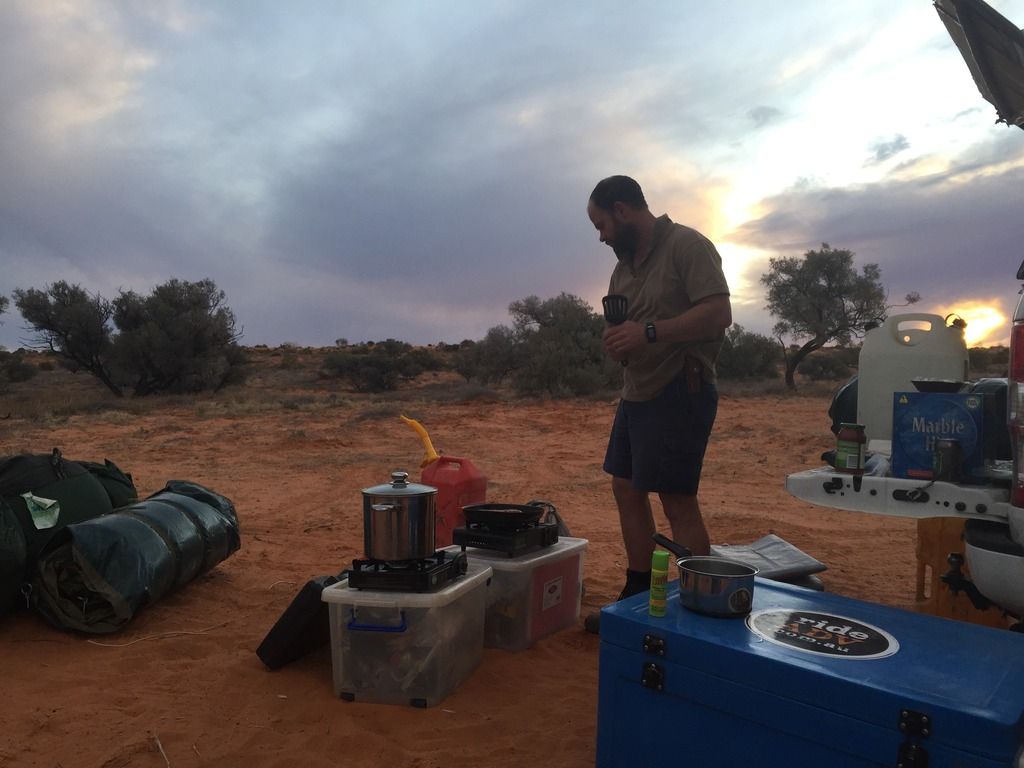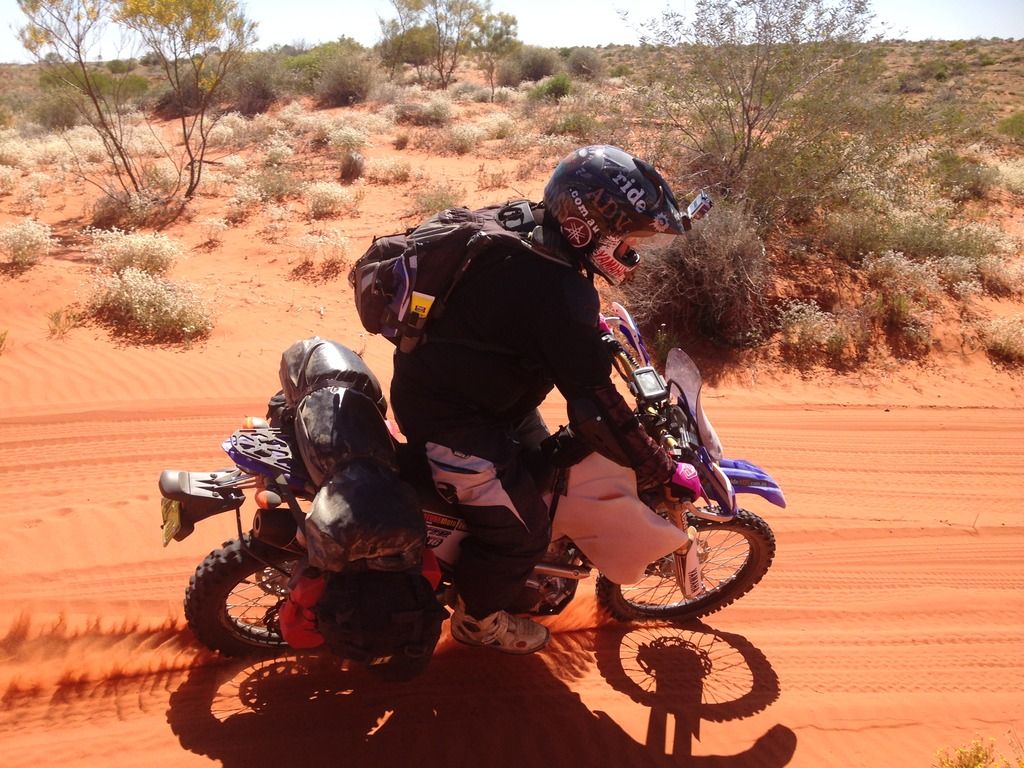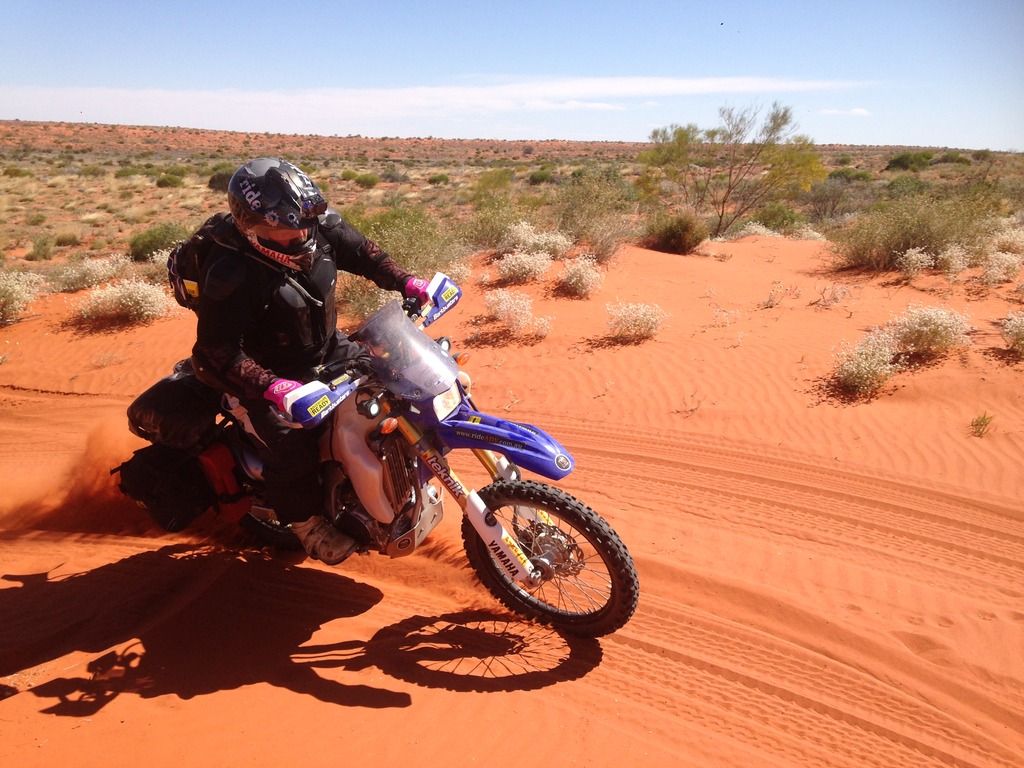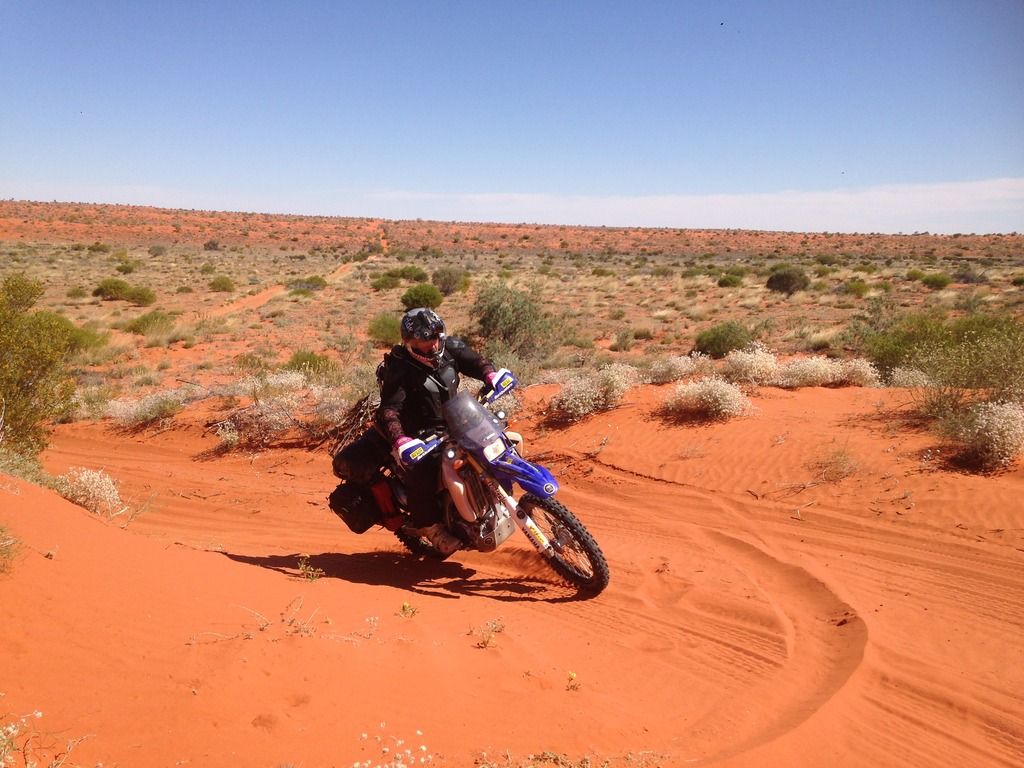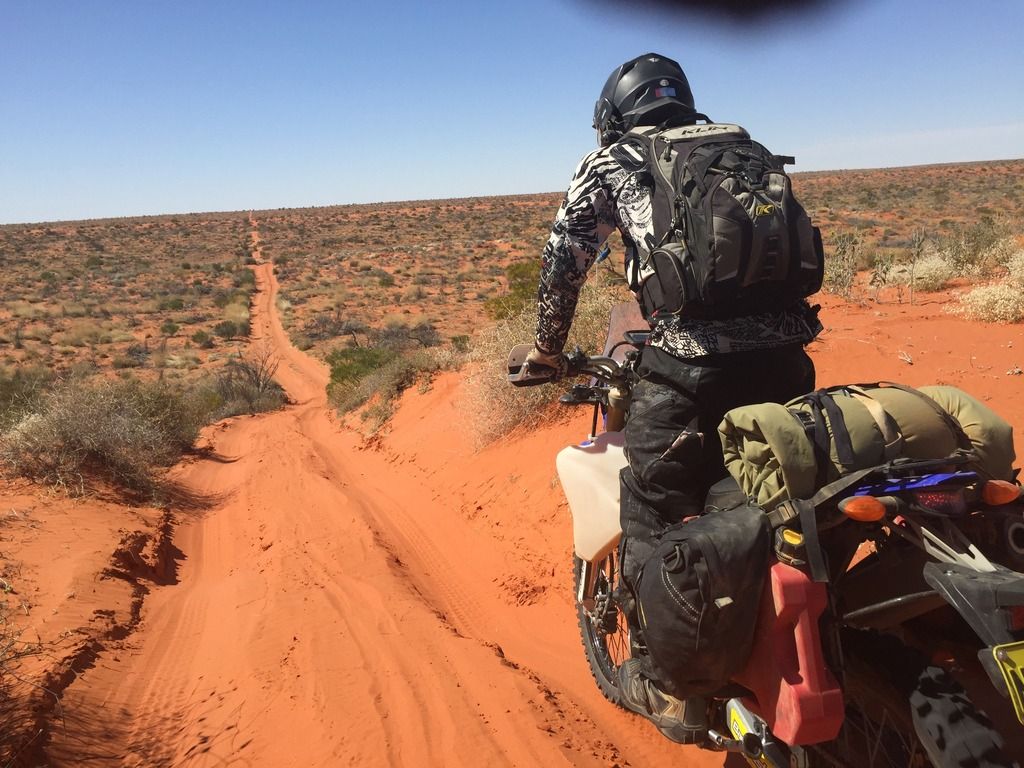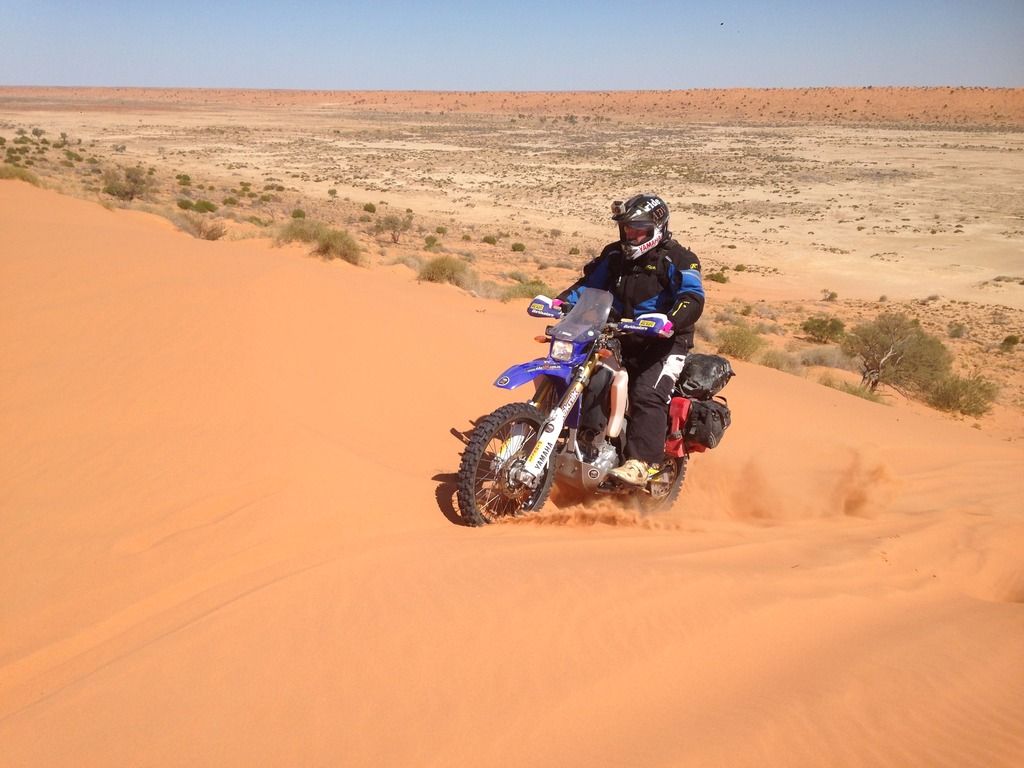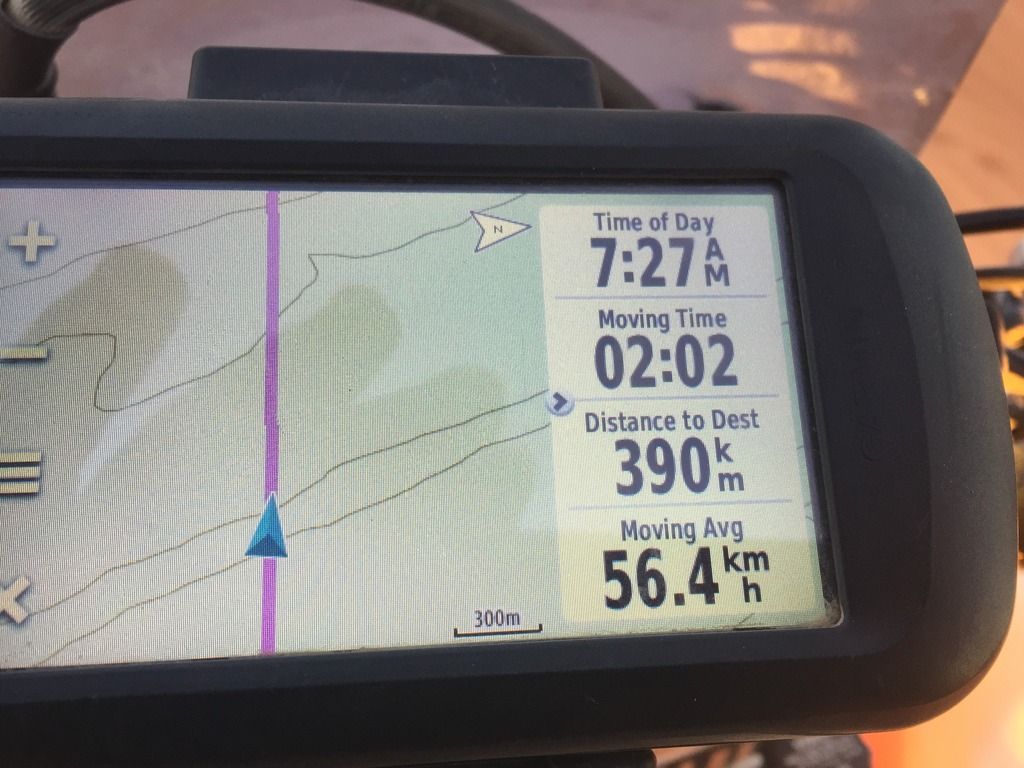 TB
---
In the end, it's not going to matter how many breaths you took, but how many moments took your breath away
Last edit: 3 years 11 months ago by
TB
.
The following user(s) said Thank You:
BOLLOCKS
Please Log in or Create an account to join the conversation.
3 years 11 months ago
#171188
by usi
Good to see PTW is still rocking the same shit i saw him in two years ago!
---
Is this not a reasonable place to park?
The following user(s) said Thank You:
TB
Please Log in or Create an account to join the conversation.
3 years 11 months ago
#171192
by Jeffro
Nice work gents and thanks for the write up and pics Greg.
---
11 WR450f, XTZ660 Tenere
Previous: 03 WR450F, Suzuki DRZ400e, Husaberg FE550E, Suzuki Veestrom DL650, Honda XL600V Transalp, Yamaha TT600 Belgarda
Please Log in or Create an account to join the conversation.
3 years 11 months ago
#171193
by Chris72a
Nice report TB, book one in for next year

---
Luck is a dividend of sweat. The more you sweat, the luckier you get.
Please Log in or Create an account to join the conversation.
3 years 11 months ago
#171198
by glenm
hey greg,great ride, thanks for making the effort with your report.
makes me wish I had learnt to ride, took me 50 yrs. to figure out I couldn't.
at a guess the wrr is past 1/2 way in its production run, makes me wonder what they will
replace it with.
Please Log in or Create an account to join the conversation.
3 years 11 months ago
#171200
by BOLLOCKS
Well done TB

Great effort from you and Pete

awe inspiring stuff



Thanks for sharing

Bol

---
previous rides;DINKY.DRAGSTER.Z50.DS80.sarah kate jenny angela etc..DT125.DT175.XR400.WR 250F.BMWF650GS Dakar(Heidi)CRF 450 x



current ride Husky FE 501 ..Spat me first ride!!!!!!

RELEASE BRIAN !!!!!!!!!!!!!!!!!!!!!!
Please Log in or Create an account to join the conversation.
/
/
/
Time to create page: 0.366 seconds